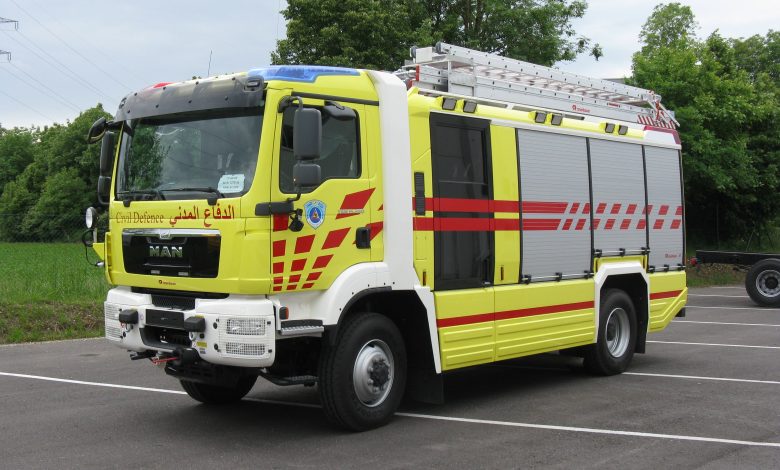 🇶🇦 DOHA
Cabin caught fire in Sealine Cabins Parking
حريق في كابينة بموقف كبائن سيلين
Al-Raya – WGOQatar Translations 
Doha: Sealine cabin parking witnessed the burning of one of the cabins due to a short circuit caused by the burning of a solar-powered air conditioner left by its owner in a state of operation, according to Mr. Saleh al-Kuwari, director of Natural Reserve Department in the Ministry of Municipality and Environment, who pointed out that the fire occurred yesterday afternoon at 1:45, and the staff in the parking complex tried to extinguish the fire using fire extinguishers but the strong winds helped to speed the ignition of the cabin that was made of fiber material, which prevented them from being able to control it, which led the staff to contact the Civil Defense Department, who arrived immediately at the site and controlled the fire.
He explained that the cabins adjacent to the burning cabin were removed to avoid the spread of the fire to the rest of the nearby cabins, stressing that it is the first incident of its kind in Sealine cabin parking since its opening seven years ago.

الراية
الدوحة: شهدَ موقفُ كبائن سيلين احتراقَ إحدى الكبائن بسبب ماس كهربائيّ ناجم عن احتراق جهاز تكييف يعمل بالطاقة الشمسيّة تركه صاحبُه في حالة تشغيل، حسب تصريحات السيّد صالح الكواري مُدير المحميات الطبيعية بوزارة البلدية والبيئة، الذي أشار إلى أنّ الحريق وقع ظهر أمس في الساعة الواحدة والخمس والأربعين دقيقةً، وحاولَ العاملون في موقف الكبائن إطفاء الحريق باستخدام الطفايات إلا أنّ الرياح القوية ساعدت في سرعة اشتعال الكابينة المصنوعة من مادة الفايبر، ما حالَ دون استطاعتهم السيطرة عليه، ما حدا بالمُوظّفين إلى التواصل مع إدارة الدفاع المدنيّ التي قامت على الفور بالوصول إلى الموقع والسيطرة على الحريق.
وأوضح أنّه تمّ إبعادُ الكبائن المجاورة للكابينة المُحترقة لتجنّب امتداد الحريق إلى باقي الكبائن المجاورة، مؤكدًا أنه الحادث الأوّل من نوعه الذي يقع في موقف كبائن سيلين منذ افتتاحه قبل 7 أعوام.