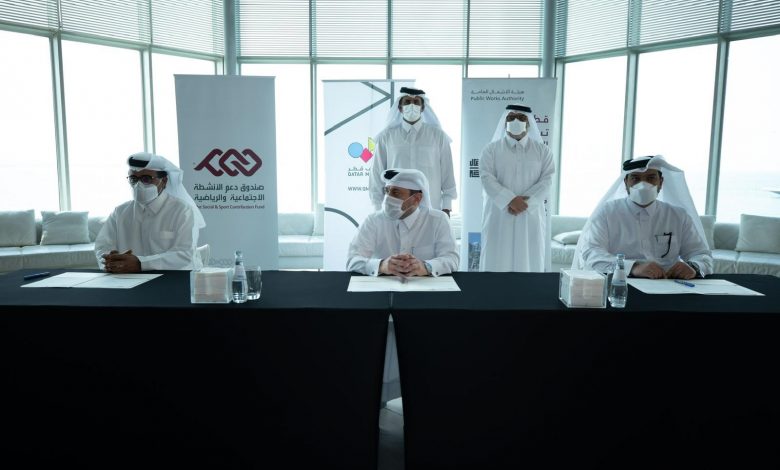 👮‍♂️ Government
Qatar Museums Signs Agreement with Daam and Ashghal to Renovate MIA
متاحف قطر توقع اتفاقية مع دعم وأشغال لتجديد متحف الفن الإسلامي
QNA
Doha: Qatar Museums (QM) has announced plans to renovate the building of the Museum of Islamic Art (MIA) in a project conducted in co-operation with the Social and Sport Contribution Fund (Daam), and to be implemented by the Public Works Authority (Ashghal). The three parties have signed an agreement for this purpose.
Through this project, the QM is seeking to provide museum visitors with an "exceptional experience".
QM chief executive Ahmad Musa Al Namla noted: "We are pleased to co-operate with Daam and Ashghal to renovate the Museum of Islamic Art, one of the nations most prominent architectural and cultural landmarks."
"This project confirms the QMs commitment to keep at enriching the lives of all members of the Qatari community, by providing MIA visitors with a unique experience thanks to the museum's new interior look," he said.
"We are pleased to announce the support of Daam for the renovation of the MIA, one of the most important leading Islamic museums in the world that hosts wonderful and unique collections of Islamic art," Daam executive director Abdulrahman bin Abdul Latif Al Mannai said in a press statement.
This project is considered unique in that it will contribute to attracting a larger number of people interested in the history of Islamic art, in order to get acquainted with a large group of important and precious holdings owned by Qatar and which are housed in this distinctive architectural beacon.
Al Mannai said: "We are proud of this partnership with both the QM and Ashghal supervising the implementation of the project."
"This support comes from the funds role in promoting and enhancing the culture of Islamic art in the Qatari society and highlighting it to the world," he added. "We also hope that the museum will open its doors again in its new look, coinciding with hosting the World Cup in 2022, and that it will be a tourist destination that attracts visitors from different parts of the world."
The director of the Buildings Projects Department at Ashghal Abdul Mohsen Al Rashed, expressed satisfaction with the current renovation works at the MIA.
The renovation aims to upgrade this landmark institution, which has been providing a comprehensive overview of civilization, heritage and Islamic art for the past decade in Qatar.
Al Rashed said: "Work is underway to renovate the museums interior spaces and galleries and install the latest technologies being used in renowned museums across the world, while also meeting GSAS (Global Sustainability Assessment System) sustainability standards."
The MIA will maintain its exterior, designed by world-famous Chinese-American architect I M Pei. Largely influenced by ancient Islamic architecture, the building is made of limestone, which captures the changes in light and shade during the day.

قنا
الدوحة: أعلنت متاحف قطر، عن تجديد مبنى متحف الفن الإسلامي، بالتعاون مع صندوق دعم الأنشطة الاجتماعية والرياضية /دعم/، بينما ستتولى هيئة الأشغال العامة /أشغال/ تنفيذ المشروع.
وقد قامت الجهات الثلاث بتوقيع اتفاقية في هذا الغرض.
وستشمل أعمال التجديد، التي ستنطلق قريبا، صالات العرض والمساحات الداخلية لمبنى متحف الفن الإسلامي المتكون من طابقين لقاعات العرض الدائم وقاعتين مؤقتتين للعرض، وقاعة عرض خاصة، وقاعة محاضرات ومتجر للهدايا، حيث تسعى متاحف قطر من خلال هذا المشروع إلى تقديم تجربة استثنائية لزوار المتحف.
وبهذه المناسبة أعرب السيد أحمد موسى النملة، الرئيس التنفيذي لمتاحف قطر، عن سعادته بالتعاون مع /دعم/ و/أشغال/ لتجديد متحف الفن الإسلامي أحد أبرز المعالم المعمارية والثقافية في الدولة.. مضيفا أن هذا المشروع يؤكد على التزام متاحف قطر بمواصلة إثراء حياة جميع أفراد المجتمع القطري، من خلال تقديم تجربة فريدة من نوعها لزوار متحف الفن الإسلامي في حلته الداخلية الجديدة.
من ناحيته، قال السيد عبدالرحمن بن عبداللطيف المناعي المدير التنفيذي لصندوق دعم الأنشطة الاجتماعية والرياضية /دعم/، إن متحف الفن الإسلامي، أحد أهم المتاحف الإسلامية الرائدة في العالم الذي يحتضن مقتنيات رائعة وفريدة من الفن الإسلامي.
وأشار إلى أن هذا المشروع الفريد سوف يساهم في إفساح المجال لجذب أعداد كبيرة من الجماهير المهتمة بتاريخ الفن الإسلامي وذلك للتعرف على مجموعة كبيرة من المقتنيات الهامة والثمينة التي تمتلكها دولة قطر والتي تحتضنها هذه المنارة المعمارية المميزة.
وأضاف المناعي: "نحن فخورون بهذه الشراكة المثمرة مع كل من متاحف قطر وهيئة الأشغال العامة المشرفة على تنفيذ المشروع، ويأتي هذا الدعم من منطلق دور الصندوق في تعزيز وترسيخ ثقافة الفن الإسلامي في المجتمع القطري وإبرازها للعالم، كما نتطلع إلى أن يفتح المتحف أبوابه مجددا بحلته الجديدة تزامنا مع استضافة كأس العالم عام 2022 وأن يكون وجهة سياحية جاذبة للزوار من مختلف بقاع العالم".
من جانبه، أعرب المهندس عبد المحسن الراشد مدير إدارة مشاريع المباني في هيئة الأشغال العامة، عن سعادته بتجديد مبنى متحف الفن الإسلامي من قبل /أشغال/ بالتعاون مع متاحف قطر وصندوق دعم الأنشطة الاجتماعية والرياضية /دعم/، نظرا لأهمية هذا الصرح الذي يقدم صورة متكاملة عن الحضارة والتراث والفن الإسلامي منذ عشر سنوات في دولة قطر.
وأضاف الراشد قائلا: "يتم العمل على تجديد مناطق داخل المتحف من صالات عرض وغيرها من المساحات التي يتم الاطلاع عليها من قبل الزوار، مع تركيب أحدث التقنيات التي يتم استخدامها في المتاحف العالمية مع توفير كافة معايير السلامة والأمان وكذلك الاستدامة العالمية /GSAS/".
وسيحافظ متحف الفن الإسلامي على شكله الخارجي، الذي صممه المهندس الصيني الأمريكي العالمي الشهير /آي إم باي/، وهو تصميم مستوحى من الخطوط المعمارية الإسلامية التقليدية. ويتكون المبنى من الحجر الكلسي الذي يعكس تغيرات الضوء ويحولها إلى ظلال متعددة تختلف مع تقدم ساعات النهار.