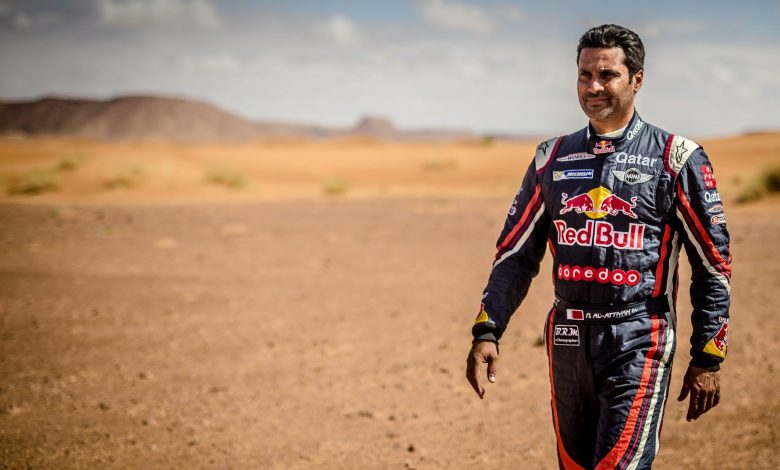 🐎Various
Nasser Al-Attiyah: That is why I won second place in the Dakar Rally
ناصر العطية: لهذا السبب حصلت على المركز الثاني برالي داكار
Al-Sharq – WGOQatar Translations 
Doha: Qatari and Arab rally legend Nasser Al-Attiyah said that the Dakar Rally in its second edition in Saudi Arabia was for a very long distance (12,000 kilometers), indicating that it starts from Jeddah and then back to Jeddah.
"We succeeded in the second edition of the Dakar Rally and won second place, yet, our ambition was first place, but the problems and tires were not in our favor, and this is the reason for losing the second time in a row in Saudi Arabia," the Qatari Super Man added.
"The team is a Toyota team and consists of 71 technicians and mechanics, explaining that the reason for the large number of the team is because the rally needs a lot of people because the rally's distance is 12,000 kilometers over 15 days". Al-Attiyah said about his assistant team.
He emphasized that obtaining the second place is an achievement that we are proud of, and I was the only Arab to compete with the Europeans in this field. We are hoping for the good of the third edition, and some change in laws, hopefully in favor of SUVs.

الشرق 
الدوحة: قال أسطورة الراليات القطري والعربي ناصر العطية إن رالي داكار في نسخته الثانية بالسعودية كان لمسافة طويلة جداً (12 ألف كيلو متر)، مشيراً إلى أن الانطلاقة كانت من مدينة جدة والعودة لمدينة جدة.
وأضاف السوبر مان القطري – في تصريحات هاتفية لـ "تليفزيون قطر" – "توفقنا في النسخة الثانية من رالي داكار وأحرزنا المركز الثاني، وطموحنا كان المركز الأول لكن المشاكل والإطارات لم تكن في صالحنا وهذا السبب في الخسارة للمرة الثانية على التوالي بالسعودية".
وحول فريقه المساعد، قال العطية : الفريق هو فريق تويوتا ويتكون من 71 شخصاً من فنين وميكانيكيين، موضحاً أن سبب العدد الكبير للفريق لأن الرالي يحتاج كثرة الأشخاص بسبب أن مسافة الرالي 12 ألف كيلو متر على 15 يوما.
وأكد أن حصوله على المركز الثاني إنجاز نفتخر به، وكنت العربي الوحيد الذي ينافس الأوروبيين في هذا المجال، ونتأمل خيراً في النسخة الثالثة وبعض القوانين تتغير وتكون في صالح سيارات الدفع الرباعي.
المصدر: al-sharq