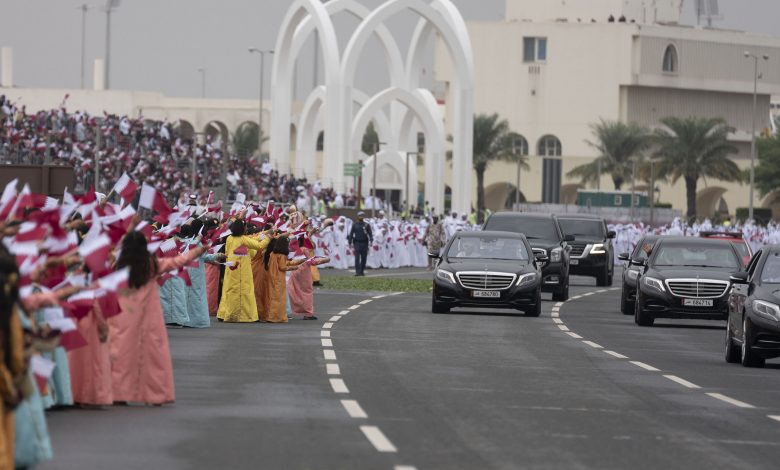 الدخول إلى مسير اليوم الوطني القطري للمدعوّين فقط
WGOQatar 
Doha: The Organizing Committee for the Qatar National Day 2020 celebrations announced that attendance for this year's 'National Parade' will be only by special invitations. 
The specially invited people will only include families of the health sector and participating entities. 
The celebrations will be in compliance with the exceptional precautionary and preventive measures to ensure the health and safety of all members of society.
Earlier the Amiri Diwan announced that on the occasion of Qatar National Day, Thursday, December 17, 2020, will be an official holiday and employees will rejoin their work on Sunday, December 20, 2020.

WGOQatar 
الدوحة: أعلنت اللجنة المنظمة لاحتفالات اليوم الوطني لدولة قطر 2020 أن حضور "العرض الوطني" لهذا العام سيكون فقط من خلال دعوات خاصة.
سيشمل الأشخاص المدعوين خصيصًا عائلات العاملين في القطاع الصحي والهيئات المشاركة فقط.
وستكون الاحتفالات تماشياً مع الإجراءات الاحترازية والوقائية الاستثنائية لضمان صحة وسلامة جميع أفراد المجتمع.
وأعلن الديوان الأميري، في وقت سابق، أن يوم الخميس 17 ديسمبر 2020 سيكون عطلة رسمية بمناسبة اليوم الوطني لدولة قطر، وسيعود الموظفون إلى عملهم يوم الأحد 20 ديسمبر 2020.

حضور المسير الوطني لهذا العام 2020 سيكون لأسر القطاع الصحي والجهات المشاركة عن طريق دعوات خاصة، وذلك التزاما بالإجراءات الاحترازية الاستثنائية والتدابير الوقائية لضمان الصحة والحرص على سلامة كافة أفراد المجتمع.#نحمدك_يا_ذا_العرش #قطر pic.twitter.com/8RV845lGt0

— اليوم الوطني لدولة قطر (@NDQatar) December 14, 2020