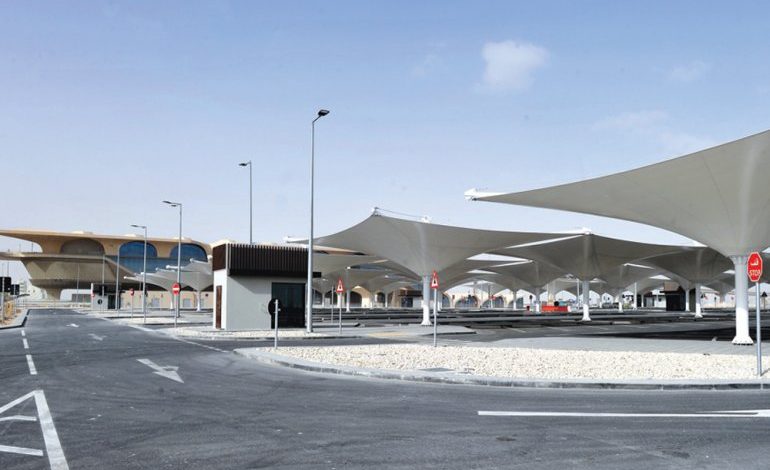 افتتاح موقف مجاني للسيارات بالقرب من محطة الوكرة للمترو

In a big relief to residents of Al Wakra and nearby areas, the free parking space near Al Wakra Metro Station was opened yesterday. Part of the 'Park and Ride' project, the facility provides shaded parking slots to the residents.
The 'Park and Ride' Project is a part of the Ministry of Transport and Communications' Public Bus Infrastructure Program. The project aims to encourage vehicle owners to use the modern public transportation systems to and from their destinations in less time and at a lower cost.
The opening of the parking near Al Wakra Metro Station follows the announcement by the Ministry to open free parking spaces near Al Qassar Metro Station, which was opened on January 17 for public.
There was already a parking space next to the petrol station near Al Wakra Metro Station, but it did not have enough parking space to meet the current demand. Due to increased popularity of Doha Metro, more people were coming to Al Wakra Station, but only few people were able to get place in the designated parking slots. 
Now, residents of Wakra and nearby areas will not have to worry about finding a parking slot. However, there were not many cars yesterday at the parking area as residents were not aware about the opening of this facility. Its usage will increase gradually with increase in awareness about the parking facility. 
"The new parking space near Al Wakra Metro Station is a big relief for Doha Metro users like me. I come from Meshaf area and park my car near the station. I am using Doha Metro to go to my office since the day Red Line was opened," Tamal Das, a civil engineer by profession told The Peninsula. He takes metro train from Al Wakra Station and gets down at Matar Qadeem metro station which is near to his office. He was among the first commuters who used newly opened parking space, yesterday. 
More free parking spaces will be opened for Doha Metro users in coming months. The Ministry of Transport and Communications is working with other concerned bodies to complete and deliver free parking spaces in two locations; Lusail and Education City, which are planned to open in late March.
Metrolink service is one of the main reasons that have encouraged residents to use Doha Metro trains. metrolink is a feeder bus and van network providing first and last mile connectivity to Qatar Rail customers within two to five kilometre radius of the Doha Metro stations. These buses and vans carry passengers free of cost to the nearest Doha Metro Stations.
Sachin Kumar | The Peninsula
في راحة كبيرة لسكان الوكرة والمناطق المجاورة ، تم افتتاح ساحة انتظار السيارات المجانية بالقرب من محطة الوكرة للمترو أمس. جزء من مشروع 'Park and Ride' ، يوفر المرفق أماكن وقوف مظللة لسيارات السكان.
مشروع 'Park and Ride' هو جزء من برنامج البنية التحتية للحافلات العامة التابع لوزارة النقل والاتصالات. يهدف المشروع إلى تشجيع أصحاب السيارات على استخدام أنظمة النقل العام الحديثة من وإلى وجهاتهم في وقت أقل وبتكلفة أقل.