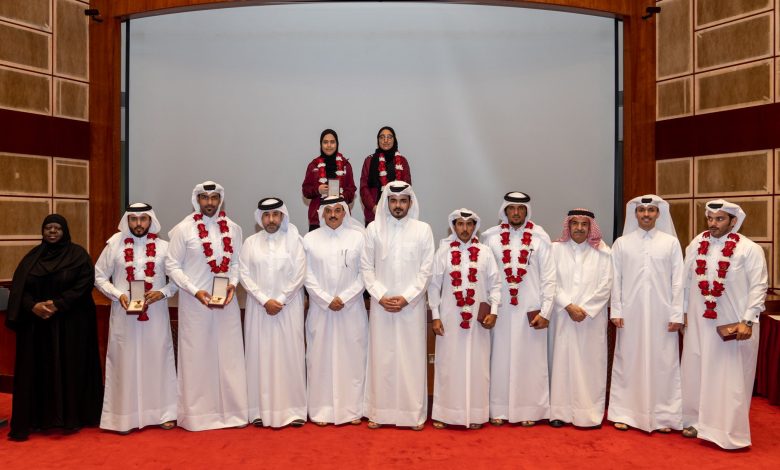 🛡Team Qatar
Sheikh Joaan honours Qatar's Shooting Championships
الشيخ جوعان بن حمد يكرم لاعبي أدعم الرماية
Qatar Olympic Committee (QOC) President, H E Sheikh Joaan bin Hamad Al Thani, poses with the Qatari shooters, who won medals at the recently-concluded Asian Shooting Championships 2019 held at Losail Shooting Range. First Vice-President of the QOC, Sheikh Saud bin Ali Al Thani, QOC's Second Vice-President, Dr. Thani bin Abdulrahman Al Kuwari, QOC's Secretary-General, Jassim bin Rashid Al Buenain, and Qatar Shooting Federation President, Ali Mohammed Al Kuwari, were also present. H E Sheikh Joaan praised the Qatari shooters for their outstanding performance, and also congratulated Mohammed Al Rumaihi, who won the Tokyo 2020 Olympic Games quota for Qatar during the event. The QOC President said the medals are the beginning of the journey and Qatar is counting on such champions in the upcoming continental and international tournaments.
كرم سعادة الشيخ جوعان بن حمد آل ثاني رئيس اللجنة الأولمبية القطرية، ظهر امس بقاعة لوسيل بمقر اللجنة، لاعبي أدعم الرماية الحاصلين والحاصلات على الميداليات في البطولة الآسيوية الرابعة عشرة المؤهلة لأولمبياد طوكيو 2020 التي أقيمت في الدوحة الشهر الجاري.
حضر التكريم سعادة الشيخ سعود بن علي آل ثاني النائب الأول لرئيس اللجنة الأولمبية القطرية وسعادة الدكتور ثاني بن عبد الرحمن الكواري النائب الثاني لرئيس اللجنة الأولمبية القطرية وسعادة جاسم بن راشد البوعينين أمين عام اللجنة الأولمبية، ورئيس وأعضاء مجلس إدارة الاتحاد القطري للرماية ومديرو الإدارات وموظفو اللجنة الأولمبية القطرية.
وشمل التكريم فريق الاسكيت للرجال الحاصل على المركز الأول ويضم ناصر صالح العطية وراشد صالح حمد، ومسعود صالح حمد، وفريق الرجال الحاصل على المركز الثالث في مسابقة التراب ويضم راشد حمد العذبة وسعيد حمد أبو شارب ومحمد احمد الرميحي المتأهل الى دورة الألعاب الأولمبية- طوكيو 2020، وفريق السيدات الحاصلات على المركز الثالث في مسابقة الاسكيت ويضم فاطمة المريخي وغالية المالكي وآمنة الشيراوي.
وهنأ سعادة الشيخ جوعان بن حمد آل ثاني الابطال والبطلات المتوجين وأشاد بالعطاء الكبير الذي قدموه، وحثهم على تقديم المزيد من الجهود، كما هنأ سعادته الرامي محمد الرميحي والانجاز الذي حققه بالتأهل الى أولمبياد طوكيو 2020، وقال سعادته ان هذه الميداليات تعتبر بداية المشوار، ونعول كثيرا عليكم في المستقبل من خلال الاستحقاقات القادمة والبطولات القارية والعالمية بما يحقق طموحات الرياضة القطرية.