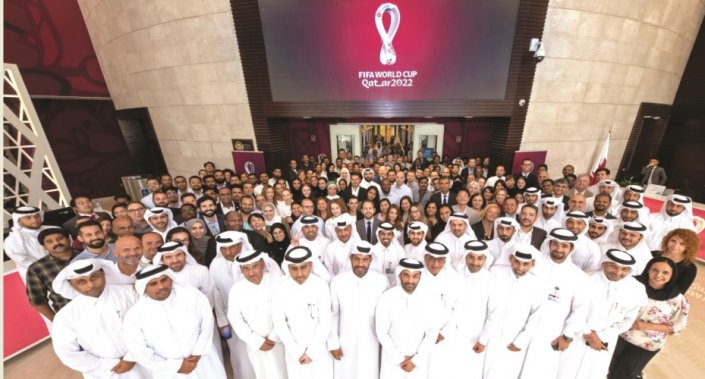 🏆2022
SC employees celebrates unveiling of FIFA World Cup Qatar 2022 logo
احتفال خاص لموظفي اللجنة العليا بمناسبة تدشين شعار مونديال 2022
Supreme Committee for Delivery and Legacy (SC) employees celebrated the launch of the official logo of the FIFA World Cup Qatar 2022 with a group photo to mark the milestone on the road to the world's greatest football showpiece, the SC tweeted yesterday.
احتفى موظفو اللجنة العليا للمشاريع والارث بالإعلان رسمياً عن شعار بطولة كأس العالمFIFA قطر 2022™ على طريقتهم الخاصة، وذلك بالتقاط صورة جماعية تذكارية توثق هذه المحطة الهامة في رحلة استضافة البطولة الكروية المرتقبة.
وتابعت الجماهير الرياضية العالمية في مختلف اصقاع الارض عن كثب لحظة اطلاق الشعار المونديالي للبطولة الكبرى في لعبة كرة القدم على مستوى العالم، والتي تستضيفها قطر كأول دولة عربية وشرق اوسطية لاول مرة في التاريخ، حيث شهد العالم حملة الكترونية ضخمة اشرف عليها الاتحاد الدولي لكرة القدم الفيفا بالتنسيق مع اللجنة العليا للمشاريع والارث، وشملت كافة مواقع التواصل الاجتماعي، بالاضافة الى عرض الشعار في ابرز المعالم بالعواصم العالمية الكبرى والعربية، وذلك بالتزامن يوم الثلاثاء الفارط الثالث من سبتمبر في تمام 20:22 وهو التوقيت الذي يرمز لبطولة العالم 2022.