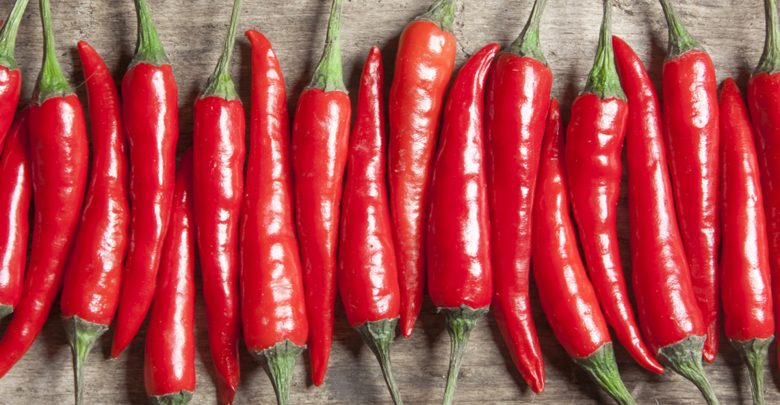 💉 Health
Excessive consumption of chilli affects cognitive ability
الإفراط في استهلاك الفلفل الحار يؤدي إلى الإصابة بالخرف
Dr Zumin Shi, from the Human Nutrition Department of the College of Health Sciences, Qatar University (QU), recently published his research on the effects of excessive chilli consumption on cognitive ability and was cited by several prominent scientific journals, as well as many newspapers, audio and TV media channels.
In a recent publication led by Dr Shi, results of widespread interest were reported based on a study that spanned 15 years, from 1991-2006. The study concluded that consuming more than 50 grams of chilli per day is strongly correlated with faster cognitive decline. This population based longitudinal study is significant as it managed to include a large focus group of 4,582 Chinese adults aged over 55 for a period of 15 years. More interestingly, the study pinpointed that memory decline was more significant if chilli lovers were slim, indicating that excess chilli consumption might eventually lead to dementia in this population.
As such, chilli consumption that has been considered beneficial thus far especially for body weight and blood pressure management, has been shown to have serious adverse effects on cognitive abilities over long periods of time. Excess chilli consumption almost doubles the risk of memory decline and leads to poor cognition.
The study was published in the Nutrients Journal in May 2019, and cited by various newspapers and scientific platforms such as the New York News, BBC News, Australian, Malaysian, Chinese and several other countries. The Altmetric Attention score, which evaluates the significance and scope of attention a given research attracts, is thus far 790, which is one of the highest in the world. In the Chinese social media Weibo, a report on the study reached 350mn views. Nevertheless, the highest impact of this study remain predominantly in Middle and East Asia, since China and other Asian countries have a high consumption of chilli, and with the rapid population ageing, the burden of dementia is very prominent in these populations.
أعدّ الدكتور زومين شي، من قسم التغذية البشرية في كلية العلوم الصحية جامعة قطر، مقالة علمية جديدة، وتداولتها العديد من المجلات العلمية البارزة، بالإضافة إلى الصحف وقنوات الإعلام المرئية والمسموعة مؤخراً.
وقد بنيت نتائج المقالة على دراسة دامت قرابة 15عاماً -من 1991 حتى 2006- أظهر فيها الدكتور زومين أن الاستهلاك الزائد عن 50 جرام من الفلفل الحار يومياً مرتبط بشكل مباشر بانخفاض القدرة الذهنية والإدراكية.
وضمت الدراسة مجموعة كبيرة من البالغين الصينيين الذين تزيد أعمارهم عن 55 عاماً، مما ساعدها على الوصول إلى نتائج واضحة تشير إلى التأثير الكبير للفلفل الحار على دماغ الإنسان، وخاصة في الفئة النحيلة من المستهلكين، وأن تأثيرها في هذه الحالة يكون أكثر وضوحاً، وقد يؤدي إلى الخرف.
تأتي أهمية هذه الدراسة كونها الأولى من نوعها التي تسلّط الضوء على التأثير السلبي للاستهلاك الزائد للفلفل الحار على صحة الإنسان، ولا سيما أن الفلفل الحار كان ولا يزال يعتبر أحد الأغذية المهمة في المحافظة على الوزن وضغط الدم، مما يحفّز المستهلك لاتخاذ الاحتياط اللازم من حيث الحد من كمية الاستهلاك اليومي للفلفل الحار.
وقد نُشرت هذه المقالة في مجلة النيوترانتس في مايو الماضي، وانتشر ذكرها في العديد من الصحف ومنصات الأخبار العالمية مثل نيويورك نيوز وبي بي سي نيوز، بالإضافة إلى محطات التلفاز الأسترالية والماليزية والصينية وغيرها من البلدان.
ويتركز البحث بشكل خاص في منطقة وسط وشرق آسيا، حيث تستهلك الدول في هذه المنطقة من العالم كميات كبيرة من الفلفل الحار، كما أنها من الدول التي تلحظ ازدياداً ملحوظاً في الشيخوخة، التي يمكن أن يشكل فيها مرض الخرف عبئاً مادياً واجتماعياً كبيراً.