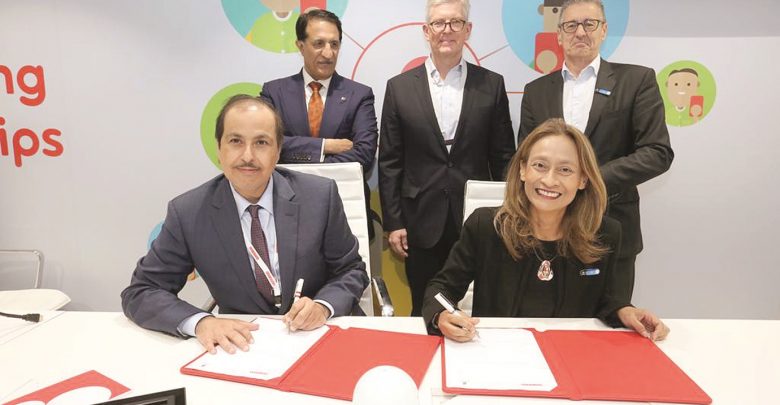 «اوريدو» تتعاون مع «إريكسون» لدعم «سوبرنت ٥ج»
Doha: At Mobile World Congress, two of the world's largest digital enablers – Ooredoo and Ericsson – announced yesterday a partnership for making the Ooredoo Supernet fully 5G-enabled in the goal of enhancing people's digital lives across Qatar. Ooredoo will leverage Ericsson's industry-leading Ericsson Radio System, 5G New Radio solutions, and 10 Gbps microwave network to fully digitally transform and modernise its existing mobile networks in order to introduce the latest 5G technologies across Qatar.
Currently, Ooredoo is in the process of preparing 1,200 network stations to be 5G-ready. Once the network stations are completed and 5G-compatible devices reach the market, Ooredoo's 5G network will be able to provide download speeds about 100 times faster than 4G networks.
Sheikh Saud bin Nasser Al Thani, Group Chief Executive Officer, Ooredoo, said: "Our partnership with Ericsson will provide the 5G foundation for our Ooredoo Supernet to enable Qatar's Smart Cities, digitally competitive Internet of Things industries, and immersive mega-events and virtual reality experiences. As 5G becomes mainstream across Qatar, we are dedicated to transforming industries and enhancing people's digital lives."
Using Ericsson's high-speed and low-latency 5G technology, Ooredoo can meet growing data traffic demands, and deliver high-quality mobile broadband and fixed wireless experiences. Ericsson will share global best practices in its multi-standard and modular architecture that provides 5G performance with the smallest site footprint and lowest energy consumption.
Rafiah Ibrahim, Head of Market Area Middle East and Africa at Ericsson, said: "We are partnering with Ooredoo to bring our latest 5G innovation to life in their nationwide network.
أعلنت «ooredoo»، أمس، عن شراكة جديدة مع عملاق الصناعة التكنولوجية شركة «إريكسون»، لتطوير شبكة «سوبرنت»، وتهيئتها لتصبح جاهزة تماماً لتقديم خدمة «5G» للعملاء في قطر وإثراء حياتهم الرقمية. جاء توقيع هذه الشراكة على هامش المؤتمر العالمي للجوال. وبناء على هذه الشراكة الجديدة، ستستعين «ooredoo» بتكنولوجيا «Radio System» وحلول الراديو «5G» الجديدة وشبكة الموجات القصيرة بسرعة 10 جيجابت بالثانية المتطورة التي توفرها شركة «إريكسون» لتحديث شبكة «سوبرنت»، وإتمام عملية تحويلها الرقمي بالكامل لتوفير خدمة «5G» في جميع أنحاء قطر.
تعكف «ooredoo» حالياً على تجهيز 1200 برج اتصال بتقنية «5G». وبمجرد إتمام هذه التجهيزات وتوافر الأجهزة المتوافقة مع تقنية «5G» في الأسواق، سيتمكن العملاء من الحصول على سرعات إنترنت تصل إلى 100 ضعف مقارنة بشبكات «4G».
أسس راسخة
وتعليقاً على هذه الشراكة، قال الشيخ سعود بن ناصر آل ثاني، الرئيس التنفيذي لمجموعة «ooredoo»: «تسهم هذه الشراكة مع (إريكسون) في توفير الأسس الراسخة لشبكتنا (سوبرنت)، لتقديم خدمة (5G)، وتمكين رؤية مستقبلية شاملة تتضمن المدن الذكية ونشر تقنية إنترنت الأشياء على نطاق أوسع، وتقديم تجارب لم يسبق لها مثيل، سواء في مجال الفعاليات الكبرى والواقع الافتراضي. ففي الوقت الذي ننشر فيه خدمة (5G) في جميع أنحاء قطر وجعلها في متناول الجميع، فإننا نواصل التزامنا بدعم التحول الرقمي لمختلف القطاعات وإثراء حياة الأفراد الرقمية».
تلبية الطلب
ومن خلال تقنية «5G» فائقة السرعة ومنخفضة التأخير، ستتمكن «ooredoo» من تلبية الطلب المتزايد على خدمات البيانات، وتقديم تجربة «برودباند» جوال وثابت بجودة عالية. كما ستشارك «إريكسون» أفضل الممارسات من خلال هيكلية الشركة متعددة المعايير لتوفير تقنية «5G» دون إحداث أثر كبير سواء على المواقع أو البيئة.
بدورها، قالت رافية إبراهيم، رئيسة شركة «إريكسون» في منطقة الشرق الأوسط وإفريقيا: «نعتز بهذه الشراكة مع (ooredoo) لتطوير خدمات (5G) وتجهيزها عبر شبكة (سوبرنت). ومن المؤكد أن تقنية (5G) ستدعم التحول الرقمي لمختلف القطاعات. لذا، حرصنا على التعاون مع (ooredoo) لتوفير هذه الفرص الجديدة وتمكينهم لتوفير أحدث التقنيات والارتقاء بتجربة المستخدمين عبر توفير سرعات فائقة ومعدلات تأخير منخفضة جداً».;