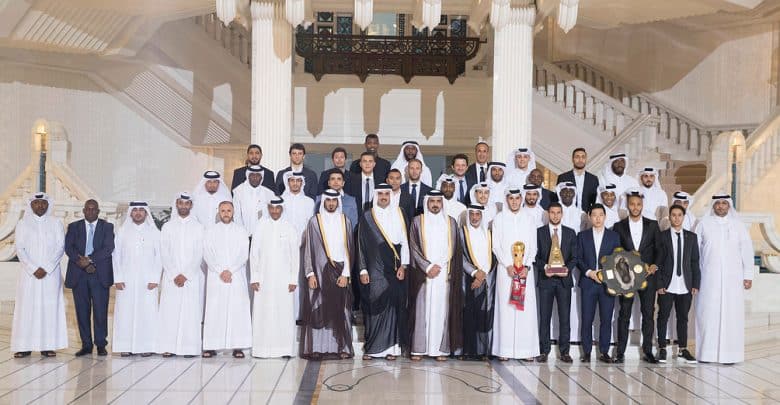 🏆 Sport
Amir hosts Iftar banquet for Amir Cup winners, runners-up
صاحب السمو يقيم مأدبة إفطار لبطل ووصيف كأس سموه لكرة القدم
Amir H H Sheikh Tamim bin Hamad Al Thani hosted yesterday an Iftar banquet at the Amiri Diwan in honour of football players and technical and managerial staff of H H the Amir Cup winners Al Duhail Sports Club, runners-up Al Rayyan Sports Club, representatives of the Amir Cup sponsors, and a number of sports and media personalities.
H H Sheikh Jassim bin Hamad Al Thani, Personal Representative of H H the Amir, attended the banquet along with a number of Their Excellencies sons of H H the Father Amir.
أقام حضرة صاحب السمو الشيخ تميم بن حمد آل ثاني أمير البلاد المفدى مأدبة إفطار بالديوان الأميري أمس تكريما للاعبين والجهازين الفني والإداري لفريق كرة القدم بنادي الدحيل الرياضي بطل كأس سموه لكرة القدم للموسم الحالي، ووصيفه فريق نادي الريان الرياضي، وممثلي الشركات الراعية لبطولة كأس سمو الأمير، وعدد من الشخصيات الرياضية والإعلامية.
حضر المأدبة سمو الشيخ جاسم بن حمد آل ثاني الممثل الشخصي للأمير وعدد من أصحاب السعادة أنجال سمو الأمير الوالد.