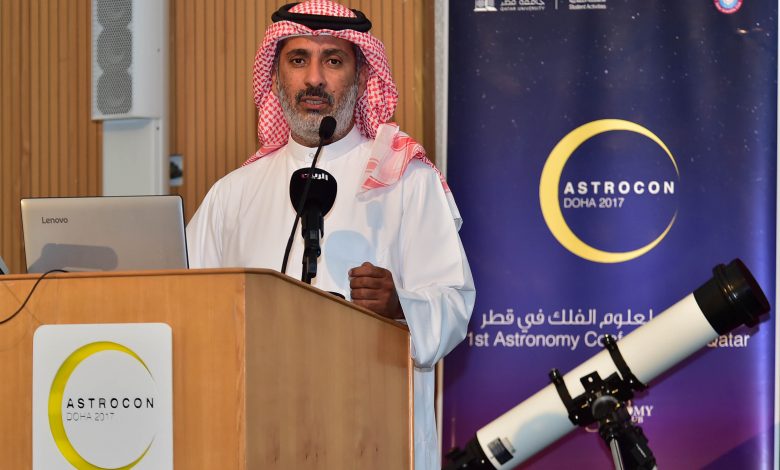 😎 LifeStyle
Zodiac signs and their attributes are "nonsense": Head of Qatar Astronomical Center
رئيس مركز قطر لعلوم الفضاء: الأبراج وصفاتها "كلام فاضي"
Al-Sharq – WGOQatar Translations 
Doha: His Excellency Sheikh Salman bin Jabr Al Thani, President of Qatar Falak center, stressed that the view of modern generations of zodiac signs and their impact and attributes for people are empty words, pointing out that birth control through Chinese Zodiac is a polytheistic act.
Sheikh Salman bin Jabr said in an interview with Al Rayyan Tv that Qatar Falak Center is a center for educating society in astronomy and the development of astronomy in Qatar, and at the beginning of the century many people were ignorant of astronomy, including the topic omens and crescents, hence the idea.
He added: "The center is also deepening the development of curricula in schools, creating an astronomical site and creating accounts on the social networking site, and we have come a long way and have been able to educate people about astronomy after it was seen as something of astrology.
He pointed out that there is a great turnout on the part of the public now on astronomy and diligence in it, especially on social media sites, because people are driven by the search for facts in the subject of astronomy, pointing out that the center's Facebook account has a greater interaction on the part of the Arab countries, and the Twitter account also has interaction on the part of the Gulf, explaining that these interactions are mostly inquiries.
The president of Qatar Falak Center called for staying away from what he described as "guff", noting that attention, for example, to the night of destiny in Ramadan and meteors, and the cold night, distracts people from worship and we correct these concepts.

الشرق
الدوحة: أكد سعادة الشيخ سلمان بن جبر آل ثاني رئيس مركز قطر لعلوم الفضاء والفلك أن نظرة الأجيال الحديثة للأبراج وما لها من تأثير وصفات للأشخاص هي كلام فاضي، مشيراً إلى أن تحديد النسل عبر الأبراج الصينية يعد شركاً بالله.
وقال الشيخ سلمان بن جبر – في مقابلة مع قناة الريان – إن مركز قطر لعلوم الفضاء والفلك يعد مركزاً لتثقيف المجتمع في علم الفلك وتطوير علم الفلك في قطر، فمع بداية القرن كانت الكثير من الناس يجهلون علم الفلك، ومنها موضوع الطوالع والأهلة، ومن هنا جاءت الفكرة.
وأضاف: كذلك يقوم المركز بتعميق تطوير المناهج في المدارس وإنشاء موقع فلكي وإنشاء حسابات على موقع التواصل، وقد قطعنا شوطا كبيرا واستطعنا تثقيف الناس بعلم الفلك بعدما كان ينظر له كشيء من التنجيم.
وأشار إلى أن هناك إقبالاً كبيراً من جانب الجمهور الآن على علم الفلك الاجتهاد فيه، وبخاصة على مواقع التواصل الاجتماعي، لأن الناس مدفوعة بالبحث عن الحقائق في موضوع الفلك، لافتاً إلى أن حساب المركز على الفيسبوك لديه تفاعل أكبر من جانب البلاد العربية، وحساب تويتر لديه تفاعل أيضاً من جانب الخليج ، وموضحاً أن هذه التفاعلات أغلبها عبارة عن استفسارات.
ودعا رئيس مركز قطر لعلوم الفضاء والفلك إلى الابتعاد عما وصفها بـ "الخزعبلات"، منوهاً إلى أن الاهتمام على سبيل المثال بليلة القدر في رمضان والشهب، والليلة الباردة، يلهي الناس عن العبادات ونحن نصحح لهم هذه المفاهيم.