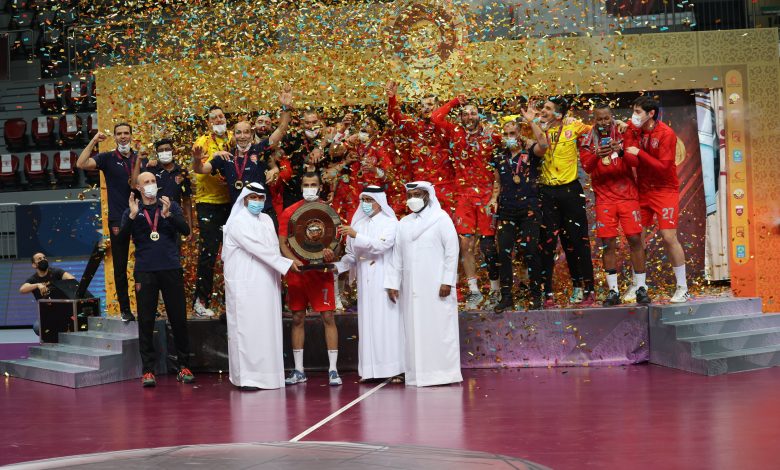 🏆 Sport
Al Duhail Win Men's Handball League
فريق الدحيل يتوج بطلا للدوري العام لكرة اليد
QNA
Doha: Al Duhail captured the 2020/2021 Men's Handball League following their 29-28 victory over Al Khor on Sunday evening at the final round of the league.
Al Duhail raised their tally to 47 points to win the league after Al Arabi defeated Al Wakrah 28-25.
Al Arabi came in the second place with 46 points, while Al Wakrah finished the league in the third spot with the same tally.
President of the Qatar Handball Association Ahmed Al Shaabi handed over the league title to Al Duhail team.

قنا
الدوحة: توج فريق الدحيل بطلا للدوري العام القطري للرجال لكرة اليد للموسم الرياضي 2020 / 2021 بعد فوزه على الخور بنتيجة 29 / 28 في المباراة التي جمعت الفريقين مساء الأمس في ختام الجولة الثامنة عشرة والأخيرة من الدوري.
ورفع الدحيل رصيده بهذا الفوز إلى 47 نقطة حسم بها اللقب لصالحه مستفيدا من فوز العربي على الوكرة بنتيجة 28 / 25 في المباراة الثانية التي أقيمت في وقت سابق، حيث ارتفع رصيد العربي إلى 46 نقطة حل بها في المركز الثاني فيما اكتفى الوكرة الذي كان يكفيه الفوز للحصول على اللقب بالمركز الثالث برصيد 46 نقطة.
وقام السيد أحمد الشعبي رئيس الاتحاد القطري لكرة اليد بتسليم درع الدوري لقائد الدحيل أحمد مددي.
وتعد هذه المرة هي الثالثة التي يتوج فيها الدحيل بلقب الدوري العام القطري للرجال لكرة اليد ، حيث كانت الأولى في موسم 2012 / 2013 بمسماه السابق ( لخويا ) والثانية في موسم 2017 / 2018 .
يشار إلى أن الريان يمتلك الرقم القياسي في عدد مرات الفوز، حيث أحرز اللقب 14 مرة، ويليه السد الذي حصل عليه 9 مرات، في حين فاز به الأهلي والجيش 4 مرات، والدحيل 3 مرات ، والعربي وقطر مرتين، والغرافة والوكرة مرة واحدة لكل منهما.
ومن جهة اخرى تقام غدا / الاثنين / مراسم سحب قرعة بطولتي كأس قطر وكأس سمو أمير البلاد المفدى لكرة اليد للموسم الرياضي الحالي 2020 / 2021 .
وتقام بطولة كأس قطر خلال الفترة من 15 لغاية 17 مايو الحالي بمشاركة الفرق الحاصلة على المراكز الأربعة الأولى في الدوري العام وهي : الدحيل والعربي والوكرة والغرافة، فيما سيتم تحديد موعد بطولة كأس سمو أمير البلاد المفدى لاحقا ، والتي تشارك فيها الفرق الحاصلة على المراكز من الأول إلى الثامن في الدوري العام وهي : الدحيل والعربي والوكرة والغرافة والريان والأهلي والسد والخور.
وتقام البطولتان بنظام خروج المغلوب من مرة واحدة .
وكان الدحيل قد توّج بلقبي بطولتي كأس قطر وكأس سمو أمير البلاد المفدى في الموسم الماضي.