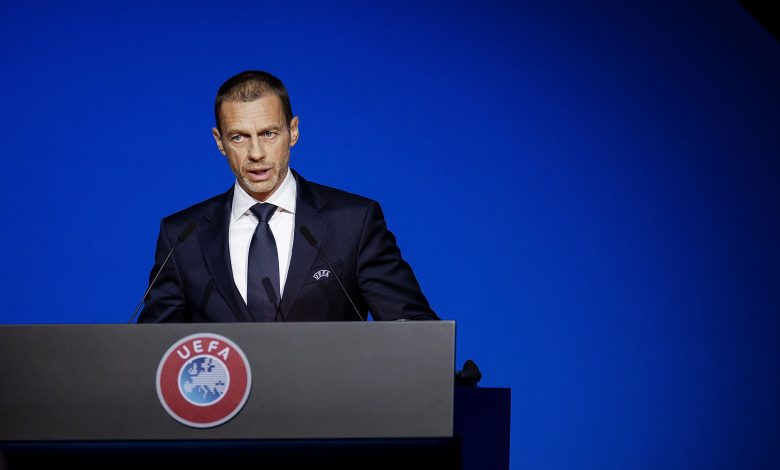 🏆2022
UEFA President Praises Qatar's World Cup 2022 Preparations
رئيس ويفا يشيد باستعدادات قطر لاستضافة مونديال 2022
QNA
Nyon: UEFA President Aleksander Ceferin praised Friday the State of Qatar's preparations for hosting World Cup 2022.
Cerefing told the press that preparations for hosting World Cup 2022 were going well, saying that the visit he paid to Doha in January showed him first hand how well the country was preparing for the event, expressing his pride at the strong cooperation between European association and the Qatar Football Association (QFA), adding that these associations were ready to help QFA in any way.
He also praised President of PSG Nasser Al Khulaifi, stressing that he looks forward to working with him on shaping the future of European football.
He stressed that Al Khulaifi, Bayern Munich CEO Karl-Heinz Rummenigge, and Dortmund CEO Hans-Joachim Watzke had a great role in what he called a victory in the war for football, following the recent breakaway attempt to form the European Super League by 12 clubs.

قنا
نيون (سويسرا): أشاد السلوفيني ألكسندر تشيفرين، رئيس الاتحاد الأوروبي لكرة القدم /ويفا/، باستعدادات قطر لاستضافة كأس العالم لكرة القدم /قطر 2022/ .
وقال السلوفيني، في تصريحات صحفية، إن الاستعدادات لتنظيم نهائيات كأس العالم /قطر 2022/ تسير بشكل رائع، لافتا إلى أنه شاهد خلال زيارته إلى الدوحة في يناير الماضي "كيف أن الاستعدادات رائعة"، معربا عن فخره الكبير بالتعاون بين الاتحادات الأوروبية والاتحاد القطري لكرة القدم "حيث ستقدم هذه الاتحادات كل شيء لاتحاد القطري".
كما أشاد ألكسندر تشيفرين برئيس نادي باريس سان جرمان الفرنسي السيد ناصر الخليفي، مؤكد أنه يتطلع للعمل معه لتشكيل مستقبل كرة القدم على المستوى الأوروبي.
وأكد أن كلا من ناصر الخليفي رئيس النادي الباريسي، وكارل هاينتس رومينيغيه رئيس بايرن ميونيخ، وهانتس يواخيم فاتسكه المدير التنفيذي لنادي بوروسيا دورتموند، كان لهم الفضل في ما سماه انتصارا في الحرب من أجل كرة القدم بعد الأحداث الاخيرة المتمثلة بإقامة دوري السوبر الاوروبي بمشاركة 12 ناديا.