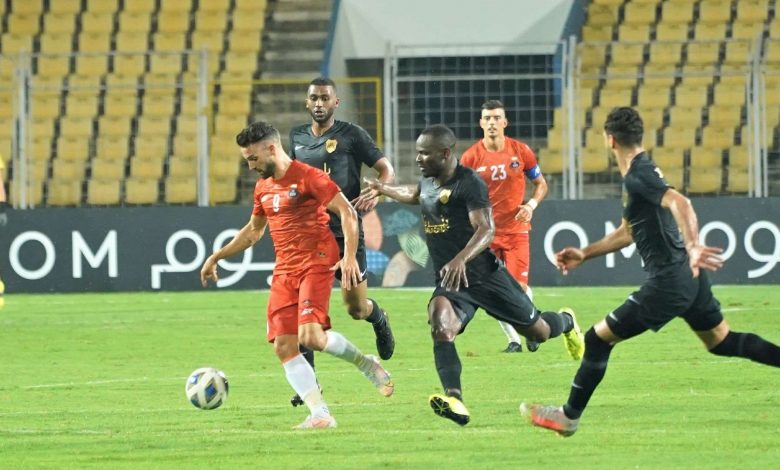 🥅 LEAGUES
AFC Champions League: Al Rayyan and FC Goa Held at a Goalless Draw
دوري أبطال آسيا: التعادل السلبي يحسم مواجهة الريان القطري و غوا الهندي
QNA
Goa, India: Al Rayyan kicked off their AFC Champions League campaign with a 0-0 draw against FC GOA in a Group E tie at the Pandit Jawaharlal Nehru Stadium on Wednesday.
The draw means FC Goa and Al Rayyan are third in Group E, two points behind Islamic Republic of Iran's Persepolis FC, who defeated Al Wahda of UAE 1-0 in their match earlier today.
Al Rayyan started brightly and had their first look at goal on six minutes with captain Yacine Brahimi pulling his effort wide from outside the area.
Two minutes later, FC Goa goalkeeper Dheraj Singh came off his line to block Naif Al Hadhrami's close-range effort with the latter then feeding Yohan Boli, who made a run inside the box before firing wide.
Al Rayyan dominated proceedings with Boli in the thick of action once again just after the half-hour mark but his effort from outside the area left much to be desired.
FC Goa finally got their shooting boots on five minutes before the interval when Alexander Romario's attempt from distance was parried away by Al Rayyan custodian Fahad Younis for a corner.
The hosts then had to endure some tense moments in the closing stages of the half when Dheraj Singh was called into action once again to save Hadhrami's angled long-range effort before Abdelaziz Hatim's drive from distance sailed over the crossbar.
Eager to assert themselves in the game, FC Goa started aggressively after the restart with Sanson Pereira and Ivan Gonzalez operating deep in Al Rayyan territory but the visitors held firm as the score remained goalless at the hour mark.
Al Rayyan were left frustrated two minutes later when Brahimi exchanged a neat one-two with Boli on the edge of the area but the latter finished wide off the mark.
Next on the cards for Al Rayyan will face last year's AFC Champions League runners-up, while Persepolis FC Goa is another stern test against Henk Ten Cate's Al Wahda on Saturday. 

قنا
غوا ( الهند ): تعادل نادي الريان القطري مع غوا الهندي مستضيف المجموعة سلبيا في المواجهة التي جمعت بينهما مساء الأمس على استاد /بانديت جواهر لال نهرو/ في غوا، ضمن الجولة الأولى من منافسات المجموعة الخامسة في دوري أبطال آسيا 2021 لكرة القدم.
وشهدت المباراة الثانية ضمن ذات المجموعة أيضاً فوز بيرسيبوليس الإيراني على الوحدة الإماراتي 1-0 على ذات الملعب.
وتصدر بيرسيبوليس ترتيب المجموعة برصيد 3 نقاط من مباراة واحدة، مقابل نقطة لكل من الريان وغوا، في حين بقي رصيد الوحدة خالياً من النقاط.
عمد لاعبو غوا في بداية المباراة إلى ممارسة الضغط المتقدم على لاعبي الريان من أجل حرمانهم من السيطرة على الكرة وبناء الهجمات، وكانت أبرز محاولات الفريق القطري عبر تسديدة يوهان بولي التي تصدى لها الحارس ديراج سينغ.
في المقابل كانت أخطر فرص الشوط الأول لصالح الفريق الهندي عبر تسديدة الكساندر جيسوراج من مسافة بعيدة والتي أبعدها الحارس القطري فهد يونس بصعوبة إلى ركلة ركنية (40).
ورد الريان قبيل نهاية الشوط الأول عبر تسديدة عبدالعزيز حاتم من خارج منطقة الجزاء، ولكن الكرة مرت فوق العارضة (44).
في الشوط الثاني استمر ذات السيناريو، حيث حاول الريان الرمي بكل أوراقه من أجل الوصول للمرمى دون أن ينجح مهاجمو الفريق في اختراق التنظيم الدفاعي للاعبي غوا.
وحاول ياسين براهيمي استغلال مهاراته الفردية في مراوغة المدافعين من أجل إيجاد المساحات، ولكن هذه المحاولات أيضاً لم تحقق النجاح، وكان أبرزها انطلاقته في الجهة اليسرى قبل أن يتم محاصرته وافتكاك الكرة داخل المنطقة (71).
وجاءت آخر الفرص الخطرة للريان في الدقيقة 86 عندما أرسل محمد علاء الدين تمريرة عرضية من الجهة اليمنى ارتقى لها يوهان بولي على القائم البعيد ولعبها برأسه لكن الحارس سينغ أبعدها بقدمه. ثم مرت رأسية شجاع خليل زاده بجوار القائم (90).
وتقام الجولة الثانية من منافسات المجموعة يوم السبت، حيث يلتقي الوحدة مع غوا، والريان مع بيرسيبوليس… ويتأهل إلى دور الـ16 صاحب المركز الأول في كل مجموعة، إلى جانب أفضل ستة أندية تحصل على المركز الثاني في المجموعات العشر.