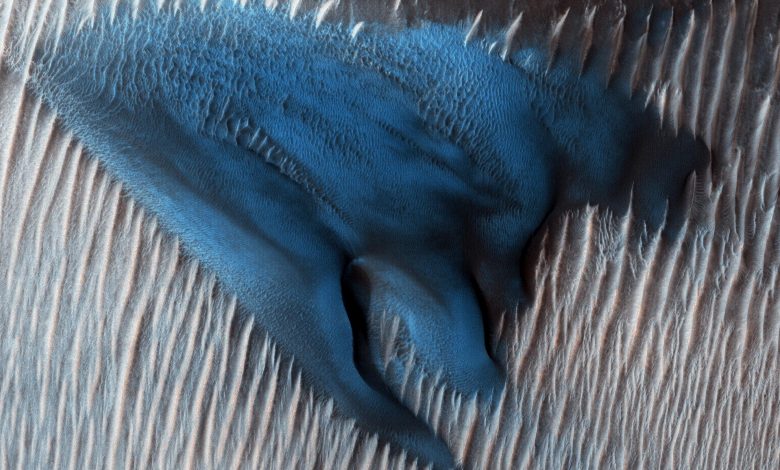 🌍 World
NASA Releases Photo of Blue Sand Dunes on Mars
ناسا تنشر صورة لكثبان رملية زرقاء على كوكب المريخ
QNA
Washington: The National Aeronautics and Space Administration (NASA) has released pictures of spellbinding blue dunes from the red planet-Mars.
In an image released by NASA, areas depicted in yellows and oranges have warmer temperatures. Areas marked in bluer tints, that resemble blankets of snow, have cooler temperatures.
The area captured in 30 kilometers wide and situated on 80.3 degrees north latitude and 172.1 degrees latitude.
The US space agency has released these images on the twentieth anniversary of the Odyssey rover. The images shared by NASA were taken using the Thermal Emission Imaging System (THEMIS) instrument on the Odyssey orbiter, which has sent around 1 million images since it started circling Mars.
The imaging system developed by the Arizona State University has been instrumental in reporting significant findings from Mars such as rocks, salts, water and much more. Besides this, the THEMIS imaging system has also captured unique views from Mars' moons-Phobos and Deimos.
According to Odyssey's deputy project scientist Laura Kerber, "It's hard to overstate how the THEMIS global map has filled gaps in our knowledge."
THEMIS "measures the surface temperature day and night, allowing scientists to determine what physical materials, such as rock, sand, or dust, exist. Its data reveals the presence of these materials based on how they heat up or cool down over the course of a Martian day," according to the NASA website.
Mars Odyssey spacecraft was launched on April 7, 2001, on board the missile, Delta 2, from Cape Canaveral, Florida, USA, and reached the orbit of Mars on October 24, 2001.

قنا
واشنطن: نشرت إدارة الطيران والفضاء الأمريكية /ناسا/ صورة لكثبان رملية زرقاء التقطتها المركبة المدارية /مارس أوديسي/، وهي أقدم مركبة فضاء تعمل على كوكب المريخ.
وقالت /ناسا/ في بيان "تظهر هذه الكثبان الرملية التي تحيط بالغطاء القطبي الشمالي للمريخ والتي تشكلت بفعل الرياح ، وتغطي الصورة منطقة بعرض 30 كيلومترا، لكن في الواقع تغطي المنطقة بأكملها مساحة تضاهي حجم ولاية تكساس الأمريكية".
وأوضحت /ناسا/ أن الصورة المركبة تجمع صورا التقطتها المركبة، خلال الفترة من ديسمبر 2002 إلى نوفمبر 2004، بواسطة كاميرا التصوير الحراري للانبعاثات (THEMIS) المثبتة على متن المركبة المدارية.
وبالإضافة إلى الكثبان الزرقاء، تحيط أيضا بالمنطقة مساحات صفراء وبرتقالية، وتعكس الألوان درجة حرارة المنطقة، فكلما ارتفعت الحرارة مالت إلى اللون الداكن، وكلما انخفضت مالت للون الأزرق.
وأوضحت /ناسا/ في بيان آخر، أن قياس درجات الحرارة بواسطة كاميرا (THEMIS) يسمح للعلماء معرفة طبيعة المواد في المناطق مثل الصخور أو الرمال أو الغبار، وهو ما يمكن أن يسد الفجوات بشأن المعلومات عن المريخ.
جدير بالذكر أن مركبة /مارس أوديسي/ انطلقت في 7 أبريل 2001 ، على متن الصاروخ /دلتا 2/ من قاعدة /كيب كانافيرال/ بولاية فلوريدا الأمريكية، ووصلت إلى مدار كوكب المريخ يوم 24 أكتوبر 2001.
لا تزال /مارس أوديسي/ تعمل ولديها وقود دافع يكفي حتى عام 2025، ومن المتوقع أن تواصل عملها في مراقبة سطح الكوكب.