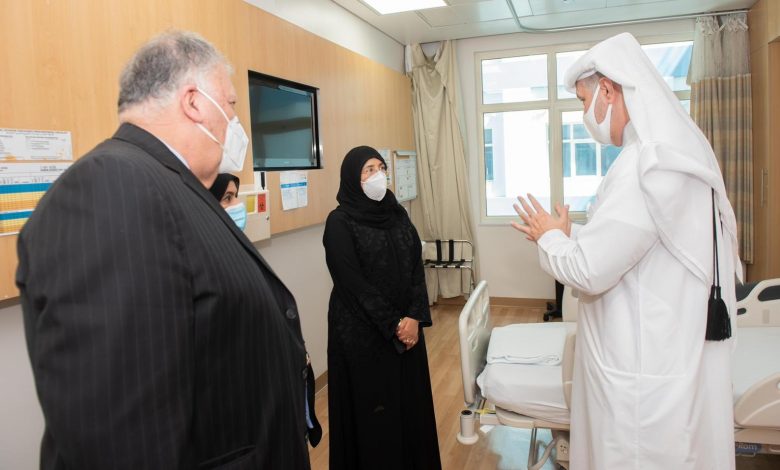 وزيرة الصحة تتفقد مستشفى الوكرة
QNA
Doha: HE Minister of Public Health Dr. Hanan Mohamed Al Kuwari, yesterday visited Al Wakra Hospital to meet senior members of Hamad Medical Corporations Tactical Command Group and Al Wakra Hospitals leadership team following the designation of the hospital as a COVID-19 medical facility.
The majority of services at Al Wakra Hospital were transferred to other hospitals in the public healthcare sector to enable Al Wakra to be utilized as a dedicated COVID-19 facility.
"In recent weeks we have seen a significant increase in the number of people requiring admission to hospital due to moderate and severe COVID-19 symptoms. The designation of Al Wakra Hospital, one of the largest hospitals in HMCs network, means we now have seven facilities solely dedicated to providing medical care and support for COVID-19 patients," said HE Dr. Al Kuwari.
"We have taken a proactive approach to our capacity expansion strategy throughout the pandemic, ensuring that we always have sufficient bed capacity to meet any future increases in demand for hospital admission. There are now more than 2,100 COVID-19 patients being cared for in HMC hospitals, including over 400 admitted to intensive care, and by adding Al Wakra Hospital to our COVID-19 hospital network we now have an extra 400 hospital beds and 150 intensive care beds available for COVID-19 patients, should the demand require them," explained HE Dr. Al Kuwari.
During the visit to Al Wakra Hospital, the Minister of Public Health discussed with HMC senior leaders how the hospital will play an important role in the strategy to ensure the healthcare system is able to manage any future escalation in the number of COVID-19 patients needing medical treatment. The Minister also inspected the inpatient units and intensive care units as they prepare to admit COVID-19 patients.
"Al Wakra Hospital becomes the seventh HMC facility dedicated to providing care for patients with COVID-19. By creating a clear divide between our COVID-19 facilities and non-COVID-19 facilities we can ensure our COVID-19 resources are best utilized to deliver high-quality care to COVID-19 positive patients. Additionally, patients attending non-COVID-19 facilities for regular medical services can do so safely, without the risk of infection," said HMCs Chief Medical Officer Dr. Abdulla Al Ansari.
"Due to the designation of Al Wakra Hospital as a COVID-19 facility we have transferred the majority of routine services to other hospitals, meaning patients will continue being able to access excellent care during this time. I would like to thank the public for their support and understanding during this second wave of COVID-19," added Dr. Al Ansari.

قنا
الدوحة: قامت سعادة الدكتورة حنان محمد الكواري وزير الصحة العامة بزيارة تفقدية يوم الأمس لمستشفى الوكرة، حيث التقت بكبار أعضاء مجموعة القيادة التكتيكية بمؤسسة حمد الطبية وفريق قيادة مستشفى الوكرة الذي تم تخصيصه مؤخرا كمرفق طبي لعلاج المصابين بفيروس كورونا (كوفيد-19).
وقالت سعادتها إن الأسابيع الأخيرة شهدت زيادة كبيرة في عدد المصابين الذين يحتاجون إلى دخول المستشفى بسبب أعراض فيروس كورونا (كوفيد-19) المتوسطة والشديدة، وقد تم تخصيص مستشفى الوكرة، أحد أكبر المستشفيات في شبكة مؤسسة حمد الطبية ليصبح هناك سبعة مرافق طبية مخصصة لتقديم الرعاية الطبية والدعم لمرضى فيروس كورونا (كوفيد-19).
وأوضحت سعادة وزير الصحة العامة بهذا الخصوص أنه تم اتباع نهج استباقي لتوسيع استراتيجيتنا التي تتمثل في زيادة قدراتنا خلال فترة مكافحة هذا الوباء، مما يضمن أن لدينا دائما سعة كافية في عدد الأسرة لتلبية أي زيادات مستقبلية في حاجة المرضى إلى دخول المستشفى.
وأشارت إلى أن أكثر من 2100 من مرضى /كوفيد-19/ يحصلون على الرعاية في مستشفيات مؤسسة حمد الطبية، من بينهم أكثر من 400 مريض تم إدخالهم لوحدات العناية المركزة في مختلف مستشفيات ومرافق مؤسسة حمد المخصصة لذلك.
وقالت سعادتها إنه مع ادخال مستشفى الوكرة الى شبكة المرافق المخصصة لعلاج المصابين بفيروس كرونا (كوفيد19) أصبح هناك في الوقت الحالي 400 سرير إضافي و 150 سريرا خاصا للمرضى الذين يحتاجون إلى تلقي العلاج في وحدة العناية المركزة في حال تطلب الأمر ذلك.
وتم خلال الزيارة التفقدية التطرق مع كبار قادة مؤسسة حمد الطبية إلى كيفية لعب مستشفى الوكرة دورا مهما في استراتيجية ضمان قدرة نظام الرعاية الصحية على إدارة أي تصعيد مستقبلي في عدد المرضى المصابين بفيروس كورونا (كوفيد-19) ممن يحتاجون إلى علاج طبي.
كما قامت سعادتها خلال الزيارة بتفقد وحدات المرضى الداخليين ووحدات العناية المركزة ومدى استعدادهم لاستقبال مرضى فيروس كورونا (كوفيد-19) كما اطلعت على مستوى الخدمات الطبية المقدمة للمرضى.
ومن جانبه، قال الدكتور عبدالله الأنصاري رئيس الإدارة الطبية بمؤسسة حمد الطبية، إن مستشفى الوكرة يعتبر سابع مرفق طبي مخصص لتقديم الرعاية الطبية لمرضى فيروس كورونا (كوفيد-19).
واشار الى انه من خلال التقسيم الواضح بين المرافق المخصصة لعلاج المصابين بفيروس كورونا (كوفيد-19) والأخرى غير المخصصة لعلاج المصابين بفيروس كورونا (كوفيد-19) يمكن الاستفادة من الموارد واستخدامها على أكمل وجه لتقديم رعاية عالية الجودة للمرضى المصابين بفيروس كورونا (كوفيد-19)، بالإضافة إلى ذلك، يمكن للمرضى المتوجهين إلى المرافق غير المخصصة لعلاج المصابين بفيروس كورونا (كوفيد-19) الحصول على خدماتهم الطبية الروتينية بشكل آمن دون التعرض لخطر الإصابة بالعدوى.
وأضاف انه نظرا لتخصيص مستشفى الوكرة كمرفق طبي لعلاج المصابين بفيروس كورونا (كوفيد-19)، فقد تم نقل غالبية الخدمات الروتينية إلى مستشفيات أخرى، مما يعني استمرار المرضى في الحصول على أفضل رعاية ممكنة خلال هذا الوقت، منوها بدعم وتفهم الجمهور خلال هذه الموجة الثانية من فيروس كورونا (كوفيد-19).
تجدر الإشارة الى انه تم نقل غالبية الخدمات في مستشفى الوكرة يوم السبت الماضي إلى مستشفيات أخرى في قطاع الرعاية الصحية العام للاستفادة من مستشفى الوكرة كمرفق مخصص لعلاج المصابين بفيروس كورونا (كوفيد-19).