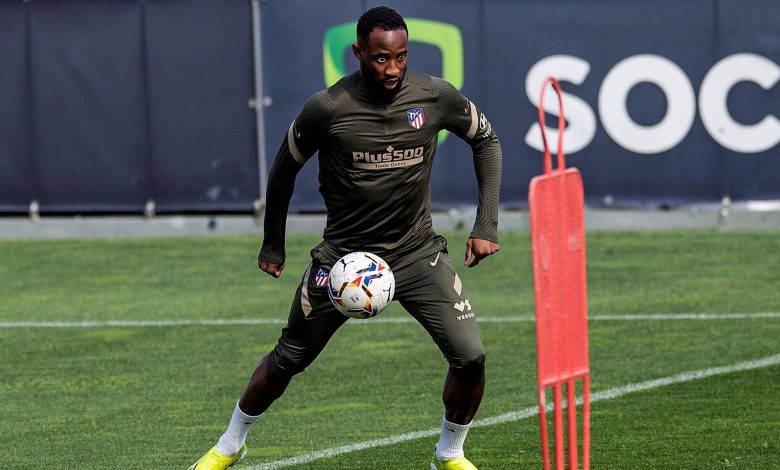 🥅 LEAGUES
Moussa Dembele: Atletico Madrid striker faints during training session
سقوط مفاجئ وغريب لـ "ديمبيلي" فاقدا للوعي أثناء المران 
Atletico Madrid's training session witnessed a strange incident on Tuesday after the team's striker Moussa Dembele suddenly fainted.
The medical staff of the Spanish capital team rushed to the French striker's aid quickly.
According to Spanish press reports, the French striker then appeared to regain consciousness and was able to leave the pitch on foot unaided.
Dembele went to the hospital for further examinations and to find out why he had suddenly fainted and is receiving treatment.

شهد مران أتليتكو مدريد الثلاثاء واقعة غريبة بعدما سقط موسى ديمبيلي مهاجم الفريق أثناء المران فجأة فاقدا للوعي.
وهرع الجهاز الطبي لفريق العاصمة الإسبانية لإسعاف المهاجم الفرنسي سريعا.
وحسبما ذكرت الصحف الإسبانية فإن المهاجم الفرنسي استفاق واستطاع ترك الملعب سيرا على قدميه دون أي مساعدة.
وذهب ديمبيلي إلى المستشفى للخضوع للمزيد من الفحوصات ومعرفة سبب الإغماءة المفاجئة التي تعرض لها وتلقي العلاج.

الفرنسي لاعب اتلتيكو مدريد موسى ديمبلي تعرض للإغماء خلال تدريبات.. الاعب عانى من انخفاض في ضغط الدم وحالته مستقرة الان.. سلاماتpic.twitter.com/Js6ErZqpqi

— منتخب فرنسا 🇫🇷⭐⭐🇫🇷 (@France_Ar_fans) March 23, 2021