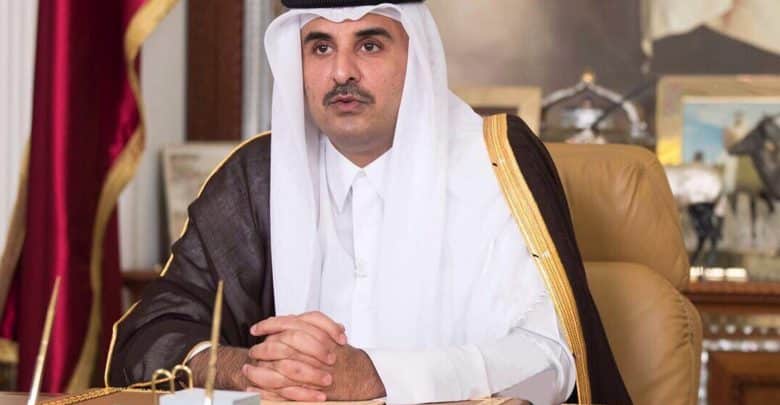 صاحب السمو يشارك في اجتماع الدورة الـ١٣٧ للجنة الأولمبية الدولية
QNA
Doha: HH the Amir Sheikh Tamim bin Hamad Al-Thani took part in the virtual meeting of the 137th Session of International Olympic Committee (IOC), which was chaired by HE President of the International Olympic Committee Dr. Thomas Bach and attended by members of the Executive Office, members of the IOC, and presidents of international federations and national Olympic committees.
Discussions during the meeting covered issues related to promoting and supporting the Olympic movement, as well as the topics listed on the agenda. HE Dr. Thomas Bach was reelected as IOC President for a second term during the meeting.
HE President of Qatar Olympic Committee Sheikh Joaan bin Hamad Al-Thani attended the meeting. 

قنا
الدوحة: شارك حضرة صاحب السمو الشيخ تميم بن حمد آل ثاني أمير البلاد المفدى، عضو اللجنة الأولمبية الدولية، يوم الأمس في اجتماع الدورة الـ137 للجنة الأولمبية الدولية الذي عقد عبر تقنية الاتصال المرئي برئاسة سعادة الدكتور توماس باخ رئيس اللجنة الأولمبية الدولية، وحضور أعضاء المكتب التنفيذي، وأعضاء اللجنة الأولمبية الدولية، ورؤساء الاتحادات الدولية واللجان الأولمبية الوطنية.
جرى خلال الاجتماع مناقشة الموضوعات المتعلقة بدعم وتعزيز الحركة الأولمبية، واستعراض الموضوعات المدرجة على جدول الأعمال، واتخاذ القرارات اللازمة بشأنها، كما تم إعادة انتخاب الدكتور توماس باخ لرئاسة اللجنة لفترة ثانية.
شارك في الاجتماع سعادة الشيخ جوعان بن حمد آل ثاني رئيس اللجنة الأولمبية القطرية.