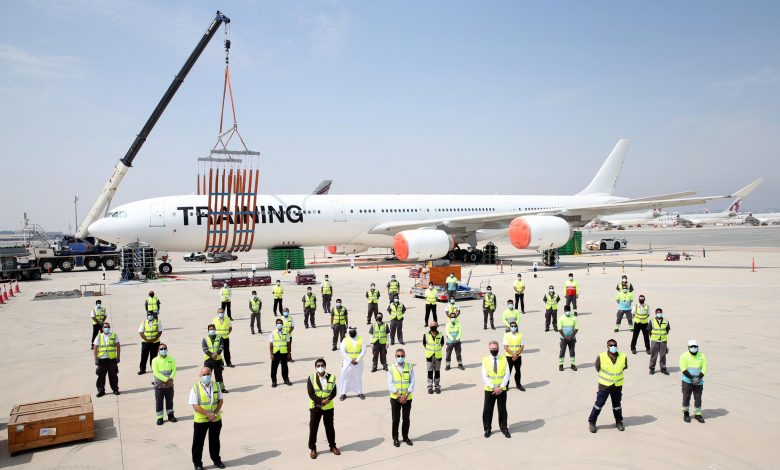 💰 Business
QA Conducts Disabled Aircraft Recovery Exercise
القطرية تجري تدريب إعادة تجهيز الطائرات المتضررة
QNA
Doha: Qatar Airways has held its 12th annual simulated Disabled Aircraft Recovery (QDAR) Exercise.
The exercise was held on a grounded Airbus A340-600 aircraft using the airlines state-of-the-art Aircraft Recovery Kit, at Doha International Airport from Feb. 28 to March 4.
Qatar Airways is the only airline in the Middle East and Africa to operate the equipment, and one of just 12 International Airlines Technical Pool (IATP) member global airlines to operate the kit which is capable of lifting the equivalent weight of up to Airbus A380, one of the largest commercial passenger aircraft in existence. Manufactured by Dutch rescue and recovery equipment provider, Resqtec, the innovative Aircraft Recovery Kit complies with ICAO IATA rules and regulations and uses a complex system of airbags, slings and jacks to winch a disabled aircraft to safety following an emergency incident.
The Qatar Airways kit has already been used in one regional aircraft recovery to date and annual simulation exercise ensures that the skillset of the QDAR team, which is primarily made up of members of the airlines Technical department and ground services subsidiary, Qatar Aviation Services (QAS) remain current in the event of a crisis.
Qatar Airways Group Chief Executive, HE Akbar Al Baker said: "Qatar Airways is at the forefront of enhancing global aviation safety with our commitment to investing in the highest standards of recovery equipment and comprehensive training for industry professionals.
"As the only airline to own and operate an Aircraft Recovery Kit in the Middle East and Africa regions within IATP group, this innovative technology is an asset not only for Qatar Airways and the entire commercial aviation industry throughout the region and beyond," His Excellency added.

قنا
الدوحة: أقامت الخطوط الجوية القطرية التدريب السنوي الـ12 على مجموعة إعادة تجهيز الطائرات المتضررة.
وأُجري التدريب على طائرة من طراز إيرباص A340-600 باستخدام المجموعة الشاملة لإعادة تجهيز الطائرات المتضررة الخاصة بالناقلة، وذلك في مطار الدوحة الدولي، من 28 فبراير وحتى 4 مارس 2021.
وتعتبر الناقلة الوطنية لدولة قطر شركة الطيران الوحيدة في الشرق الأوسط وإفريقيا ضمن التي تمتلك وتشغّل هذه المعدات، وواحدة من 12 شركة طيران عالمية ضمن عضوية منظمة IATPتمتلك وتشغل المجموعة الكاملة لإعادة تجهيز الطائرات التي لديها الإمكانية لرفع طائرة من طراز إيرباص A380 – إحدى أضخم طائرات الركاب.
وتم تصنيع هذه المجموعة من قبل شركة "ريسكتك" الهولندية المتخصصة في توفير معدات الإنقاذ والاسترجاع ، وتمتثل هذه المجموعة لقوانين ومتطلبات الاتحاد الدولي للنقل الجوي (اياتا) ومنظمة الطيران المدني الدولي (إيكاو)، وتستخدم نظاماً معقداً من الوسائد الهوائية والرافعات والحبال لرفع الطائرات المتضررة وضمان سلامتها بعد حادثة طارئة.
وتم استخدام مجموعة إعادة تجهيز الطائرات المتضررة الخاصة بالخطوط الجوية القطرية في عملية استعادة إحدى الطائرات. ويعمل هذا التدريب السنوي على ضمان جهوزية فريق إعادة تجهيز الطائرات المتضررة الذي يضم أعضاءً من القسم التقني وقسم الخدمات الأرضية والقطرية لخدمات الطيران، واستعدادهم لأي طارئ.
وقال سعادة السيد أكبر الباكر، الرئيس التنفيذي لمجموعة الخطوط الجوية القطرية:" تتبوأ الخطوط الجوية القطرية الطليعة دائماً عندما يتعلّق الأمر بتعزيز معايير السلامة على مستوى قطاع الطيران، ويبدو هذا الأمر جلياً من خلال التزامنا بالاستثمار في أفضل معدات استعادة الطائرات وتقديم التدريب الشامل للمحترفين في القطاع".
وأضاف سعادته:" بصفتنا شركة الطيران الوحيدة التي تمتلك وتشغّل معدات استعادة الطائرات المتضررة في الشرق الأوسط وإفريقيا ضمن عضوية منظمة IATP، تبرز أهمية هذه المعدات بأنها عنصر مهم ليس فقط للخطوط الجوية القطرية، بل لقطاع الطيران في المنطقة والعالم".