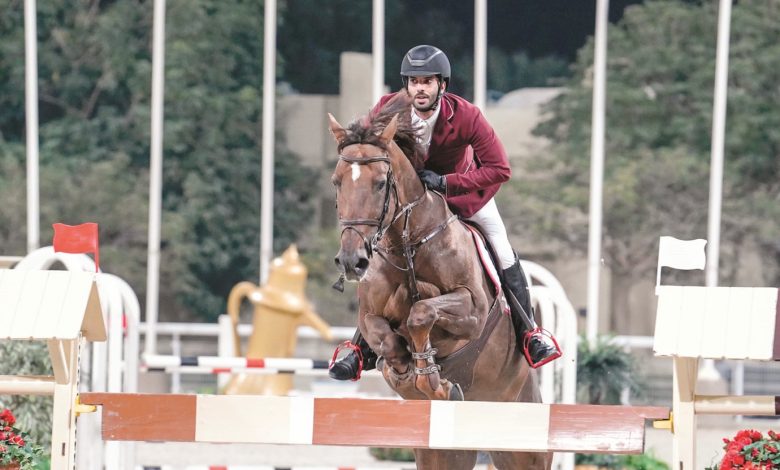 🐎Various
Amir Sword Festival for Show Jumping, Dressage Kicks Off Today
انطلاق مهرجان سيف سمو أمير لقفز الحواجز والترويض اليوم
QNA
Doha: The competitions of HH the Amir Sheikh Tamim bin Hamad Al-Thani Sword Festival for Show Jumping and Dressage will kick off Thursday. The three-day festival is organized by Qatar Equestrian Federation & Modern Pentathlon (QEFMP), with prizes amount to QR 500,000.
The festival will be held with the participation of 100 jockeys and it is held in coordination with the Ministry of Public Health in order to ensure that it is held in accordance with the measures followed in the country.
It will be held amidst strict procedures, as only 10 percent of the field capacity is allowed, with seats that exceed this permitted number being covered.
The festival is a great opportunity for Qatari riders to prepare for the upcoming international competitions besides preparing for the Al Shaqab International Championship and the Longines International Equestrian Tour which will open in Al Shaqab in March in Doha.
President of the Qatari and Asian equestrian federations Hamad Abdulrahman Al Attiyah said that HH the Amir Sword Festival is the most prestigious and glamorous equestrian event for all equestrian members in Qatar, and every year there is a fierce competition to win this precious title, pointing out that the riders have prepared well to compete as they participated in the equestrian championship rounds organized by the federation in cooperation with Al Shaqab – a member of Qatar Foundation, indicating that the honoring ceremony on Saturday will be held jointly with Qatar Racing and Equestrian Club (QREC) at the QREC.
Al Attiyah thanked the wise leadership for the continued support for Qatari equestrian, adding that the Qatar Equestrian Federation works according to the directives of HE President of Qatar Olympic Committee Sheikh Joaan bin Hamad Al-Thani.

قنا
الدوحة: تنطلق اليوم، منافسات مهرجان سيف حضرة صاحب السمو الشيخ تميم بن حمد آل ثاني أمير البلاد المفدى، لقفز الحواجز والترويض الذي ينظمه الاتحاد القطري للفروسية والخماسي الحديث، بالميدانين الداخلي والخارجي للاتحاد على مدار ثلاثة أيام متتالية، وتصل جوائزه المالية إلى ما يقارب 500 ألف ريال.
ويشارك في منافسات المهرجان 100 فارس وفارسة، ويعد الحدث الأبرز لاتحاد الفروسية في كل موسم، وأغلى البطولات المحلية التي ينظمها الاتحاد حيث يحظى بتنظيم يفوق البطولات العالمية لأهميته، ويقام وسط إجراءات احترازية مشددة تهدف لسلامة الجميع، وذلك بالتنسيق مع وزارة الصحة العامة لضمان إقامته وفق الإجراءات الاحترازية المتبعة في الدولة.
وتبدأ فعاليات المهرجان اليوم بإجراء عملية الفحص الطبي والتقني للخيل المشاركة، يعقبه انطلاق المنافسات الرسمية التي تبدأ بجولتين لفرسان المستقبل بالميدان الداخلي للاتحاد الأولى على ارتفاع 70 /85 سم، والثانية تقام على ارتفاع 85 /100 سم.
أما في اليوم الثاني للمهرجان فتقام ثلاث جولات الأولى ضمن /الصغرى/ على ارتفاع 100 / 120 سم، والثانية ضمن /المتوسطة/ على ارتفاع 120/ 130 سم، والثالثة ضمن /الكبرى/ على ارتفاع 135 /145 سم.
وفي اليوم الثالث والأخير من المهرجان تنطلق المنافسات في الصباح بالترويض الذي يقام بالميدان الداخلي للاتحاد من جولتين الأولى للمستوى الأول، والثانية للفرسان المصنفين ضمن المستوى الثاني، تعقبها في المساء منافسات الجولة الكبرى على ارتفاع 135 /145 سم، تليها /الصغرى/ على ارتفاع 100 /120 سم، وتختتم بالجولة المتوسطة على ارتفاع 120 /130 سم.
يشار إلى أن المهرجان يقام بنظام تجميع النقاط في جميع أيامه، ويسمح فقط بحضور 10 بالمئة من سعة الميدان، مع تغطية المقاعد التي تزيد على العدد المسموح به.
ويعتبر المهرجان فرصة للفرسان القطريين للإعداد للمنافسات الدولية القادمة بجانب الإعداد لبطولة الشقب الدولية وجولات لونجين العالمية للفروسية التي تفتتح في الدوحة (الشقب) الشهر المقبل.
وأكد السيد حمد عبدالرحمن العطية رئيس الاتحادين القطري والآسيوي للفروسية، أن سيف حضرة صاحب السمو أمير البلاد المفدى، من البطولات الغالية على كل منتسبي الفروسية في قطر ويشهد في كل عام منافسة شرسة من أجل الظفر باللقب الغالي، لافتا إلى أن الفرسان استعدوا جيدا لخوض منافساته من خلال مشاركتهم في جولات بطولة /هذاب/ للفروسية التي ينظمها الاتحاد بالتعاون مع الشقب – عضو مؤسسة قطر، حيث انعكس ذلك على مستواهم الفني.. مشيرا إلى أن التتويج بالسيف يوم السبت المقبل سيكون مشتركا مع نادي السباق والفروسية بمضمار النادي.
وتقدم العطية بالشكر إلى القيادة الرشيدة في الدولة على دعمها المتواصل للفروسية القطرية، مضيفا أن الاتحاد القطري للفروسية يعمل وفق توجيهات سعادة الشيخ جوعان بن حمد آل ثاني رئيس اللجنة الأولمبية القطرية.