وزير الدفاع يدشن طائرة الهليكوبتر NH90
QNA
Doha: HE Deputy Prime Minister and Minister of State for Defense Affairs Dr. Khalid bin Mohammed Al Attiyah visited the factory of the Italian company Leonardo in the city of Varese, where he was received by the CEO of the company Alessandro Profumo.
This visit comes within the framework of a review of the assembly line of the Qatari Amiri Air Force's AW169, the twin-engine aircraft, which weighs 4.5 tons.
This aircraft has a unique cabin management system that allows passengers to use multiple devices on board and ensures that all power systems can be used even if the engine stops rotating. It also guarantees excellent performance and high safety standards in all operating conditions.
His Excellency also visited the second factory of the Leonardo company in the city of Tessera and inaugurated the NH90 helicopter by making its first flight, which took place at the Leonardo helicopter factory in Tessera.
This aircraft is a twin-engine tactical transport medium-sized helicopter designed for tactical transport operations for 16 to 20 soldiers or the transportation of materials. It is also used for special forces operations, searches and rescue, medical evacuation, and several other tasks including counterterrorism, command and control, government transportation, and natural disasters.
The NH90 aircraft has a digital cockpit and an advanced control system to improve the ability to analyze flight data, which greatly helps pilots. It is also characterized by high safety standards equipped with night vision systems. It includes all other integrated systems such as weather radar, digital map, obstacle warning system, and advanced protection systems, plus equipment such as cable bases and armored seats for pilots.
During the two visits and the inauguration ceremony, His Excellency was accompanied HE Ambassador of the State of Qatar to the Italian Republic Abdulaziz bin Ahmed Al Malki, HE Commander of the Amiri Air Force Staff Major General (Pilot) Salem bin Hamad Al Nabit, the Qatari Military Attache to the Italian Republic Brigadier General Hilal Ali Al Mohannadi, and several senior officers of the Armed Forces.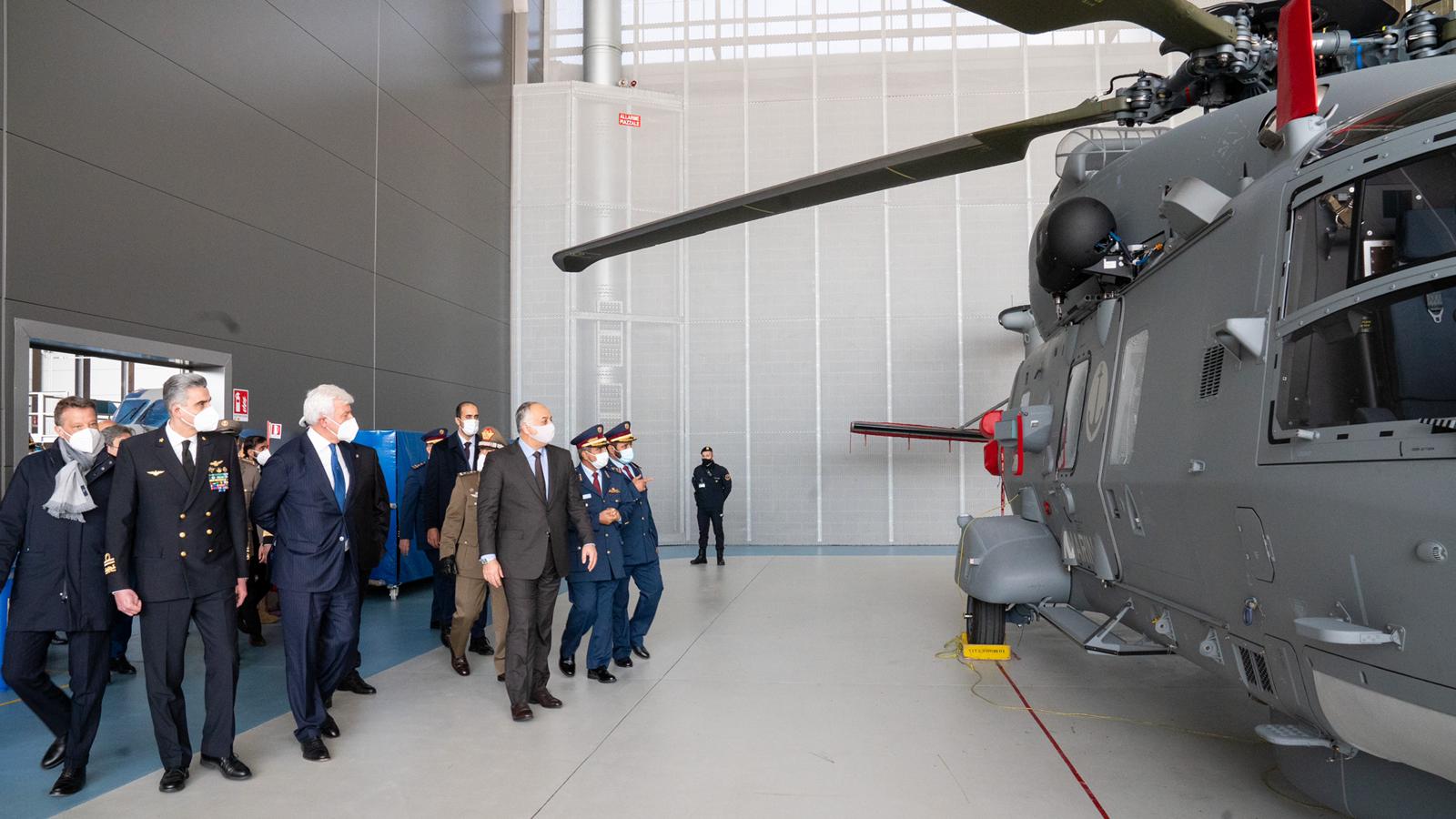 قنا
الدوحة: قام سعادة الدكتور خالد بن محمد العطية نائب رئيس مجلس الوزراء وزير الدولة لشؤون الدفاع، بزيارة لمصنع شركة ليوناردو الإيطالية في مدينة /يرجاتي/، حيث استقبله السيد اليساندرو بروفومو الرئيس التنفيذي للشركة.
وتأتي هذه الزيارة في إطار الاطلاع على خط التجميع لطائرات /AW169/ التابعة للقوات الجوية الأميرية القطرية، ذات المحركين والتي تزن 4،5 طن.
وتمتاز هذه الطائرة بنظام فريد لإدارة المقصورة، حيث يسمح للركاب باستخدام أجهزة متعددة على متنها، وتضمن إمكانية استخدام كل أنظمة الطاقة حتى في حال توقف المحرك عن الدوران، كما تضمن الأداء الممتاز ومعايير السلامة العالية في جميع ظروف التشغيل.
كما قام سعادته بزيارة المصنع الثاني لشركة ليوناردو في مدينة تيسيرا، وقام بتدشين طائرة الهليكوبتر /NH90/ عبر إجراء رحلة الطيران الأولى لها والتي تمت في مصنع شركة ليوناردو للهليكوبتر في مدينة تيسيرا.
وتعتبر هذه الطائرة مروحية نقل تكتيكي ذات محركين /متوسط الحجم/ تم تصميمها لعمليات النقل التكتيكي من /16 إلى 20 جنديا/ أو لنقل المواد، كما تستخدم لعمليات القوات الخاصة والبحث والإنقاذ والإخلاء الطبي وعدة مهام أخرى بما في ذلك مكافحة الإرهاب والقيادة والسيطرة والنقل الحكومي والكوارث الطبيعية.
وتمتاز طائرة /NH90/ بقمرة قيادة رقمية ونظام تحكم متقدم، بغرض تحسين القدرة على تحليل بيانات الرحلة مما يساعد الطيارين بشكل كبير، كما تمتاز بمعايير سلامة عالية مجهزة بأنظمة الرؤية الليلية، كما تشمل جميع الأنظمة المتكاملة الأخرى كرادار الطقس والخريطة الرقمية ونظام تحذير من العوائق وأنظمة الحماية المتقدمة، بالإضافة إلى المعدات مثل قواعد الكابلات والمقاعد المدرعة للطيارين.
رافق سعادته خلال الزيارتين وحفل التدشين سعادة السيد عبدالعزيز بن أحمد المالكي سفير دولة قطر لدى جمهورية إيطاليا، وسعادة اللواء الركن /طيار/ سالم بن حمد النابت قائد القوات الجوية الأميرية، والعميد الركن هلال علي المهندي الملحق العسكري القطري لدى جمهورية إيطاليا، وعدد من كبار الضباط في القوات المسلحة.