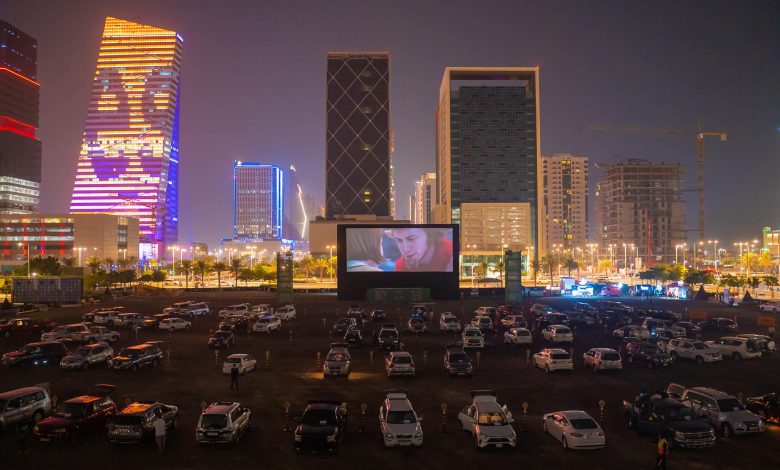 سينما السيارات تعرض نصف نهائي مونديال الأندية
Doha: Qatar National Tourism Council in cooperation with the Doha Film Institute (DFI), announced that the two FIFA Club World Cup 2021 semi-final games will be broadcast on February 7 and 8, 2021, at DFI's drive-in Cinema in Lusail.
The initiative provides fans with the opportunity to support their teams, and enjoy the excitement and enthusiasm of football without violating social distancing or other precautionary measures. Highlighting Qatar's cultural diversity, this initiative is also reflective of the country's passion for sports in general and football in particular.
The drive-in cinema will broadcast the first semi-final between Brazilian Libertadores Cup champion Palmeiras and the Tigres UANL Concacaf's Champions on February 7, 2021 at 9 pm.  Europe's champion Bayern Munich will play its first game against Africa's Champions Al Ahly SC,  on February 8, 2021 at 9 pm. The drive-in cinema can accommodate 159 cars, and ticket prices range from 120 to 150 Qatari riyals.
Mr. Berthold Trenkel, Chief Operating Officer of Qatar National Tourism Council said: "We continue our successful partnership with the Doha Film Institute to develop entertainment experiences for citizens and residents that contribute to domestic tourism while focusing on adhering to safety measures due to current circumstances.
Qatar continues to strengthen its position as a hub for major international events such as the FIFA World Cup Qatar 2022™.  Successfully hosting tournaments such as the FIFA Club World Cup shows the world Qatar's readiness and capabilities in organising events in exceptional circumstances, further enhancing our position as a safe destination."
Fatma Hassan Alremaihi, Chief Executive Officer of the Doha Film Institute, said: "Bringing audiences together at safe social distances, the open-air experience of drive-in cinemas are a perfect way to bring the excitement of the game to the community at a time when it's challenging for many to go to a game now. A retro favourite, the drive-in during the pandemic is being reimagined across the world, giving us new ways to experience films, music, sports, and live performances. We are proud to be collaborating with Qatar National Tourism Council to celebrate our great love of football and share our enthusiasm with the public as we prepare to host the world's biggest sporting extravaganza next year." 
To ensure a smooth entertainment experience at the drive-in cinema, every passenger above 18 must show their Ehteraz. Each ticket is valid for one car with a maximum capacity of 4 individuals, all of whom must be above 12 years of age.  Each car is allowed two chairs within the designated parking area, The drive-in cinema opens one hour before the games start to ensure smooth and organized entry.
Fans can book tickets to watch the semi-final matches on the giant screen of drive-in cinema in Lusail via the following link https://www.dohafilminstitute.com/nowplaying

الدوحة: تواكب مؤسسة الدوحة للأفلام مباريات نصف نهائي بطولة كأس العالم للأندية يومي 7 و8 فبراير الجاري في سينما السيارات في لوسيل، وذلك بالتعاون مع المجلس الوطني للسياحة.
وتهدف المبادرة إلى إتاحة الفرصة لعشاق كرة القدم لتشجيع فرقهم، والاستمتاع بأجواء الإثارة والحماس مع الحفاظ على قواعد التباعد الاجتماعي وتطبيق الإجراءات الاحترازية، كما تعكس مدى التنوع الثقافي الذي تتمتع به قطر وتعكس قدرة الرياضة على توحيد الشعوب، ومدى شغف المجتمع القطري برياضة كرة القدم بشكل خاص وبالرياضة بشكل عام.
وسوف تبدأ سينما السيارات ببث أول مباراة في دور نصف النهائي بين فريق بالميراس البرازيلي بطل كأس ليبرتادوريس مع فريق تايجرس أونال المكسيكي بطل الكونكاكاف يوم 7 فبراير في تمام الساعة 9 مساءً، في حين سيلعب نادي بايرن ميونيخ بطل أوروبا أولى مبارياته ضد نادي الأهلي المصري بطل أفريقيا يوم 8 فبراير 2021 في تمام الساعة 9 مساءً. وتتسع سينما السيارات لـ 159 سيارة، وتتراوح أسعار التذاكر بين 120 150 ريال قطري.
وقالت السيدة فاطمة حسن الرميحي، الرئيس التنفيذي لمؤسسة الدوحة للأفلام: "تُعدّ سينما السيارات في الهواء الطلق وسيلة مناسبة لتوفير المتعة والإثارة، وجمع الجماهير في مكان واحد مع المحافظة على المسافات الاجتماعية الآمنة. إذ إن ظرف الوباء الذي فُرِضَ على العالم جعلنا نعيد صياغة الأمور، وأتاح لنا فرصة لخوض تجربة جديدة مع الأفلام والموسيقى والرياضة والعروض الحية. ونشعر بالفخر الكبير لتعاوننا مع المجلس الوطني للسياحة للاحتفال بحبنا العظيم لكرة القدم ومشاركة الجمهور هذا الحماس، في الوقت الذي نستعد فيه لاستضافة أكبر حدث رياضي في العالم العام المقبل".
وقال السيد بيرثهولد ترينكل، رئيس العمليات التنفيذي في المجلس الوطني للسياحة:" نستمر في شراكتنا الناجحة مع مؤسسة الدوحة للأفلام لتطوير تجارب ترفيهية للمواطنين والمقيمين تساهم في تطوير السياحة الداخلية، ومساعدة المجتمع في الالتزام بإجراءات الأمن والسلامة التي تفرضها الظروف الحالية. مضيفا: لقد نجحت قطر في تعزيز مكانتها كمركز عالمي لتنظيم البطولات الكبرى مثل كأس العالم، ونجاح تنظيم بطولة مثل كأس العالم للأندية يظهر للعالم كله مدى استعدادات قطر وقدراتها على التنظيم حتى في مثل هذه الظروف الاستثنائية، كما أن عرض المباريات على شاشة سينما السيارات والتزام الجمهور بالقواعد والإرشادات، يعزز من مكانة قطر كوجهة آمنة للزوار والمقيمين على حد سواء".
ويلتزم جمهور سينما السيارات بمجموعة من القواعد والإرشادات التي تساهم في تقديم تجربة ترفيهية سلسة، من أهمها إبراز تطبيق احتراز لكل راكب في السيارة فوق سن 18 سنة، كما تعتبر التذكرة صالحة لسيارة واحدة فقط، ويُسمح لحد أقصى 4 أشخاص فوق سن الـ 12 في كل سيارة، ويسمح باستخدام كرسيين في حدود منطقة الموقف المخصص لكل سيارة، وتستقبل سينما السيارات الجمهور قبل ساعة من بدء المباريات لتنظيم الدخول وتلافي الازدحام.
ويمكن للجمهور حجز تذاكر مشاهدة مبارياتي نصف النهائي على الشاشة العملاقة لسينما السيارات في لوسيل عبر الرابط التالي https://www.dohafilminstitute.com/nowplaying