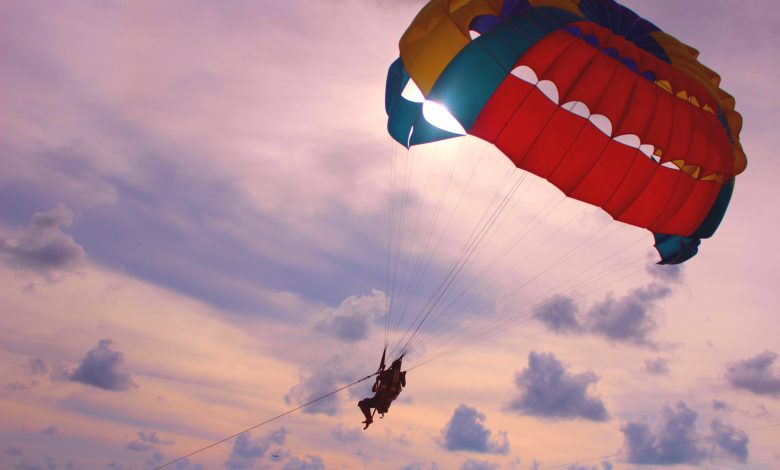 🐎Various
Qatar International Open Parachuting Championship starts on Friday
 بطولة قطر الدولية المفتوحة للقفز المظلي تنطلق الجمعة
QNA – WGOQatar Translations
Doha: The Organizing Committee of the 1st Qatar International Open Parachute Jumping Championship has completed all the tournament's arrangements, which will start next Friday in Sealine and will continue for four days with the participation of a group of the best parachutists in the world from Germany, Austria, Denmark, Slovenia, Libya, Palestine, and Morocco, in addition to the State of Qatar.
The Organizing Committee has been keen to equip the event venue in Sealine, at the highest level, to receive the champions, and enjoy the tournament as required, as well as delegations' residence places and all logistical and organizational matters.
The Qatar Air Sports Committee of the Joint Special Forces announced that people would be allowed to attend the events while following all precautionary measures to limit the spread of the Coronavirus (Covid 19).
It is noteworthy that the Qatari national team for the game has entered a training camp in Portugal in preparation for this tournament and other international tournaments, to be fully prepared, appear in the usual manner and win advanced positions, given the great care and attention that parachuting enjoys.
This tournament comes within the preparations for the World Championships for parachuting (Seism), which Doha is hosting from 15 to 30 November, and it is expected that the countries participating in this tournament will reach about 45 countries, as Doha seeks to present a distinguished version of the tournament capable of Enhancing trust and cohesion among the participants and developing and strengthening cultures at the international level.

قنا
الدوحة: أكملت اللجنة المنظمة لبطولة قطر الدولية المفتوحة الأولى للقفز المظلي، كافة الترتيبات الخاصة بالبطولة التي تنطلق يوم /الجمعة/ المقبل بمنطقة سيلين وتستمر لمدة أربعة أيام بمشاركة نخبة من أفضل المظليين على مستوى العالم من ألمانيا والنمسا والدنمارك وسلوفينيا وليبيا وفلسطين والمغرب، بالإضافة إلى دولة قطر. وقد حرصت اللجنة المنظمة على تجهيز مكان الفعاليات بمنطقة سيلين، على أعلى مستوى لاستقبال الأبطال، وخروج البطولة بالصورة المطلوبة وأيضا أماكن إقامة الوفود وكافة الأمور اللوجستية والتنظيمية.
وكانت لجنة قطر للرياضات الجوية التابعة للقوات الخاصة المشتركة أعلنت عن السماح للجماهير بحضور الفعاليات مع اتباع كافة التدابير الاحترازية للحد من انتشار فيروس كورونا /كوفيدـ19/.
يذكر أن المنتخب القطري للعبة قد دخل في معسكر تدريبي بالبرتغال استعدادا لهذه البطولة والبطولات الدولية الأخرى، ليكون في أتم الجاهزية والظهور بالصورة المعتادة والفوز بمراكز متقدمة، لما تحظى به رياضة القفز المظلي من رعاية واهتمام كبيرين.
وتأتي هذه البطولة ضمن التحضيرات والاستعدادات لبطولة العالم للقفز المظلي /السيزم/ والتي تحتضنها الدوحة في الفترة من 15 إلى 30 نوفمبر المقبل، ومن المتوقع أن تصل الدول المشاركة في هذه البطولة إلى حوالي 45 دولة، حيث تسعى الدوحة إلى تقديم نسخة مميزة من البطولة قادرة على تعزيز الثقة والتلاحم بين المشاركين وتنمية وتعزيز الثقافات على الصعيد الدولي.