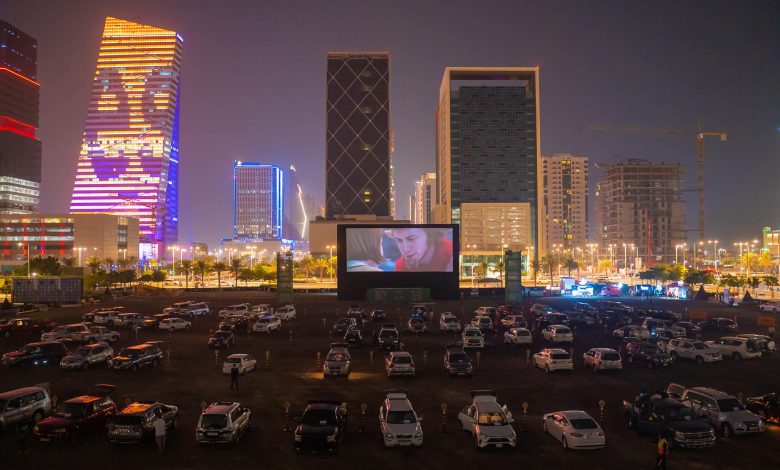 الدوحة للأفلام تعرض "المعيلة" في سينما السيارات
Al-Sharq – WGOQatar Translations 
Doha: The first-of-its-kind drive-in cinema screenings of the Doha Film Institute in Lusail, presented in partnership with the National Tourism Council, continue until next April, and the Oscar-nominated animated film "The Breadwinner" was screened the day before yesterday evening amid a large audience, where everyone enjoyed the experience of outdoor cinema under the stars.
The Breadwinner is one of the achievements of American actress Angelina Jolie, a film based on the novel "The Breadwinner", which tells the story of 11-year-old Parvana, who was raised in the presence of Taliban in Afghanistan in 2001.
After her father was accidentally arrested, the girl cuts her hair and disguise herself as a boy in an effort to support her family and help them earn a living and save them from hunger, since a woman could not go out without the company of a male relative.
The girl draws strength and determination in her work from the stories her father used to tell her, while risking her life trying to figure out her father's fate and whether he was still alive.
The Breadwinner is directed by Irish woman Norma Tomi, and the story is based on a novel written by Canadian author Deborah Ellis, while the director used the voice of Canadian actress Sara Chowdhury to portray the girl's character, Parvana.
The team hired Afghan artists and musicians to give it a more realistic character, translated into the Afghan languages "Dre" and "Pashto", and was screened in the capital Kabul before the opening of the Oscars.
The film premiered at the Toronto Festival last year and is a co-production of many countries (Canada, Ireland, Luxembourg) and co-produced by actress Angelina Jolie.
The film received a rating of 7.1 on the global website "IMDB" and received 95% of the critics' ratings on the site "Rotten Tomatoes"

الشرق
الدوحة: تتواصل عروض سينما السيارات الأولى من نوعها لمؤسسة الدوحة للأفلام في لوسيل، ويتم تقديمها بالشراكة مع المجلس الوطني للسياحة، إلى شهر أبريل المقبل، وتم مساء أمس الأول عرض فيلم الرسوم المتحركة المرشح للأوسكار "المعيلة" وسط إقبال كبير من الجمهور، حيث استمتع الجميع بتجربة سينما الهواء الطلق تحت النجوم.
يعد فيلم "المعيلة" واحدًا من إنجازات الممثلة الأمريكية، أنجلينا جولي، وهو عمل سينمائي مأخوذ عن رواية "المعيلة" التي تحكي قصة برفانا (11سنة) والتي نشأت في ظل وجود حركة "طالبان" في أفغانستان عام 2001.
فبعد أن تعرض والدها للاعتقال بالخطأ، تقص الفتاة شعرها وتتنكر في هيئة صبي سعيًا منها لإعالة أسرتها ومساعدتها على كسب لقمة العيش وإنقاذها من الجوع، نظرًا لأن المرأة لا تستطيع الخروج بدون رفقة قريب لها من الذكور.
تستمد الفتاة قوتها وعزيمتها في عملها من القصص التي كان والدها يحكيها لها، فيما كانت تخاطر بحياتها في محاولة معرفة مصير أبيها وما إذا كان لا يزال حيًا.
وفيلم "المعيلة" من إخراج الأيرلندية نورما تومي، والقصة مقتبسة من رواية كتبتها المؤلفة الكندية ديبورا إيليس، فيما استعانت المخرجة بصوت الممثلة الكندية سارا تشودوري لتجسيد شخصية الفتاة برفانا.
واستعان فريق العمل بفنانين وموسيقيين أفغان لإعطائه طابعًا أكثر واقعية، كما ترجم إلى لغتي "دري" و"بشتو" الأفغانية، وعرض بالعاصمة كابول قبل افتتاح مسابقة الأوسكار.
بدأ العرض الأول للفيلم في مهرجان تورنتو العام الماضي، وهو من إنتاج دولي مشترك (كندا، أيرلندا، لوكسبورغ) وتشارك الممثلة أنجلينا جولي في إنتاجه.
ونال الفيلم تصنيف 7.1 على موقع "IMDB" العالمي فيما حصل على نسبة 95% من تقديرات النقاد على موقع " Rotten tomatoes" (روتين توميتوس).
المصدر: al-sharq