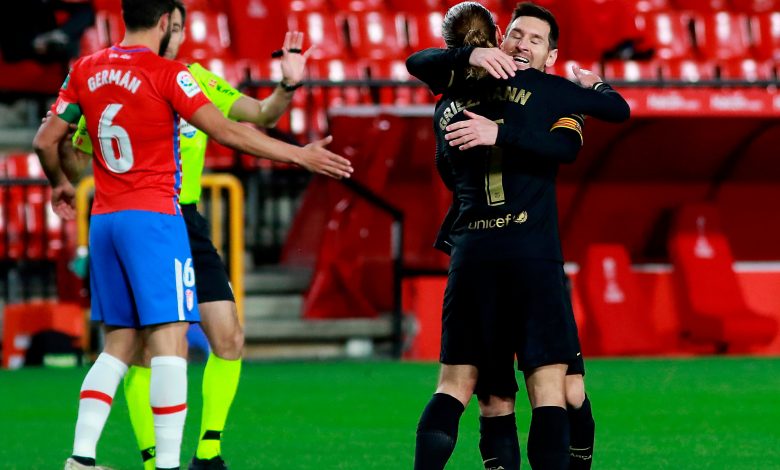 🥅 LEAGUES
Barcelona Demolish Granada in La Liga
فوز برشلونة على غرناطة في الدوري الإسباني
QNA
Madrid: Messi scored twice to lead Barcelona to a 4-0 victory over Granada in La Liga on Saturday at Nuevo Los Carmenes stadium.
Antoine Griezmann opened the scoring the 12th minute. Messi scored twice for the second straight game in the 35th and 42nd minutes. Griezmann added the fourth in the 63rd minute.
Barcelona raised their tally to 34 points in the third position. While, Granada remained with 24 points in the seventh place.

قنا
مدريد: حقق برشلونة، يوم الأمس، الفوز على مضيفه غرناطة بأربعة أهداف دون مقابل في المباراة التي جمعتهما ضمن الجولة الثامنة عشرة من الدوري الإسباني لكرة القدم، والتي شهدت أيضا فوز إشبيلية على ريال سوسيداد بثلاثة أهداف لهدفين.
وتقدم برشلونة بهدف سجله أنطوان جريزمان في الدقيقة 12، ثم سجل ليونيل ميسي هدفين في الدقيقتين 35 و42 لينتهي الشوط الأول بتقدم أبناء المدرب الهولندي رونالد كومان بثلاثية نظيفة، قبل أن يعود المهاجم الفرنسي جريزمان، في الشوط الثاني، للتوقيع على هدفه الثاني والرابع لفريقه في الدقيقة 63 .
وبالهدفين الذين سجلهما ميسي في مباراة اليوم، تصدر المهاجم الأرجنتيني جدول ترتيب هدافي الدوري الإسباني برصيد 11 هدفا بفارق هدف أمام جيرارد مورينو لاعب فياريال.
كما رفع برشلونة رصيده إلى 34 نقطة ليحتل المركز الثالث على لائحة الترتيب، بينما توقف رصيد غرناطة عند 24 نقطة ليقبع في المركز السابع.
وفي مباراة أخرى، انتزع إشبيلية فوزا صعبا من ضيفه ريال سوسيداد بثلاثة أهداف سجلها المهاجم المغربي يوسف النصيري في الدقائق الرابعة والسابعة و46، فيما سجل هدفي ريال سوسيداد دييجو كارلوس، لاعب إشبيلية بالخطأ في مرمى فريقه، في الدقيقة الخامسة، وأليكسندر إيساك في الدقيقة 14، وبذلك رفع النادي الأندلسي رصيده إلى 30 نقطة ليحل في المركز السادس على لائحة ترتيب الدوري الاسباني.