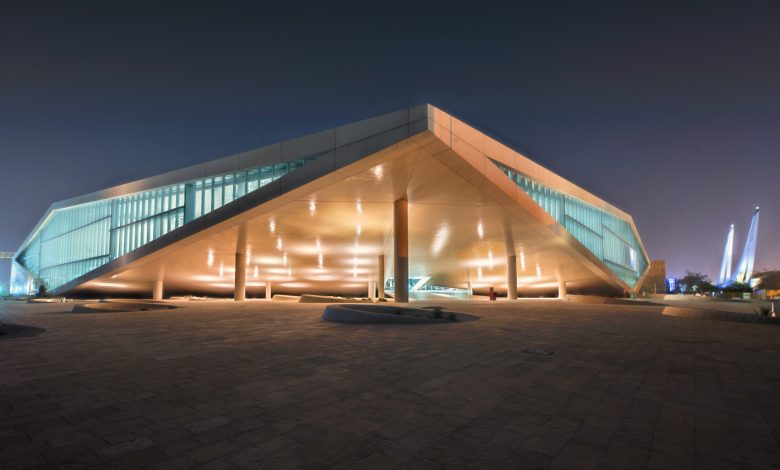 مكتبة قطر الوطنية تخفف أكثر من قيود الدخول وتمدد ساعات العمل
The Peninsula Online 
Doha: Qatar National Library (QNL) has extended the timing and increased the number of people allowed within the building as part of the COVID19 reopening procedure.
"Starting January 2, 2021, we'll open more services and booking slots for you, including welcoming you on Saturdays, which is available now for booking. The Library will be closed on Fridays," the Library posted on it's website.
Visits to the Library will continue to be by appointment (https://registration.qnl.qa/booking-service#no-back) only.
Only 300 people will be allowed in the building during each time slot (8am to 10am, 10:30am to 2:30pm, and 3:30pm to 8pm) from Saturday to Thursday.
"For their safety, pregnant women are not allowed into the Library during this phase of reopening," said the Library.
Earlier only 200 people were allowed inside the Library during each in two slots and the Library was closed on Saturdays.
QNL has also resumed Library public tours with a maximum group size of 10. For this also you need to register in advance.
Visitors will be allowed into the building only if they fulfill the following conditions:
Have a confirmation of their slot booking
Are between ages 13 and 60
Have a green status on the Ehteraz app
Have a temperature of no more than 37.8 degrees Celsius
Have a face mask or shield
The Children's Library and the Young Adults' Area will remain closed until further notice.
Source: thepeninsulaqatar

ذا بينينسولا أونلاين – ترجمة WGOQatar
الدوحة: مددت مكتبة قطر الوطنية التوقيت وزادت عدد الأشخاص المسموح لهم بدخول المبنى كجزء من إجراءات إعادة الافتتاح وتخفيف القيود المفروضة بسبب كوفيد-19.
"ابتداءً من 2 يناير 2021، سنفتح لكم المزيد من الخدمات وأماكن الحجز، بما في ذلك الترحيب بكم في أيام السبت، وهو متاح الآن للحجز. سيتم إغلاق المكتبة أيام الجمعة"، نشرت المكتبة على موقعها الإلكتروني.
وستظل الزيارات إلى المكتبة تتم عن طريق حجز المواعيد فقط من خلال https://registration.qnl.qa/booking-service#no-back
سيسمح فقط لـ 300 شخص بالدخول إلى المبنى خلال كل فترة زمنية (من 8 صباحًا إلى 10 صباحًا، ومن 10:30 صباحًا إلى 2:30 ظهرًا، ومن 3:30 مساءً إلى 8 مساءً) من السبت إلى الخميس.
وقالت المكتبة " أنه من اجل سلامتهن، لا يسمح للنساء الحوامل بدخول المكتبة خلال هذه المرحلة من إعادة فتح المكتبة " .
وفي وقت سابق، لم يُسمح بدخول المكتبة إلا لـ 200 شخص خلال فترتين زمنيتين، وكان يتم إغلاق المكتبة أيام السبت.
كما استأنفت مكتبة قطر الوطنية جولات المكتبة العامة بعدد أشخاص يبلغ 10 كحد أقصى وستحتاج أيضا إلى التسجيل مسبقاً لذلك.
لن يسمح للزوار بدخول المبنى إلا إذا استوفوا الشروط التالية:
الحصول على تأكيد حجز الأماكن الخاصة بهم
العمر بين 13 و60 سنة
حالة باللون الأخضر على التطبيق احتراز
درجة حرارة لا تزيد عن 37.8 درجة مئوية
كمامة أو درع وجه
وستظل مكتبة الأطفال ومنطقة الشباب مغلقة حتى إشعار آخر.