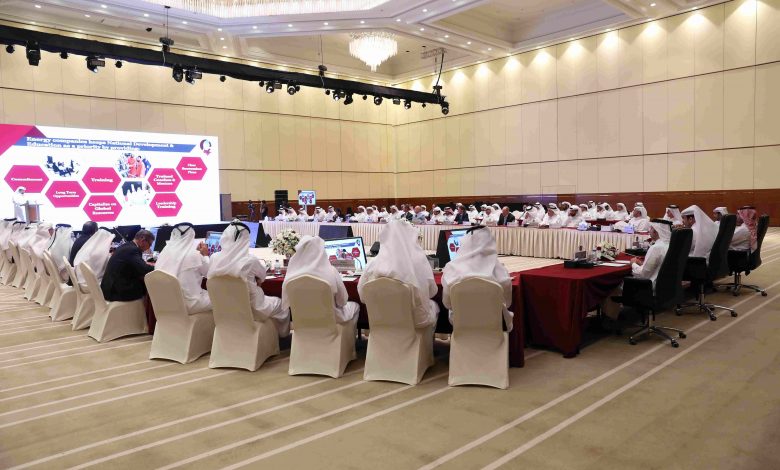 الشيخة المياسة تترأس الاجتماع الثامن لمجلس إدارة مركز قطر للقيادات
QNA
Doha: HE Sheikha Al Mayassa bint Hamad Al-Thani, Chairperson of the Qatar Leadership Centre (QLC) Board of Directors, convened the 8th meeting of the Centre's Board of Directors.
The meeting was attended by HE Sheikh Dr. Abdulla bin Ali bin Saoud Al-Thani, Vice Chairman and Managing Director, QLC, and HE Sultan bin Rashid Al Khater, Member, Board of Directors. Her Excellency welcomed the Board's recently appointed members to their first meeting: Khalid Muhammad Al Hitmi, Aisha Jassim Al Kuwari, Dr. Eiman Mustafawi, and Abdulaziz Saad Al Majali.
During the meeting, the Board discussed the Centre's matters of organizational priority on the agenda and the achievements during 2020. Furthermore, the Board also discussed upcoming projects and related actions to be taken as the Centre continues its mission of enhancing national leadership development in Qatar despite the challenges the world is facing due to Covid-19.
The Centre's management emphasized the importance of adhering to the Ministry of Public Health's guidelines, while utilizing the best technological tools available in virtual learning and other activities in the Centre effectively. 

قنا
الدوحة: ترأست سعادة الشيخة المياسة بنت حمد آل ثاني رئيسة مجلس إدارة مركز قطر للقيادات، الاجتماع الثامن لمجلس إدارة المركز.
حضر الاجتماع ، سعادة الشيخ الدكتور عبدالله بن علي بن سعود آل ثاني نائب رئيس مجلس الإدارة والعضو المنتدب، وسعادة السيد سلطان بن راشد الخاطر عضو مجلس الإدارة ، حيث رحبت سعادتها بأعضاء مجلس الإدارة الجدد في اجتماعهم الأول، وهم السيد خالد محمد الهتمي والسيدة عائشة جاسم الكواري والدكتورة إيمان مصطفوي والسيد عبدالعزيز سعد المجلي.
ناقش أعضاء المجلس خلال الاجتماع ، جدول الأعمال وما تم إنجازه خلال هذا العام من برامج ومشاريع ، واطلعوا كذلك على الخطط المستقبلية واتخذوا فيها القرارات المناسبة في الوقت الذي يواصل فيه المركز مهمته المتمثلة بتعزيز تنمية مهارات القيادة بالدولة في ظل ما يواجهه العالم من تحديات بسبب جائحة كورونا /كوفيدـ 19/.
وأكدت إدارة المركز على الالتزام بإرشادات وزارة الصحة العامة مع الاستمرارية بتنفيذ البرامج بشكل يواكب الوضع الراهن والاستفادة من التطور التكنولوجي من خلال استخدامه كأداة فعالة في التعليم الإلكتروني، بالإضافة إلى الأنشطة والفعاليات الأخرى التي ينظمها المركز.