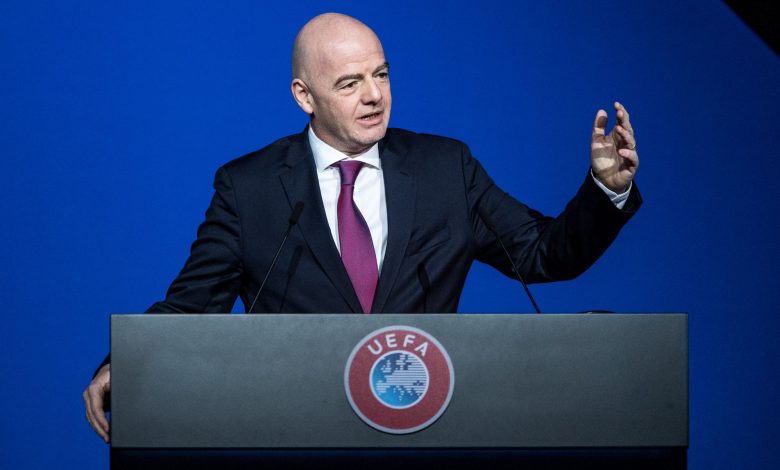 رئيس الفيفا يشيد بجهود قطر للإعداد للمونديال
QNA
Doha: FIFA President Gianni Infantino praised Friday the State of Qatar's ongoing preparations for the World Cup 2022, following the inauguration of Ahmed bin Ali stadium.
Infantino told reporters at the event that the stadium was a wonderful venue. He described the atmosphere as "incredible" with seats very close to the pitch. He added that he was confident the stadium will be a perfect arena for the World Cup two years from now.
He then congratulated Qatar on completing the stadium, highlighting that the country was well prepared for the World Cup. He also said that Qatar was "on track to host a memorable version of the tournament the first in the Middle East and Arab world, and the second in Asia."

قنا
الدوحة: أشاد السيد جياني إنفانتينو، رئيس الاتحاد الدولي لكرة القدم (الفيفا)، بجهود دولة قطر المستمرة للإعداد لبطولة كأس العالم لكرة القدم /قطر2022/، بعد حفل تدشين استاد "أحمد بن علي" رابع استادات المونديال جاهزية.
وقال إنفانتينو ، في تصريح على هامش حضوره حفل الافتتاح ، إن استاد "أحمد بن علي" صرح معماري رائع، وقد شهد خلال نهائي مسابقة كأس الأمير المفدى أجواء مبهرة، فمقاعد المشجعين قريبة جداً من أرضية الملعب حتى في ظل التباعد الاجتماعي بين أماكن جلوس الجمهور. وكان من الواضح مدى حماس الحضور.
وأعرب رئيس الفيفا عن ثقته في أن هذا الملعب سيكون بمثابة صرح مثالي لكرة القدم عندما يستضيف مباريات نهائيات مونديال قطر 2022 بعد أقل من عامين.
وتقدم إنفانتينو بالتهنئة إلى دولة قطر على إنجاز أحدث استادات المونديال ، مشددا على أنه من الواضح للجميع أن التحضيرات لتنظيم النسخة المقبلة من كأس العالم تتواصل على قدم وساق لاستضافة بطولة لا تنسى في تاريخ كأس العالم، ولأول مرة في العالم العربي ومنطقة الشرق الأوسط، وللمرة الثانية في قارة آسيا.
وكان نادي السد توج بطلا لكاس سمو الأمير المفدى لكرة القدم 2020 في نسختها الـ 48 بفوزه على النادي العربي 2 / 1 في المباراة النهائية للبطولة التي جرت بين الفريقين على ملعب أحمد بن علي الذي تم تدشينه مساء أمس الأول وهو رابع ملاعب بطولة كاس العالم (قطر 2022) وسط إجراءات احترازية وتدابير وقائية فرضها فيروس كورونا المستجد /كوفيد-19/ هذا العام.