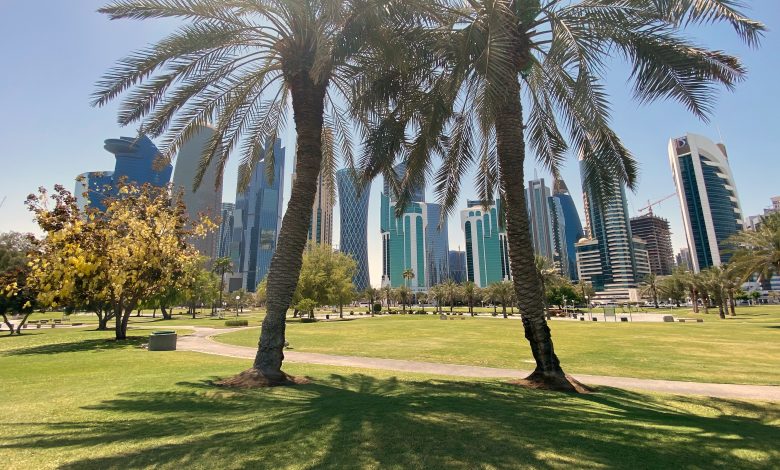 أكثر من ٩ مشروعات خدمية جديدة ضمن موازنة وزارة البلدية والبيئة لعام ٢٠٢١
QNA
Doha: The Ministry of Municipality and Environment (MME) approved more than nine projects within its budget for the year 2021, the most prominent of which are the waste segregation plant in Al Kho, development of animal farm complexes (locally called Al Al Azab), upgrading MME laboratories with advanced equipment, infrastructure development of a recycling plant in Al Afjah, construction of a new sanitary landfill in Mesaieed, rehabilitating old landfills, building 18 new parks across the country, constructing windbreaks using perennial trees as a buffer to block sandstorms, as well as the beautification of roadsides, and a panda shelter project.
Director of Projects and Development Department at MME, Dr. Eng. Abdullah Nasser Al Kaabi, who was speaking during a program organized by the Ministry of Municipality and Environment at the headquarters of the Projects and Development Department, reviewed the tasks and specializations of the department and its efforts in coordination with its various sectors, as a basic, active, and distinguished participant in enhancing institutional effectiveness, contributing to the presentation of development plans for projects and managing the investment of the Ministry's assets in order to achieve its strategy within the National Development Strategy 2018-2022.
He added that based on the directives of the State and its efforts to involve the private sector in its development projects, a team was formed to study and follow up projects of the public and private sectors in the MME, noting that one of the most important objectives of the department is to enhance business opportunities from investment assets and verify the feasibility of major projects financed from the State's budget to ensure the completion of projects with the highest level of efficiency and effectiveness in terms of quality, speed, and low cost, as well as seeking to attract the participation of the private sector and more in the projects of the Ministry based on Law No. 6 of 2020.
Al Kaabi explained that the department is now in the process of developing an electronic monitoring program to follow up on all the Ministry's projects, while continuing to improve the quality of the monthly reports, and preparing an integrated strategy to study the development of ways of partnership between the public and private sectors, highlighting some of the department's achievements, including, for example, issuing 17 monthly reports that included 132 initiatives, and 133 indicators measuring the performance of the Ministry's sectors, in addition to its supervision now within its objectives on the country's strategy of the Integrated National Solid Waste Management Program 2020-2030, which is a set of projects, initiatives, and implementation plans aimed at providing an integrated infrastructure and the legislative, organizational, financial, and informational tools and resources required to manage the solid waste activities in the country in its various stages, and expects to complete this strategy by the end of the first quarter of next year. 

قنا
الدوحة: اعتمدت وزارة البلدية والبيئة أكثر من تسعة مشروعات ضمن موازنتها للعام 2021 ، من أبرزها مشروع فصل المخلفات بالخور ومشروع تطوير مجمعات العزب بالدولة، ومشروع تجهيز المختبرات المختلفة بالوزارة ، وإنشاء بنية تحتيه لأراضي التدوير بالعفجة، وإنشاء مطمر صحي هندسي جديد في مسيعيد ، إلى جانب مشروع إعادة تأهيل المطامير القديمة، وإنشاء 18 حديقة جديدة في مختلف مناطق البلاد، ومشروع إنشاء مصدات رياح باستخدام أشجار معمرة لحجز العواصف الرميلة وتجميل الطرق ومشروع إيواء حيوان الباندا .
واستعرض الدكتور المهندس عبدالله ناصر الكعبي مدير إدارة المشاريع والتطوير بوزارة البلدية في برنامج "لقاء مفتوح مع مسئول " الذي تنظمه الوزارة للتواصل مع الرأي العام من خلال مختلف وسائل الإعلام، مهام واختصاصات الإدارة، وجهودها بالتنسيق مع مختلف قطاعاتها، كمشارك أساسي وفاعل ومتميز في تعزيز الفعالية المؤسسية ، والمساهمة في تقديم الخطط التطويرية للمشاريع و إدارة استثمار أصول الوزارة ، بما يحقق استراتيجيتها المنبثقة من استراتيجية التنمية الوطنية 2018-2022 .
وأضاف أنه انطلاقاً من توجهات الدولة وسعيها في إشراك القطاع الخاص ضمن مشاريعها التنموية، تم تشكيل فريق لدراسة ومتابعة مشاريع القطاعين العام والخاص في وزارة البلدية والبيئة.. منوها أن من أهم أهداف الإدارة تعزيز فرص الأعمال من الأصول الاستثمارية والتحقق من جدوى المشاريع الرئيسية الممولة من موازنة الدولة وضمان انجاز المشاريع بأعلى قدر من الكفاءة والفاعلية من ناحية الجودة والسرعة وقلة التكلفة ، وكذا السعي لجذب مشاركة القطاع الخاص وبصورة أكبر في مشاريع الوزارة بناء على القانون رقم 6 لسنة 2020 .
وأوضح الكعبي أن الإدارة الآن بصدد تطوير برنامج الرقابة الإلكترونية لمتابعة جميع مشاريع الوزارة ، مع الاستمرار في تحسين جودة التقارير الشهرية ، وإعداد استراتيجية متكاملة لدراسة تطوير سبل الشراكة بين القطاعين العام والخاص ، متناولا بعض انجازات الإدارة ومنها على سبيل المثال اصدار 17 تقريرا شهريا تضمنت 132 مبادرة و133 مؤشر قياس لأداء قطاعات الوزارة ، بجانب إشرافها الآن ضمن أهدافها على استراتيجية البرنامج الوطني المتكامل لإدارة النفايات الصلبة بالدولة 2020- 2030 ، وهو مجموعة من المشاريع والمبادرات والخطط التنفيذية هدفها توفير بنية تحتية متكاملة والأدوات التشريعية والتنظيمية والمالية والمعلوماتية والموارد المطلوبة لإدارة أنشطة النفايات الصلبة بالدولة بمراحلها المختلفة ، وتوقع الانتهاء من هذه الإستراتيجية بنهاية الربع الأول من العام المقبل .
وذكر مدير إدارة المشاريع والتطوير بوزارة البلدية أن الإدارة بصدد الحصول حاليا على الآيزو 21500 الخاص بمعيار إدارة المشاريع والآيزو 1006 المعني بمعيار إدارة جودة المشاريع ومن أهدافهما الإلتزام بمستوى عال من المهنية بناء على أعلى المعايير الدولية ، وتحسين كفاءة الأداء في إدارة المشاريع وتعظيم الموارد المتاحة وخفض التكاليف وتحقيق نتائج نوعية للوزارة.