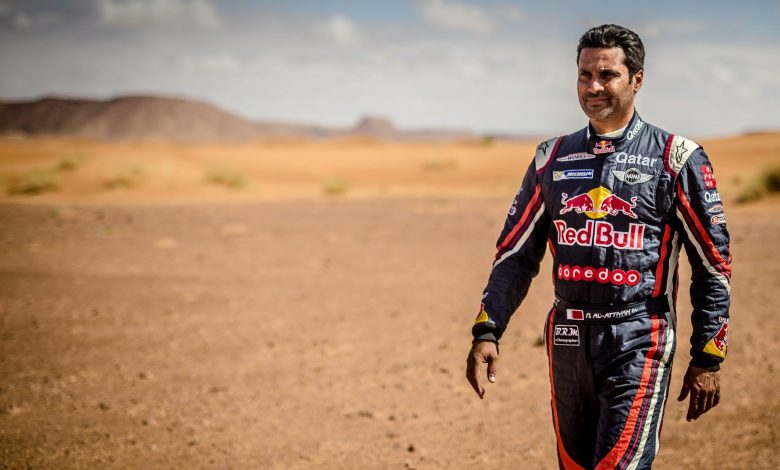 🐎Various
Al-Attiyah tops the first stage of Hail Baja 1
العطية يتصدر المرحلة الأولى من باها حائل الأول
QNA
Doha: Nasser Saleh Al Attiyah edged into a lead of 2min 50sec over Carlos Sainz after the opening 251.81km Radifah selective section of Hail Baja 1, round four of the FIA World Cup for Cross-Country Bajas, on Friday.
The two triple Dakar winners were the quickest duo through the latter sections of the stage with the Toyota Hilux driver snatching the stage win from his Mini Buggy rival. Sainzs team-mate and Dakar legend Stphane Peterhansel rounded off the podium places after an early puncture, the Frenchman pushing local star Yazeed Al-Rajhi down to fourth place in the second of the Toyotas.
Overnight leader Al Attiyah said: "It was a very good day for us and we start in a good position behind Carlos and we were fighting with Carlos. Last 40km we are together and he touch us two times .we were together all the way. I am happy to win the stage."
Sainz added: "The stage was good and it was coming fast. Nasser catch us and we follow him all the stage."
Peterhansel reflected: "It was good but, at the beginning of the stage after 10km, we get a puncture. So we stopped three minutes for that. After I stay with Nasser and Carlos and we finish all together. We changed some settings on the car, so this is a good opportunity to do some tests as well."
"We have two problems. We had low pressure in the tyres and a sensor was flashing on the stage," said Al-Rajhi. "We will see how it is tomorrow and try and push a little bit."
Only 28 of the original 54 cars on the entry list were eligible to start the FIA event. Several, including Camelia Liparoti and 2020 Hail International Rally winner Saleh Al-Abdelali, were put into the National Rally that got underway with 44 competitors. Technical issues meant that Czech driver Martin Prokop was not able to take the start in his Ford Raptor RS Cross-Country.
Al Attiyah, Seaidan and Sainz were the FIA event pace-setters through 66km. Russian Vladimir Vasilyev overtook FIA Baja title rival Bernhard Ten Brinke early in the stage, while Polands Jakub Przygonski dropped 12 minutes to the leaders and fell further behind as the stage progressed. Al-Attiyah, Sainz and Al-Rajhi headed their rivals after 108km and 165km. Overdrive Racings team manager Jean-Marc Fortin explained the fuel issue that caused the delays for both Przygonski and Ten Brinke, with the former dropping 1hr 23min to the stage winner. "Around 80km, Kuba (Przygonski) got a problem with the car. We have a problem with the quality of fuel in the region. It is difficult to find a good set-up of engine management. Then we resolved the problem."
Al Attiyah, Sainz, Peterhansel and Al-Rajhi reached the finish in the top four places, with Vasilyev taking fifth, Ten Brinke sixth after a late slow puncture and Denis Krotov finishing eighth after reported broken suspension delays for local driver Yasir Seaidan cost him a good finish.

قنا
الرياض: تصدر السائق القطري ناصر العطية اليوم المرحلة الأولى من منافسات باها حائل الأول الدولي، الجولة الرابعة وقبل الأخيرة من بطولة كأس العالم للراليات الصحراوية القصيرة للموسم 2020، التي شهدت مشاركة 54 سيارة في التصنيف الدولي و27 دراجة نارية و25 رباعية "كوادز" وشاحنة واحدة في الباها، إضافة إلى 35 فريقا في الرالي الوطني الذي يقام بالتزامن مع الجولة العالمية .
وأنهى العطية بصحبة ملاحه الفرنسي ماثيو بوميل على متن سيارة /تويوتا هايلوكس/، المرحلة الأولى التي امتدت لـ251.81 كلم، في الصدارة بعدما احتل المركز الأول بزمن قدره 3.12.23 ساعة، وبفارق 2.50 دقيقة عن أقرب منافسيه الإسباني كارلوس ساينز بصحبة ملاحه ومواطنه لوكاس كروز على متن سيارة /ميني كوبر/ صاحب المركز الثاني بزمن قدره 3.18.33 ساعة.
وجاء الفرنسي ستيفان بيترهانسيل بصحبة ملاحه ومواطنه إدوار بولانجيه على متن سيارة /ميني كوبر/ في المركز الثالث بزمن قدره 3.18.33 ساعة، فيما حل السائق السعودي يزيد الراجحي بصحبة ملاحه الألماني ديرك فون تسيتسفيتس على متن سيارة /تويوتا هايلوكس/ في المركز الرابع بزمن قدره 3.21.19 ساعة، بينما أكمل الروسي فلاديمير فاسيلييف بصحبة ملاحه الأوكراني دميترو تسيرو على متن سيارة /ميني كوبر/ قائمة المراكز الخمسة الأولى بزمن قدره 3.26.04 ساعة.
وأعرب السائق القطري ناصر العطية عن سعادته بالفوز بلقب المرحلة الأولى من باها حائل الأول، والتي جاءت بعد منافسة شرسة من أقرب منافسيه الإسباني كارلوس ساينز لم تحسم إلا في الكيلو مترات الأخيرة من المرحلة.
وقال العطية ، في تصريح عقب نهاية المرحلة ، إنه قدم أداء جيدا اليوم بصحبة ملاحه الفرنسي ماثيو بوميل، لافتا إلى أنه بدأ السباق من مركز جيد خلف ساينز، الأمر الذي ساعده في دخول المنافسة بقوة والتسابق معه طوال فترات المرحلة، ومن ثم تخطيه في النهاية واحتلال المركز الأول.
وأعرب عن أمله في مواصلة مسيرته الناجحة خلال منافسات المرحلة الثانية من باها حائل يوم غد السبت، ومن ثم الفوز التتويج بلقب الجولة الرابعة وقبل الأخيرة من بطولة كأس العالم للراليات الصحراوية القصيرة.
يشار إلى أن العطية سبق أن فاز مرتين برالي حائل الدولي، الأولى عام 2008 بسيارة "بي أم دبليو" طراز "أكس 3 سي سي"، والثانية عام 2011 بسيارة فولكس واجن "طوارق رايس"، ويريد اغتنام هذه الفرصة الثمينة من أجل وضع اللمسات النهائية على تحضيراته للمشاركة في رالي داكار 2021، الذي تستضيفه السعودية أيضا خلال الفترة من (3 إلى 15 يناير) المقبل للعام الثاني على التوالي.
وعلى صعيد منافسات فئة الدراجات النارية، تمكن الفرنسي أدريان فان بيفرن على متن دراجة /ياماها/ من تصدر الترتيب العام بعدما احتل المركز الأول بزمن قدره 2.48.11 ساعة ، وبفارق 25.09 دقيقة عن أقرب منافسيه البولندي كونراد دابروفسكي على متن دراجة /كي تي أم/ صاحب المركز الثاني بزمن قدره 3.13.20 ساعة ، فيما جاء السعودي مشعل الغنيم على متن دراجة /كي تي أم/ في المركز الثالث بزمن قدره 3.26.59 ساعة.
أما في منافسات فئة الدراجات النارية رباعية العجلات /كوادز/، فقد سيطر السائقون السعوديون على مراكزها الأولى، بعد تصدر رياض الشمري على متن دراجة /ياماها، الترتيب العام بزمن قدره 3.27.39 ساعة، فيما جاء عبدالعزيز الشيبان على متن دراجة /ياماها/ في المركز الثاني بزمن قدره 3.31.04 ساعة، بينما حل عبدالمجيد الخليفي على متن دراجة /ياماها، ثالثا بزمن قدره 3.47.41 ساعة.
ومن المقرر أن تنطق المرحلة الثانية والختامية من منافسات باها حائل الأول التي يبلغ طولها 275.54 كيلومتر، يوم غد السبت حيث ستبدأ في الساعة 09:00 صباحا قرب الجبة وتتجه نحو الغرب من مدينة حائل، ومن ثم تقطع مسارا دائريا عبر الصحراء ينتهي قرب بلدة قنا، وفي هذه المرحلة سيضع القائمون على الرالي نقطتي مراقبة، الأولى على بعد 147.29 كيلومتر، والأخرى على بعد 261.46 كيلومتر .