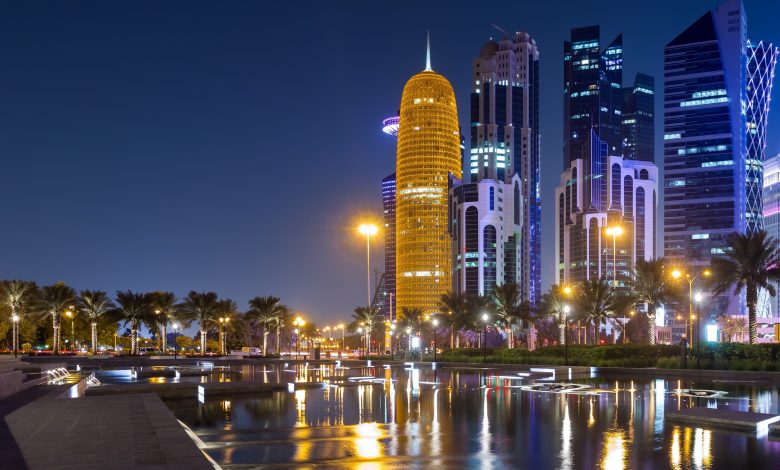 قطر تخصص مبلغ ٧٢،١ مليار ريال قطري من ميزانية ٢٠٢١ لمشاريع ضخمة
QNA
Doha: HH the Amir Sheikh Tamim bin Hamad Al-Thani issued Thursday law no. 22 of 2020 approving the state's general budget for the fiscal year 2021.
The law is effective as of Jan. 1, 2021 and shall be published in the official gazette.
Minister of Finance HE Ali Shareef Al Emadi announced today that total revenue estimates for the 2021 state budget, approved by the Amir HH Sheikh Tamim bin Hamad Al-Thani today, were QR 160.1 billion.
The Minister said in a statement to the press that the budget estimated average oil prices of $40 a barrel, reflecting the state's policy of conservatism in estimating revenues and avoiding the impact of oil price volatility on the budget.
His Excellency added that total expenditures in the budget were QR194.7, leading to a projected deficit of QR34.6 billion. He added that the Ministry of Finance will look to cover the deficit using the available cash reserves, or by relying on local and foreign debt instruments if needed.
The Minister said that QR72.1 billion were allocated to spending on major projects. These included new projects, as well as continuing work on developmental projects in different sectors and those related to hosting the World Cup 2022. That is in addition to what is allocated to develop citizens' land and the expenditures related to implementing the infrastructure projects.
His Excellency added that the state continues to focus on education and health, with spending on education projected to be QR17.4 billion that will be used partly to expand and develop schools and other educational institutions. There were also QR16.5 billion allocated to the health sector, which will guarantee the completion of important projects in the field of developing healthcare and expanding medical facilities.

قنا
الدوحة: أصدر حضرة صاحب السمو الشيخ تميم بن حمد آل ثاني أمير البلاد المفدى، أمس الأول، القانون رقم 22 لسنة 2020، باعتماد الموازنة العامة للدولة للسنة المالية 2021.
وقضى القانون بتنفيذه، والعمل به من أول يناير 2021 وأن ينشر في الجريدة الرسمية.
وأعلن سعادة السيد علي شريف العمادي وزير المالية، أن حجم التقديرات الإجمالية للإيرادات للموازنة العامة للدولة للسنة المالية 2021، التي اعتمدها حضرة صاحب السمو الشيخ تميم بن حمد آل ثاني أمير البلاد المفدى، أمس، يبلغ 160.1 مليار ريال. وقال سعادة وزير المالية في بيان صحفي، إن الموازنة العامة لعام 2021 بُنيت على تقدير سعر نفط عند مستوى 40 دولارًا للبرميل، الأمر الذي يعكس استمرار الدولة في تبني سياسة متحفظة في تقدير الإيرادات للحفاظ على التوازن المالي والحد من آثار تقلبات أسعار النفط على أداء الموازنة العامة للدولة. وأضاف سعادته أن إجمالي المصروفات المخطط لها يبلغ 194.7 مليار ريال خلال 2021، وأن العجز المتوقع يُقدر بمبلغ 34.6 مليار ريال، حيث ستعمل وزارة المالية على تغطيته من خلال الأرصدة النقدية المتاحة أو من خلال إصدار أدوات الدين المحلية والخارجية إذا دعت الحاجة لذلك. وأوضح سعادة وزير المالية، أنه تم تخصيص مبلغ 72.1 مليار ريال للمشروعات الرئيسية من إجمالي مصروفات الموازنة العامة لعام 2021، وتشمل هذه المخصصات إضافة مشروعات جديدة، مع استمرار العمل على إتمام مشاريع الدولة التنموية في مختلف القطاعات وتلك المتعلقة باستضافة كأس العالم 2022، بالإضافة إلى مخصصات تطوير أراضي المواطنين، وما يصاحب ذلك من مصروفات مرتبطة بتنفيذ مشروعات البنية التحتية.
وأضاف أن الدولة تواصل التركيز على قطاعي التعليم والصحة، إذ تُقدر مخصصات قطاع التعليم بنحو 17.4 مليار ريال، وتم تخصيص جزء منها لتوسعة وتطوير المدارس والمؤسسات التعليمية، مشيرًا إلى تخصيص مبلغ 16.5 مليار ريال لقطاع الصحة، تتضمن المزيد من المشاريع المهمة في مجال تطوير الرعاية الصحية وتوسعة المنشآت الطبية والصحية المعتمدة للعام القادم.