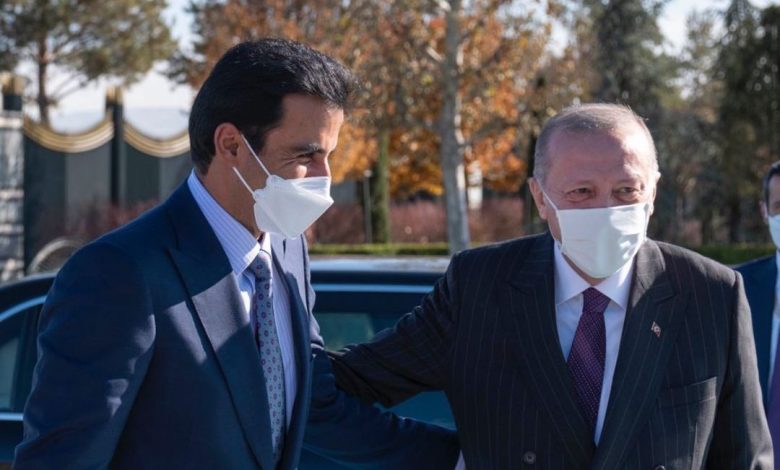 صاحب السمو يصل أنقرة
QNA
Ankara: HH the Amir Sheikh Tamim bin Hamad Al-Thani arrived Thursday in Ankara on an official visit to the Republic of Turkey to chair with HE President of the Republic of Turkey Recep Tayyip Erdogan the sixth meeting of the Qatar-Turkey Supreme Strategic Committee.
HH the Amir and the accompanying delegation were welcomed upon arrival at Ankara International Airport by HE Minister of Finance and Treasury Lutfi Elvan, HE Ambassador of the State of Qatar to Turkey Salem Mubarak Shafi Al Shafi, HE the Turkish Ambassador to the country Mehmet Mustafa Goksu, and members of the Qatari embassy.

قنا
أنقرة: وصل حضرة صاحب السمو الشيخ تميم بن حمد آل ثاني أمير البلاد المفدى، إلى مدينة أنقرة، ظهر اليوم، في زيارة رسمية للجمهورية التركية الشقيقة، ليترأس مع أخيه فخامة الرئيس رجب طيب أردوغان، اجتماع الدورة السادسة للجنة الاستراتيجية العليا القطرية التركية.
وكان في استقبال سموه لدى وصوله والوفد المرافق بمطار أنقرة الدولي، سعادة السيد لطفي ألوان وزير المالية والخزانة، وسعادة السيد سالم مبارك شافي آل شافي سفير الدولة لدى تركيا، وسعادة الدكتور محمد مصطفى كوكصو السفير التركي لدى الدولة، والسادة أعضاء السفارة القطرية.