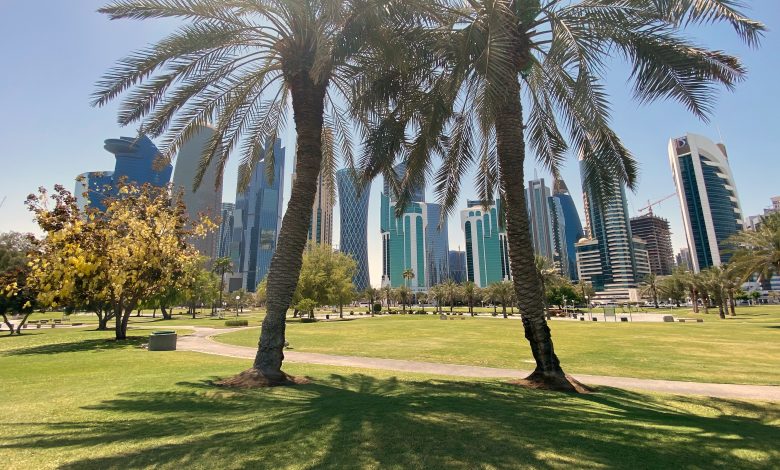 🇶🇦 DOHA
Department of Meteorology Warns of Strong Wind and High Sea
الأرصاد الجوية تحذر من رياح قوية وأمواج عالية في عرض البحر
QNA
Doha: Weather inshore until 6 p.m. on Sunday will be hazy at places at first becomes relatively hot daytime with scattered clouds at times, the Department of Meteorology said in its daily weather report.
Offshore, it will be scattered clouds to partly cloudy at times with chance of scattered rain, the report added, warning of strong wind and high sea by evening.
Wind inshore will be southwesterly at first shifting to northwesterly 05 to 15 knot.
Offshore, it will be southeasterly to southwesterly 03 to 13 knot, becomes northwesterly 15 to 25 knot by evening.
Visibility will be 3 to 8 kilometers.
Sea state inshore will be 1 to 2 feet, rises to 3 to 5 feet by evening, while offshore it will be 1 to 3 feet, rises to 4 to 8 feet by evening.
Tide Times and temperatures are as follows:
Area High Tide Low Tide Mini – Max
—- —————– —————— ——————-
Messaid 11:51 – **:** 21:53 – **:** 32
Wakrah 10:38 – 23:17 19:28 – **:** 32
Doha 07: 01:07 – 10:15 18:54 – **:** 32
Al Khor 08:40- 19:43 **:** – **:** 32
Ruwais 09:56 – 23:44 03:58 – 17:03 29
Dukhan 03:06 – 15:01 09:01 – 21:38 29
Sunrise : 05:56 lt
Sunset today : 16:43 lt

قنا
الدوحة: حذرت إدارة الأرصاد الجوية، من رياح قوية وأمواج عالية في عرض البحر مساء اليوم، متوقعة أن يصاحب الطقس حتى الساعة السادسة مساء، غبار عالق على بعض مناطق الساحل في البداية، ليصبح حارا نسبيا نهارا مع سحب متفرقة أحيانا.. وفي عرض البحر تصاحب الطقس سحب متفرقة يصبح الجو معها غائما جزئيا أحيانا، مع فرصة لأمطار متفرقة.
وتكون الرياح على الساحل جنوبية غربية في البداية تتحول إلى شمالية غربية بسرعة تتراوح بين 5 و 15 عقدة.. وفي البحر تكون الرياح جنوبية شرقية إلى جنوبية غربية بسرعة تتراوح بين 3 و 13 عقدة، وتصبح شمالية غربية بسرعة تتراوح بين 15 و 25 عقدة مساء.
ويتراوح مدى الرؤية الأفقية بين 3 و8 كيلومترات.
ويتراوح ارتفاع الموج على الساحل بين قدم واحدة واثنتين، يرتفع إلى ما بين 3 و 5 أقدام مساء.. وفي البحر بين قدم واحدة و3 أقدام، يرتفع إلى ما بين 4 و 8 أقدام مساء.
أقصى درجة حرارة متوقعة في الدوحة /32/ درجة مئوية.
وتكون مواعيد المد والجزر كالتالي:
الدوحة: أعلى مد في العاشرة و15 دقيقة صباحا.
الوكرة: أعلى مد في العاشرة و38 دقيقة صباحا.
مسيعيد: أعلى مد في الحادية عشرة وواحد وخمسين دقيقة صباحا.
الخور: أعلى مد في الثامنة و40 دقيقة صباحا.
الرويس: أعلى مد في التاسعة و56 دقيقة صباحا.. وأدنى جزر في الخامسة و3 دقائق عصرا.
دخان: أعلى مد في الثالثة ودقيقة واحدة عصرا.. وأدنى جزر في التاسعة ودقيقة واحدة صباحا.
تغرب الشمس بحول الله تعالى، عند الساعة الرابعة و43 دقيقة.