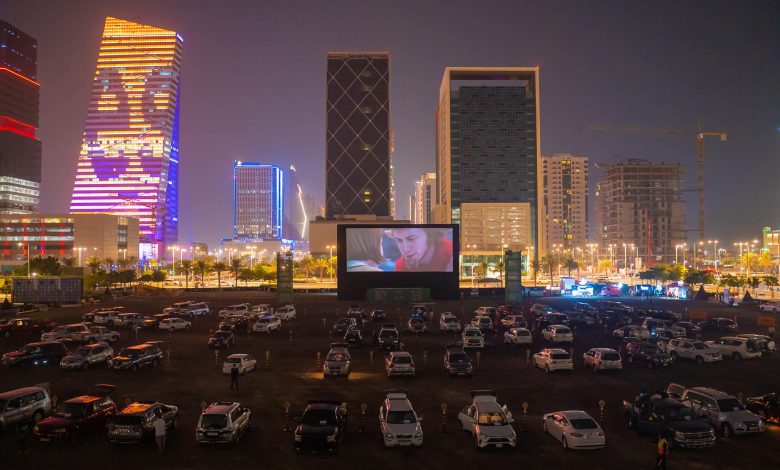 بدء عروض "صنع في قطر" بسينما السيارات في لوسيل ضمن مهرجان أجيال
QNA
Doha: Made in Qatar opened with a red carpet, as part of the Doha Film Institutes (DFI) 8th Ajyal Film Festival at Lusails first-ever Drive-In Cinema last night.
Shining a light on emerging Qatari directors and Qatar-based filmmakers, the programme returns with 16 inspiring short form narratives and documentaries to delight audiences of all ages and capture the diverse stories of our community. DFI is proud to have supported 12 participating shorts, including Stranger, Under the Lemon Tree, Ander, and Al Tabbab, which will vie for the Made in Qatar Awards, chosen by a jury that includes filmmaker Kamal Aljafari, composer Dana Al Fardan, and producer Marie Balducchi.
Last nights screening featured eight films from Made in Qatar Programme 1 by: Abdulla Mohammed Al-Janahi (Hope), Meriem Mesraoua (Under Her Skin), Hassan Al-Jahni (Emsahar), Yasser Mustafa and Christophe Buffet (Stranger), Suzannah Mirghani(Al-Sit), Obada Yousef Jarbi (Woman of Steel), Abdulaziz Yousif and Latifa Al-Darwish (Ya Hoota), and Khalifa Al Mana (Al Tabbab).
Made in Qatar Programme 2 will premiere at Lusails Drive-In Cinema at 6.30 PM on Nov 21. It includes eight inspiring shorts by: Alessandra El Chanti (Watar El Ghurbeh), Ibrahim Albuainain (Smile You Deserve It), Hissa G. Al-Mannai (Beyond Broken Walls), Alina Mustafina (Ander),Muhammed Noufal (Shringar), Maysaa Almumin (Jai Le Cafard), Mariam Al-Dhubhan (No Words), and Noor Al-Asswad (Under the Lemon Tree).

قنا
الدوحة: بدأت عروض برنامج صنع في قطر، من خلال فعالية السجادة الحمراء بسينما السيارات في لوسيل وذلك ضمن فعاليات النسخة الثامنة من مهرجان أجيال السينمائي الذي تنظمه مؤسسة الدوحة للأفلام في الفترة من 18 وحتى 23 نوفمبر الجاري.
يسلط برنامج صنع في قطر الذي يحظى بدعم من /أريدُ/، الضوء على المخرجين الصاعدين وصنّاع الأفلام القطريين والمقيمين في دولة قطر، ويعرض 16 فيلمًا روائيًا قصيرًا ووثائقيًا لإثراء تجربة الجماهير من جميع الأعمار وتمثيل القصص المتنوعة لمجتمعنا، حيث حصل منها 12 فيلما على دعم مؤسسة الدوحة للأفلام ، منها غريب وتحت شجرة اللّيمون وآندر والطبّاب، حيث اختارت لجنة الحكام التي تضم كلاً من صانع الأفلام كمال الجعفري، والملحنة دانا الفردان، والمنتجة ماري بالدوتشي هذه الأفلام على جوائز هذا القسم .
وقد عرضت ثمانية أفلام من برنامج / صنع في قطر/ هي / أمل / لعبد الله محمد الجناحي ، و/رايها / لمريم مسراوه ، و/ مسحر/ لحسن الجهني ، و/ غريب / لياسر مصطفى وكريستوفر بافيت ، و/ الست / لسوزان ميرغني، و/ أخت رجال / لعبادة يوسف جربي، و / ياحوته/ لعبدالعزيز يوسف ولطيفة الدرويش، و/ الطباب / لخليفة المانع.
وسوف يعرض مساء غد السبت الجزء الثاني من برنامج صنع في قطر في سينما السيارات في لوسيل، ويتضمن ثمانية أفلام قصيرة هي: /وتر الغربة/ لاليساندرا الشنطي، و/ابتسم فأنت تستحقها) لإبراهيم البوعينين، و/خلف الجدران المكسورة/ لحصّة المنّاعي، و/آندر/ ألينا مصطفافينا، و/شرينغار/ لمحمد نوفل، و/بنت وردان/ لميساء المؤمن، و/ لا كلام/ لمريم الذبحاني، و/ تحت شجرة الليمون/ لنور الأسود.