القطرية تكشف النقاب عن الطائرة الأولى المخصّصة لبطولة كأس العالم ٢٠٢٢
QNA
Doha: Qatar Airways, Official Partner and the Official Airline of FIFA, today unveiled a specially-branded Boeing 777 aircraft painted in FIFA World Cup Qatar 2022 livery, to mark two years to go until the tournament kicks off on 21 November 2022.
The bespoke aircraft, which features distinctive FIFA World Cup Qatar 2022 branding was hand-painted to commemorate the airlines partnership with FIFA. More aircraft in the Qatar Airways fleet will feature the FIFA World Cup Qatar 2022 livery and will visit several destinations in the network.
The Boeing 777-300ER will enter service on Nov. 21 operating flights QR095 and QR096 between Doha and Zurich. The inaugural route of the bespoke aircraft further reiterates the airlines commitment to the FIFA partnership by flying to the home of FIFA in Switzerland on this significant date.
HE Qatar Airways Group Chief Executive Akbar Al Baker, said: "We are tremendously excited to celebrate our partnership with FIFA and Qatars status as host of the FIFA World Cup Qatar 2022 by introducing this unique aircraft to our fleet. As Official Partner and Official Airline of FIFA, we can feel the excitement building with two years to go until we will welcome the world to our beautiful country.
"Qatars readiness to host FIFA World Cup Qatar 2022 is evident all around us. At Qatar Airways, our network recently expanded to 100 destinations, and will further grow to more than 125 destinations by March 2021, with an increasing frequency enabling our passengers to travel when they want across the globe, safely and reliably. At Hamad International Airport, Official Airport Partner for the FIFA World Cup Qatar 2022, preparations for the expected traffic growth are well underway. The airport expansion project will increase capacity to more than 58 million passengers annually by 2022," he added.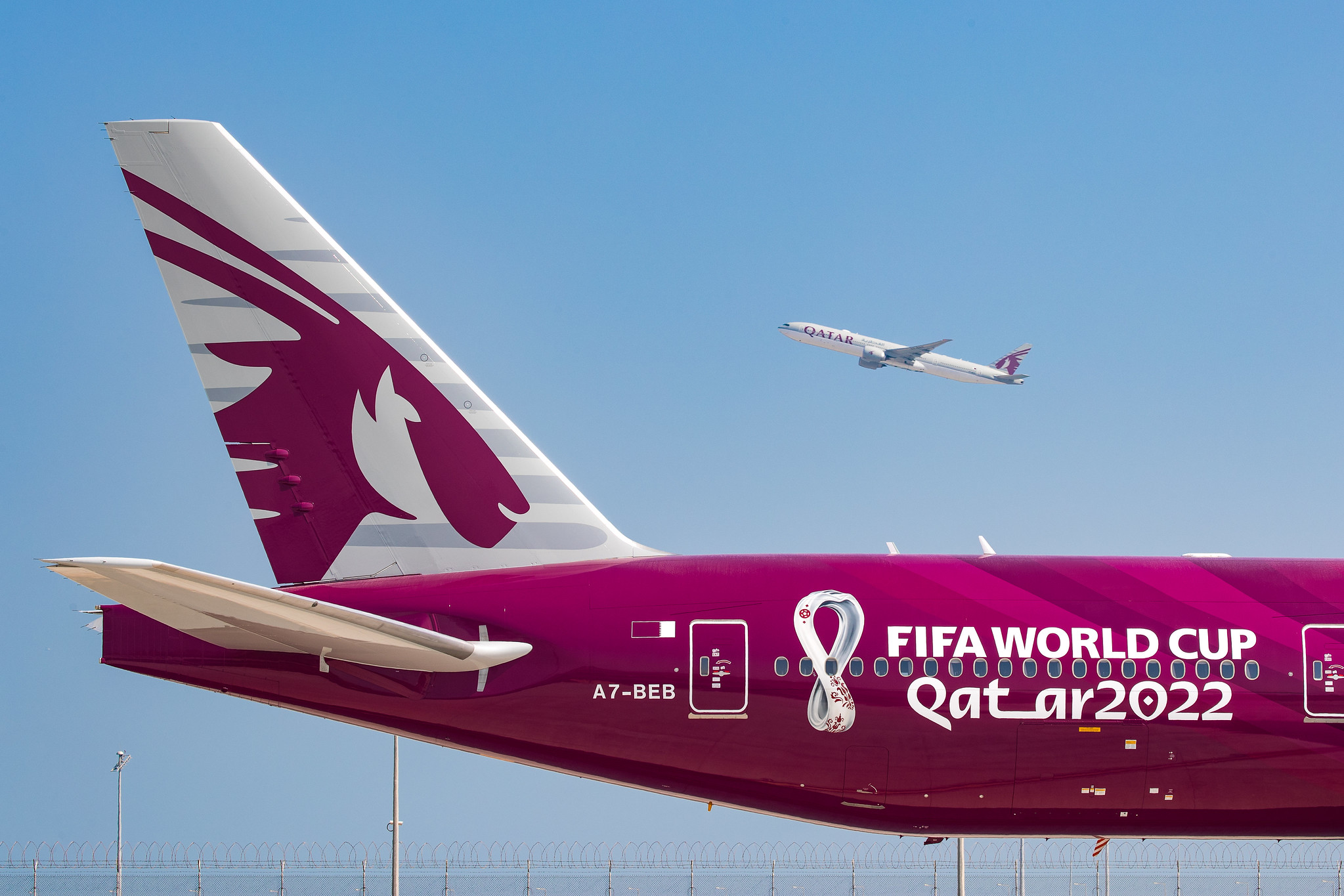 HE Supreme Committee for Delivery & Legacy Secretary General and FIFA World Cup Qatar 2022 LLC Chairman, Hassan Al Thawadi, added: "As we approach the two years until kick-off milestone on 21 November, its great to see other key tournament delivery partners such as Qatar Airways achieve their own important Qatar 2022 objectives. Seeing the FIFA World Cup Qatar 2022TM brand covering an entire aircraft is an exciting moment for everyone involved in delivering this historic tournament and an important promotional step on our road to 2022. We hope this reveal helps excite fans at the prospect of flying here on one of these aircraft in just two years time for the first FIFA World Cup in the Middle East and Arab World and we look forward to welcoming everyone that arrives in Qatar."
FIFA Director of Marketing, Jean-Franois Pathy, said: "Our Official Partner Qatar Airways launching this striking, iconic aircraft featuring the FIFA World Cup Qatar 2022 livery is an important milestone. We are looking forward to welcoming fans from around the globe to experience this unique FIFA World Cup and discover Qatar in two years time."

قنا
الدوحة: قامت الخطوط الجوية القطرية اليوم ، الشريك والطيران الرسمي للاتحاد الدولي لكرة القدم / فيفا/ بكشف النقاب عن طائرتها من طراز بوينغ 777، التي ازدانت خصيصا بشعار كأس العالم لكرة القدم / فيفا – قطر 2022 / ، لتبدأ بذلك العد التنازلي للعامين القادمين حتى بلوغ الحدث الأبرز لانطلاق فعاليات البطولة.
وتم رسم شعار كأس العالم لكرة القدم فيفا قطر 2022 يدويا على هذه الطائرة المخصصة ،احتفاء بشراكة الناقلة القطرية مع الاتحاد الدولي لكرة القدم / فيفا/.
وستحمل المزيد من طائرات أسطول الخطوط الجوية القطرية شعار كأس العالم لكرة القدم قطر 2022، وسوف يتم تسييرها إلى العديد من الوجهات ضمن شبكة وجهات الناقلة القطرية العالمية.
وستنضم طائرة الخطوط الجوية القطرية من طراز بوينغ 777-300ER للعمل ضمن شبكة وجهات الناقلة القطرية ،على الرحلتين QR095 و QR096 بين الدوحة وزيوريخ.
ويعزز المسار الافتتاحي لهذه الطائرة من التزام الناقلة القطرية بالشراكة مع فيفا، عن طريق تسيير هذه الطائرة إلى موطن الاتحاد الدولي لكرة القدم فيفا في سويسرا.
وقال سعادة السيد أكبر الباكر، الرئيس التنفيذي لمجموعة الخطوط الجوية القطرية "نحن متحمسون للغاية للاحتفال بشراكتنا مع الاتحاد الدولي لكرة القدم / فيفا/، والاحتفاء بدولة قطر بوصفها الدولة المضيفة لبطولة كأس العالم لكرة القدم الفيفا قطر 2022، وذلك من خلال انضمام هذه الطائرة المتميزة إلى أسطول طائراتنا، وبوصفنا الشريك الرسمي، وشريك الطيران الرسمي للاتحاد الدولي لكرة القدم / فيفا / فإننا نشعر ببالغ الحماس مع بقاء ما يقارب العامين فقط حتى نتمكن من الترحيب بالعالم أجمع في بلدنا الجميل".
وتابع سعادته :" لقد أصبحت الاستعدادات المتواصلة لاستضافة بطولة كأس العالم لكرة القدم – قطر 2022 واضحة وجلية من حولنا في جميع أرجاء قطر.
كما قامت الخطوط الجوية القطرية مؤخرا بتوسيع شبكة وجهاتها لتصل إلى 100 وجهة عالمية ، وسوف تواصل بناء شبكة وجهاتها العالمية لتصل إلى أكثر من 125 وجهة بحلول شهر مارس 2021 ، مع زيادة في عدد الرحلات لتمكين المسافرين من السفر بأمان ومصداقية إلى أي مكان في العالم عندما يرغبون في ذلك.
وتجري حاليا في مطار حمد الدولي، المطار الشريك الرسمي للاتحاد الدولي لكرة القدم / فيفا/ الاستعدادات لاستقبال العدد الكبير المتوقع من المسافرين لحضور البطولة، كما ستعمل توسعة مطار حمد الدولي على زيادة حجم استيعاب المطار للمسافرين لتصل إلى 58 مليون مسافر سنويا وذلك بحلول عام 2022″.
من جانبه قال سعادة السيد حسن الذوادي، الأمين العام للجنة العليا للمشاريع والإرث، والرئيس التنفيذي للجنة الوطنية المنظمة لبطولة كأس العالم 2022″ في الوقت الذي نقترب فيه من انطلاق صافرة المباراة الافتتاحية لبطولة كأس العالم لكرة القدم قطر2022، يوم 21 نوفمبر2022 ،يسرنا أن نرى ما تحققه الخطوط الجوية القطرية، شركاؤنا في استضافة البطولة من خطوات هامة استعدادا لتحقيق هدفنا المتمثل بتنظيم النسخة الأولى من بطولة كأس العالم لكرة القدم في الشرق الأوسط."
ونوه قائلا "تعد رؤية شعار البطولة يزين إحدى طائرات الناقلة القطرية بمثابة خطوة يفتخر بها كل المشاركين في الاستعدادات المتواصلة لهذه البطولة التاريخية.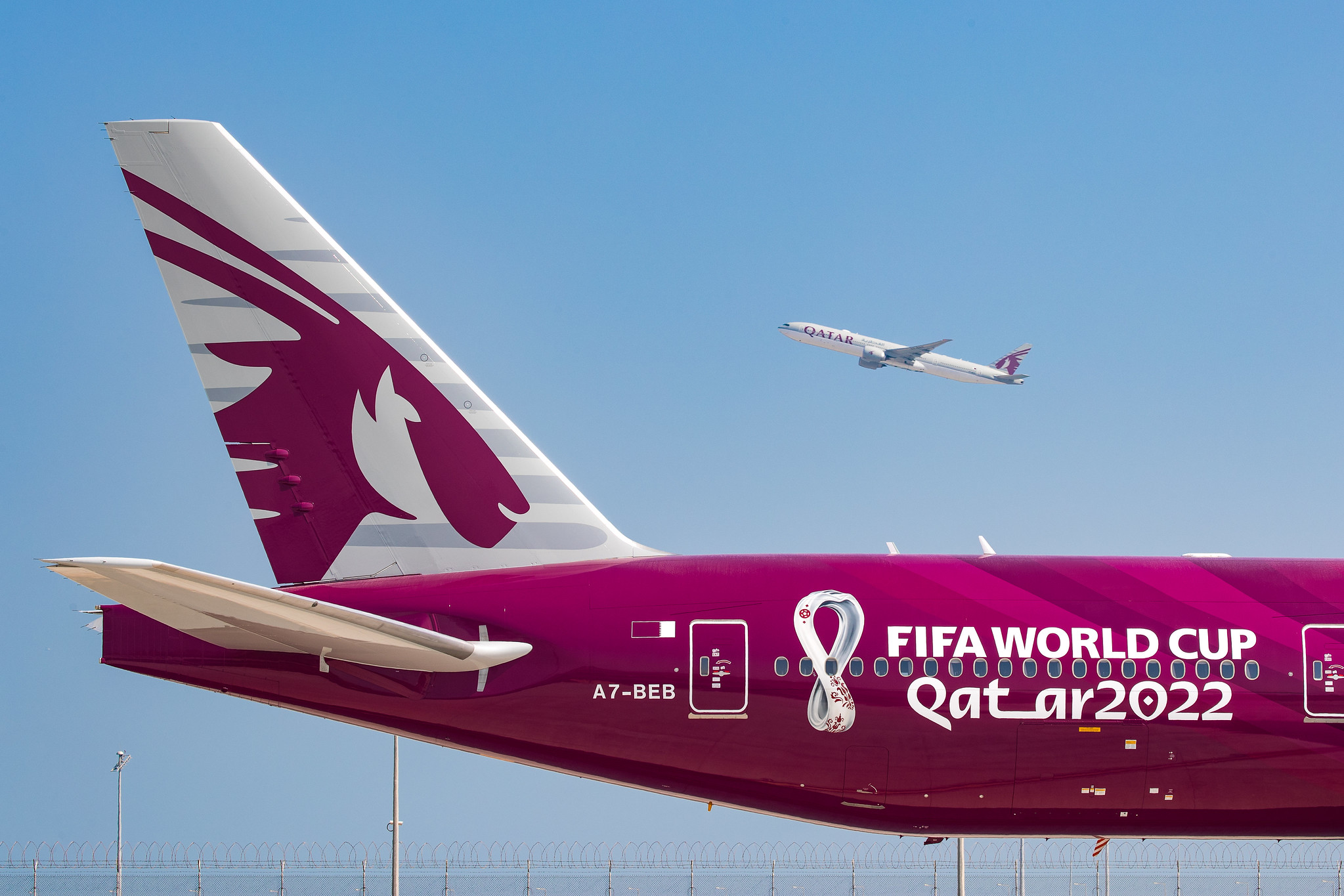 وتابع:" نأمل أن تعمل هذه الخطوة على تحفيز عشاق كرة القدم على السفر على متن إحدى هذه الطائرات في غضون عامين من الآن لحضور مباريات هذه النسخة الاستثنائية من البطولة، كما أننا نتطلع للترحيب بالجميع في هذا المهرجان الكروي العالمي على أرض قطر في عام 2022″.
وقال السيد جان فرانسوا باثي، مدير خدمات التسويق في الاتحاد الدولي لكرة القدم /فيفا/ "يعتبر إطلاق الخطوط الجوية القطرية، شريكنا الرسمي وشريك الطيران الرسمي لهذه الطائرة المذهلة التي تحمل شعار كأس العالم لكرة القدم فيفا ــ قطر 2022 بمثابة حدث بالغ الأهمية ، ونتطلع لاستقبال عشاق كرة القدم من مختلف أنحاء العالم للاستمتاع ببطولة كأس العالم لكرة القدم الاستثنائية هذه، واستكشاف قطر في غضون عامين من الآن" .