📚Education
Minister of Education Inaugurates Ethiopian School in Doha
وزير التعليم يفتتح مدرسة الجالية الإثيوبية الدولية بالدوحة
QNA
Doha: HE Minister of Education and Higher Education Dr. Mohammed bin Abdulwahed Al Hammadi inaugurated Monday the Ethiopian community's international school in Doha, in the attendance of HE Ambassador of the Federal Democratic Republic of Ethiopia Samia Zakaria Gutu, a number of ranking officials at the country, representatives from non-governmental organizations and the private sector, as well as members of Ethiopian community in Doha.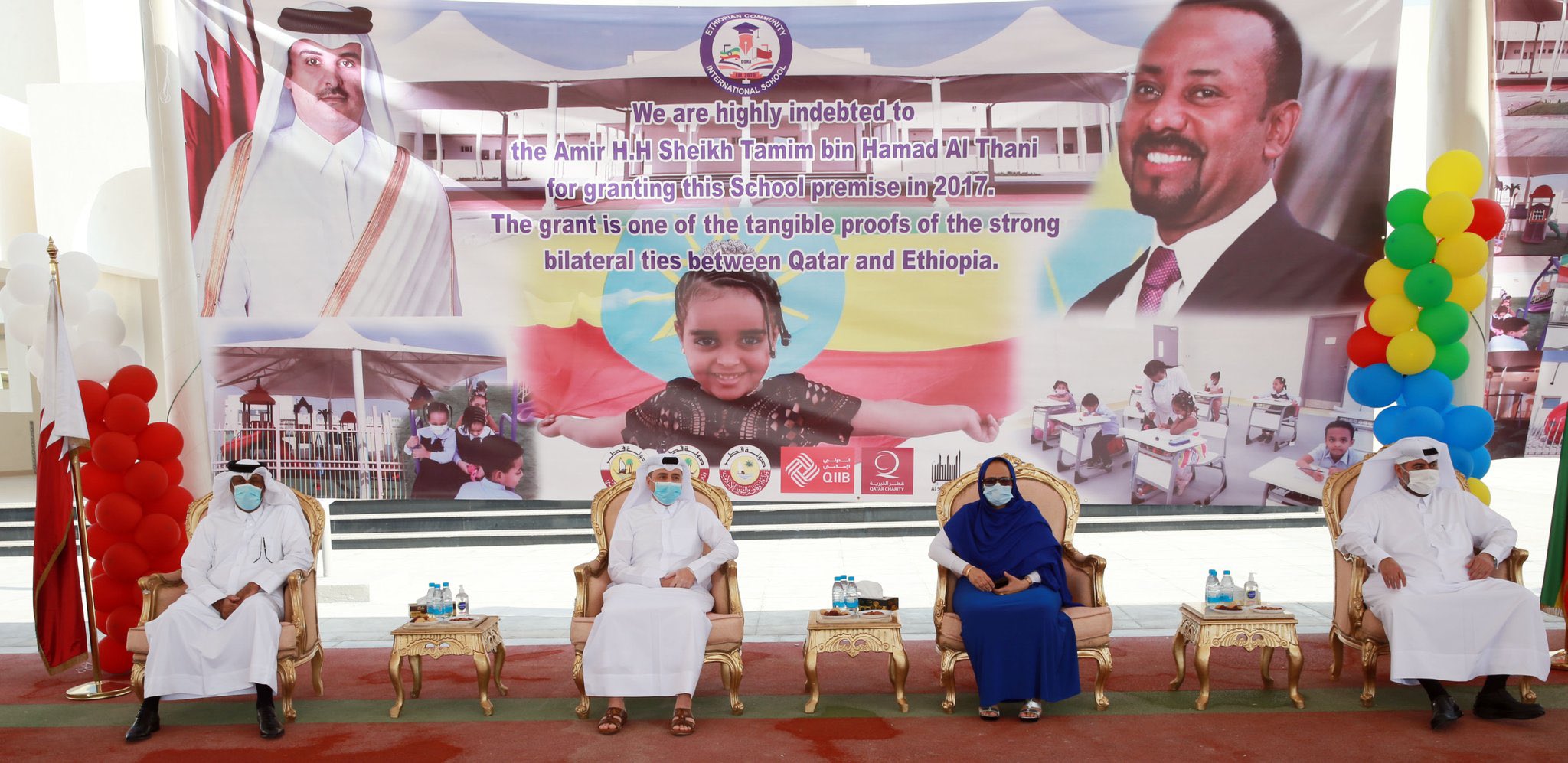 HE the minister toured the school and spoke to the students, who spoke of their pride at studying the Ethiopian academic curriculum, in addition to teaching Qatari history, Islamic education, and the Arabic language.
For her part, the ambassador expressed her thanks and gratitude to HH the Amir Sheikh Tamim bin Hamad Al-Thani for his strong response to the request of the Ethiopian community. She added that the Qatari grant was one of the tangible evidence of the strength of bilateral ties, noting that the school serves more than 20,000 Ethiopians who reside in Qatar.
The Ministry of Education and Higher Education granted a license to establish the school in August 2020, and provide it with a facility that had a capacity for 430 students for all stages. 

الدوحة: افتتح سعادة الدكتور محمد بن عبدالواحد الحمادي وزير التعليم والتعليم العالي، يوم الأمس، مدرسة الجالية الاثيوبية الدولية بالدوحة، بحضور سعادة السيدة سامية زكريا جوتو سفيرة الجمهورية الاثيوبية الفدرالية الديمقراطية لدى دولة قطر، ولفيف من كبار المسؤولين بالدولة، وممثلي مؤسسات المجتمع المدني والقطاع الخاص والجالية الاثيوبية بالدوحة.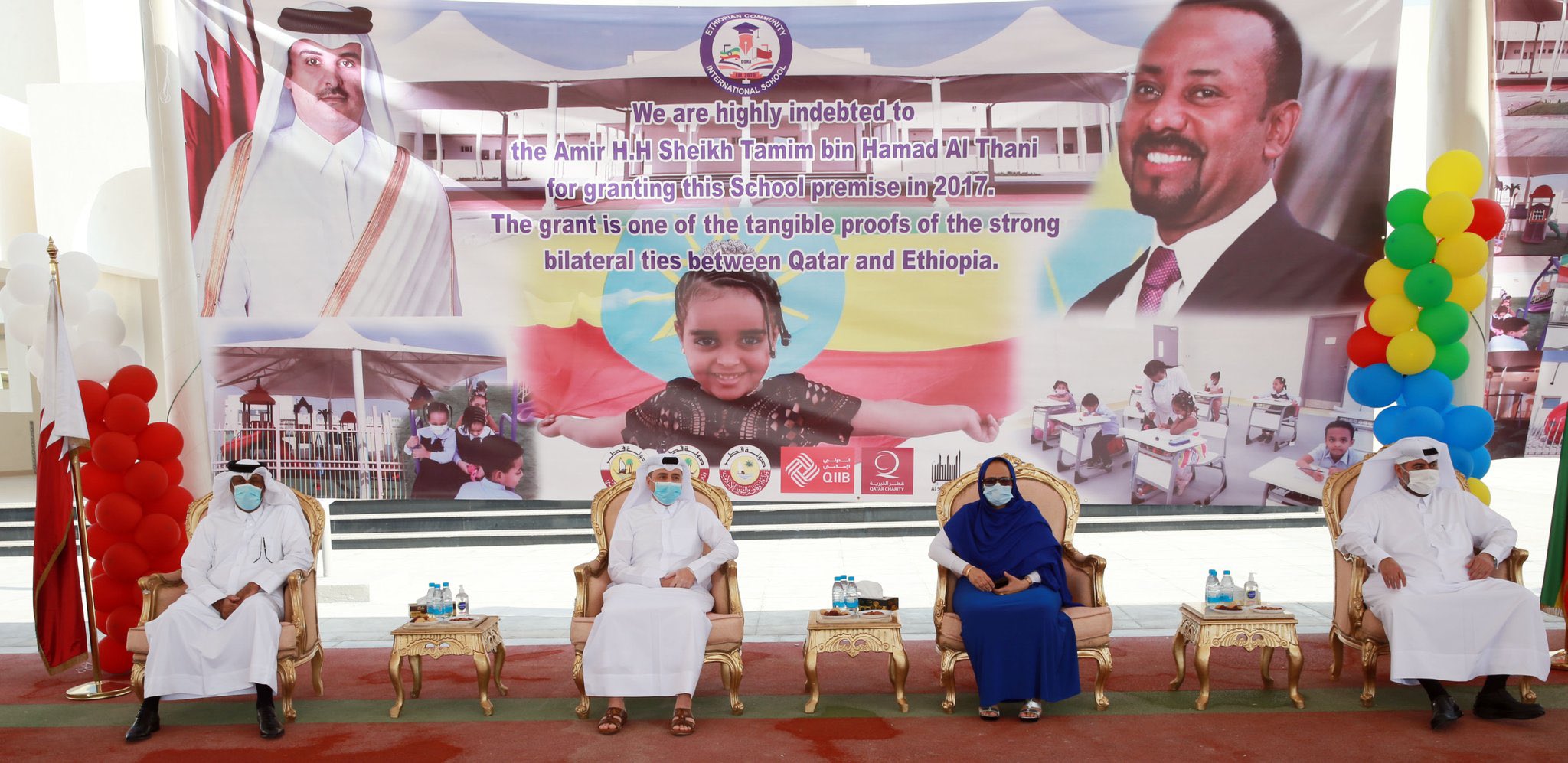 وقام سعادة الدكتور الحمادي، بجولة تفقدية للمدرسة وقف خلالها على الفصول والبيئة المدرسية، وتحدث للطلبة الذين أعربوا عن سعادتهم وفخرهم بوجود مدرسة تُدرس المنهج الاثيوبي بجانب تدريس التاريخ القطري والتربية الإسلامية واللغة العربية.
من جهتها، أعربت سعادة السفيرة الاثيوبية في كلمة بالمناسبة، عن بالغ شكرها وعظيم امتنانها لحضرة صاحب السمو الشيخ تميم بن حمد آل ثاني أمير البلاد المفدى، على تجاوبه السريع مع طلب الجالية الاثيوبية وتفضّله بهذه الهدية الكريمة.
وأوضحت أن هذه المنحة القطرية هي أحد الأدلة الملموسة على متانة العلاقات الثنائية بين دولة قطر والجمهورية الاثيوبية، مشيرة إلى أن أهمية المدرسة الاثيوبية تنبع من كونها تخدم ما يزيد على 20 ألف أثيوبي يعيشون ويعملون على أرض دولة قطر، وهي مساعدة قيمة من الحكومة القطرية لأعضاء الجالية الاثيوبية.
تجدر الإشارة إلى أن وزارة التعليم والتعليم العالي، قامت بترخيص مدرسة الجالية الاثيوبية الدولية بالدوحة في أغسطس 2020، ومنحتها مبنى مدرسيا يستوعب /430/ طالبا وطالبة لجميع المراحل الدراسية، الابتدائي والإعدادي والثانوي.