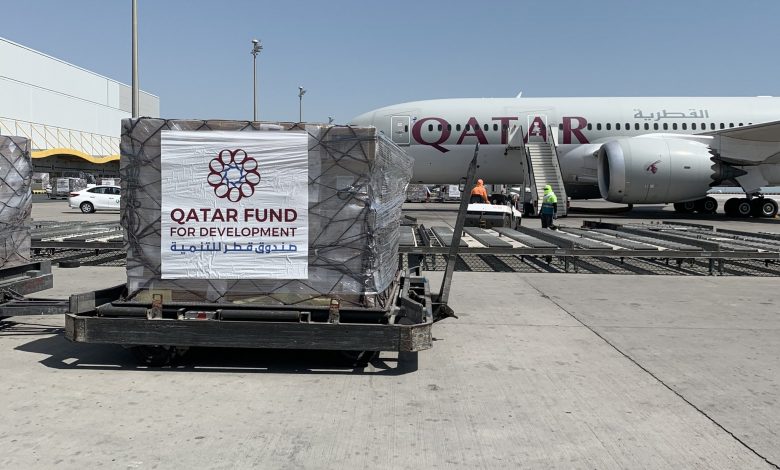 قطر تبرعت بأكثر من ٨٩ مليون دولار كمساعدات طبية للدول لمكافحة فيروس كورونا
QNA
Doha: The State of Qatar participated in the 44th virtual annual meeting of Ministers for Foreign Affairs of the Group of 77 and China. The State of Qatar was represented at the meeting by Minister of State for Foreign Affairs H E Sultan bin Saad Al Muraikhi.
In the State of Qatar's speech at the meeting, Minister of State for Foreign Affairs stated that the State of Qatar has provided aid to countries affected by the coronavirus (COVID-19) pandemic, as it provided urgent medical aid to 78 countries, totalling more than $89m. He said that within the framework of the challenges resulting from climate change, the State of Qatar has played a pioneering role in supporting the exerted international efforts, as Amir H H Sheikh Tamim bin Hamad Al Thani, during the Climate Action Summit held in September 2019, announced the State of Qatar's pledge to contribute with an amount of $100m to support small island developing states and least developed countries in addressing climate change.
He indicated that Qatar Fund for Development is currently working on developing a mechanism in order to respond to the challenges related to climate change in these countries.
He said that the State of Qatar will also host the 5th United Nations Conference for the Least Developed Countries from January 23 to 27, 2022. He reaffirmed the principle of the permanent sovereignty of peoples over their natural resources that are under foreign occupation, the inalienable rights of the Palestinian people and residents of the occupied Golan Heights and the right to self-determination.

قنا
الدوحة: شاركت دولة قطر في الاجتماع السنوي الافتراضي الرابع والأربعين لوزراء خارجية مجموعة الـ 77 والصين. ومثل دولة قطر في الاجتماع معالي وزير الدولة للشؤون الخارجية صاحب السمو سلطان بن سعد المريخي.
وذكر وزير الدولة للشؤون الخارجية في كلمة دولة قطر في الاجتماع، أن دولة قطر قدمت مساعدات للدول المتضررة من جائحة فيروس كورونا، حيث قدمت مساعدات طبية عاجلة إلى 78 دولة، بلغ مجموعها أكثر. من 89 مليون دولار.
وقال إنه في إطار التحديات الناجمة عن تغير المناخ، لعبت دولة قطر دورًا رائدًا في دعم الجهود الدولية المبذولة، حيث أعلن حضرة صاحب السمو الشيخ تميم بن حمد آل ثاني أمير البلاد المفدى، خلال قمة العمل المناخي التي عقدت في سبتمبر 2019. تعهد دولة قطر بالمساهمة بمبلغ 100 مليون دولار لدعم الدول الجزرية الصغيرة النامية والدول الأقل نموا في التصدي لتغير المناخ. وأشار إلى أن صندوق قطر للتنمية يعمل حاليا على تطوير آلية من أجل الاستجابة للتحديات المتعلقة بتغير المناخ في هذه الدول.
وقال إن دولة قطر ستستضيف أيضا مؤتمر الأمم المتحدة الخامس للدول الأقل نموا في الفترة من 23 إلى 27 يناير 2022. وجدد التأكيد على مبدأ السيادة الدائمة للشعوب على مواردها الطبيعية الواقعة تحت الاحتلال الأجنبي غير القابل للتصرف. حقوق الشعب الفلسطيني وسكان هضبة الجولان المحتلة وحق تقرير المصير.