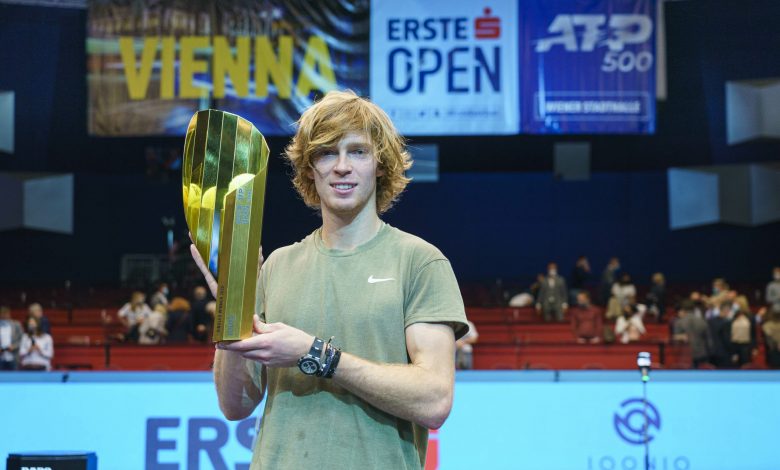 🐎Various
Russian Rublev Claims Vienna Title
الروسي روبليف يتوج بلقب بطولة فيينا
QNA
Vienna: Russian Andrey Rublev continued his sensational form on the ATP Tour on Sunday, defeating Italian Lorenzo Sonego 6-4, 6-4 in Vienna, Austria.
Winning his fifth title of the year and the seventh of his career, Rublev also sealed his spot in the prestigious ATP Finale in London in two week's time.
Capturing his third-straight ATP 500 level event, Rublev recently won titles in St. Petersburg and Hamburg. Currently ranked No. 8 in the world, Rublev also made the quarterfinals of the US Open and French Open this season. The 23-year-old also improved to 39-7 in 2020.
Sonego, who attempting to win the event as a lucky loser, defeated world No. 1 Novak Djokovic 6-2, 6-1 in the quarterfinals.

قنا
فيينا: توج الروسي أندريه روبليف، المصنف الثامن عالميا، بلقب بطولة فيينا المفتوحة للتنس، إثر فوزه على الإيطالي لورينزو سونيجو بمجموعتين دون رد بواقع 6-4 و6-4 في المباراة النهائية للبطولة.
وواصل اللاعب الروسي بهذا التتويج مسيرته الرائعة هذا الموسم محققا الفوز الـ19 له خلال آخر 20 مباراة.
وأصبح روبليف أول روسي يفوز بخمسة ألقاب هذا العام والسابع في مسيرته، حيث حقق ألقاب: بطولة قطر، وأديلايد (أستراليا) وهامبورج (ألمانيا) وسان بطرسبرج (روسيا)، ثم فيينا (النمسا)، ضامنا بذلك مشاركته في بطولة الماسترز الختامية في لندن (من 15 وحتى 22 من الشهر الجاري)، التي تجمع سنويا بين أفضل ثمانية لاعبين في الموسم.
ولحق روبليف بالصربي نوفاك جوكوفيتش، والإسباني رافايل نادال، والنمساوي دومينيك تييم، واليوناني ستيفانوس تسيتسيباس، ومواطنه دانييل مدفيديف والألماني ألكسندر زفيريف، للمشاركة في بطولة الماسترز الختامية، وتبقى هناك البطاقة الثامنة الأخيرة، والتي يتنافس عليها كل من الأرجنتيني دييغو تشفارتسمان والإيطالي ماتيو بيريتيني.