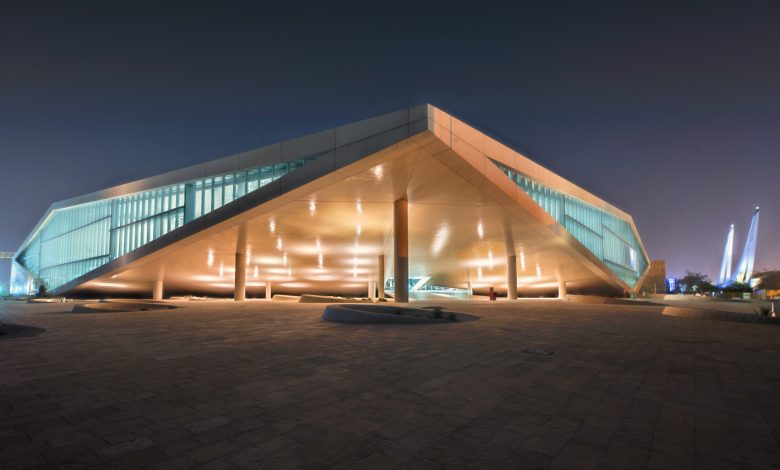 المكتبة الوطنية تقدّم برنامجاً حافلاً بالفعاليات خلال شهر نوفمبر
QNA
Doha: Qatar National Library (QNL) will present an eventful program that sheds light through a number of interactive sessions, seminars, workshops and lectures on various topics, in the month of November.
Among these topics are teaching life skills to children, helping adults with feelings of fear and anxiety, the importance of being mentally-prepared to deal with life's challenges, the phenomenon of Mars approaching Mars, as well as other topics.
The library will begin its cultural activities with a workshop on fear and its impact on mental health on Nov. 2, which will discuss the effect of fear and anxiety on mental and physical health, and how to maintain a good mental health in a world full of stress.
On Nov. 3, the library will present an interesting interactive session via videoconferencing that is designated for children with disabilities from the age of 8 to 11, in which children will be introduced to beneficial information and helpful ways to help them deal with stress and anxiety, gain self-confidence and stamina, and have a positive and ambitious mindset away from negativity in dealing with different situations. This session will be redone on Nov. 10.
On Nov. 17, a session will be held to help parents and care-givers teach their children with disabilities, especially from the age of 5 to 7, important life skills in simple ways.
On Nov. 9, the library, in cooperation with the Ministry of Transport and Communications (MOTC) and Hamad Bin Khalifa University (HBKU), will organize a symposium on digital addiction via videoconferencing, which will discuss the concept of digital addiction and the role of media in its occurrence, in addition to discussing ways and policies to combat it.
On Nov. 10, the library, in cooperation with the astronomical Al Thuraya Planetarium in Katara, will organize a lecture on the phenomenon of Mars approaching the Earth, to the closest point where it will appear brighter and clearer enough to be seen with the unaided eye, which is a spectacular phenomenon that will not occur again until the year of 2035.
The library invited those interested to follow its website and social media platforms to find out more information about other events that it will be organizing during the month of November, as well as its latest developments. 

قنا
الدوحة: تقدم مكتبة قطر الوطنية، خلال شهر نوفمبر المقبل، برنامجا حافلا بالفعاليات، يسلط الضوء عبر عدد من الجلسات التفاعلية والندوات والورش والمحاضرات، على مواضيع متفرقة.
ومن بين هذه المواضيع، تعليم مهارات الحياة للأطفال، ومساعدة الكبار في التعامل مع مشاعر الخوف والقلق، وأهمية التحلي بقوة الاستعداد الذهني للتعامل مع تحديات الحياة، وظاهرة اقتراب المريخ من الأرض، وغير ذلك.
وتستهل المكتبة فعاليتها الثقافية بورشة /الخوف وتأثيره على الصحة النفسية/ في 2 نوفمبر، وتناقش تأثير الخوف والتوتر على الصحة النفسية والجسدية، وكيفية الحفاظ على الصحة النفسية في عالم مليء بالضغوطات.
وتقدم المكتبة في 3 نوفمبر جلسة تفاعلية وشيقة عبر الإنترنت صممت خصيصا للأطفال ذوي الاحتياجات الخاصة من عمر 8 إلى 11 عاما، يتعرف فيها الأطفال على معلومات جذابة وأدوات تساعدهم على التعامل مع القلق والتوتر، واكتساب الثقة بالنفس وقوة التحمل، والتحلي بعقلية إيجابية وطموحة لا تعرف التراجع أو السلبية في التعامل مع المواقف المختلفة، وتعاد هذه الجلسة مرة أخرى في 10 نوفمبر.
أما يوم 17 نوفمبر فتقام جلسة بعنوان /أنا ومشاعري رائعان/ لمساعدة الآباء في تعليم أطفالهم من ذوي الاحتياجات الخاصة من 5 إلى 7 أعوام، مهارات الحياة المهمة بطرق مبسطة.
وفي اليوم نفسه تقدم المكتبة، جلسة جديدة من نادي الأفلام لليافعين ستجيب عن أسئلتهم حول صناعة الأفلام وتصويرها وإنتاجها، ومعرفة ما يحدث في كواليس التصوير وراء الكاميرا، كما سيتعلمون مشاهدة الأفلام بعين ناقدة من وجهة نظر صانعي الأفلام.
وضمن حملة سلامة الأطفال تنظم المكتبة في 9 نوفمبر وبالتعاون مع وزارة المواصلات والاتصالات، وجامعة حمد بن خليفة، ندوة بعنوان /تخلص من الإدمان الرقمي/، تناقش على الإنترنت مفهوم الإدمان الرقمي ودور تصميم الوسائط الرقمية في حدوثه، كما تناقش الأدوات والسياسات المستقبلية لمكافحته.
وحول ظاهرة /التقابل/ في علم الفلك تنظم المكتبة في 10 نوفمبر، محاضرة بالتعاون مع قبة الثريا الفلكية في /كتارا/، تدور حول ظاهرة اقتراب كوكب المريخ من الأرض إلى أقرب نقطة، حيث يبدو أكثر سطوعا ووضوحا حتى أننا نستطيع مشاهدته بالعين المجردة، وهي ظاهرة فريدة لن تتكرر حتى عام 2035.
كما تنظم المكتبة في 26 نوفمبر محاضرة /القراءة الإثرائية: تجربة متعددة الأبعاد/ تقدمها بالتعاون مع شركة /المفكرون الصغار/ تتناول القراءة الإثرائية ودورها وأبعادها وأهميتها وكيفية تطبيقها في الفصل الدراسي.
وحول موضوع تحقيق الأهداف الشخصية والمهنية للإنسان، تدور محاضرة في 26 نوفمبر من تقديم الدكتورة أمل العتيبي، عضو هيئة تدريب كلية التربية الأساسية، في الهيئة العامة للتعليم التطبيقي والتدريب بجامعة الكويت.
ودعت المكتبة الجمهور يوم 28 نوفمبر، للمشاركة في الجلسة السابعة من سلسلة قراءات في مخطوطات مكتبة قطر الوطنية التي تقدم مقتطفات من مؤلفات العلماء العرب والمسلمين حول الأوبئة.
وفي 30 نوفمبر، تنظم المكتبة لقاء افتراضيا مع السيدة عائشة الكواري المؤسس والرئيس التنفيذي لـ /دار روزا للنشر/، حيث تتحدث عن القراءة في عصر التكنولوجيا والدور الذي تقوم به الدار في نشر ثقافة القراءة وإثرائها.
ودعت المكتبة المهتمين لمتابعة موقعها الإلكتروني وصفحاتها على مواقع التواصل الاجتماعي لمعرفة المزيد من المعلومات عن الفعاليات الأخرى التي تنظمها خلال شهر نوفمبر المقبل، فضلا عن آخر المستجدات.