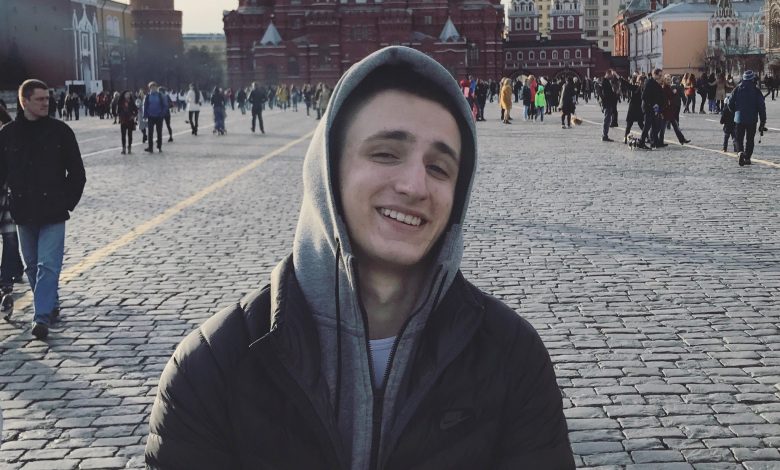 🌍 World
A Russian Blogger Burns down his Mercedes in a video reaching over 8 million views
مدون روسي يحرق سيارته المرسيدس في فيديو شاهده أكثر من ٨ ملايين 
Al-Sharq – WGOQatar Trnaslations
Doha: A Russian blogger, Mikhail Lytvyn, burned his Mercedes S GT63, ​​worth about 13 million rubles (more than $ 170,000), in front of cameras. The blogger posted a video to his channel on YouTube, documenting this with a short film with many high-tech directing techniques, and he said that he did so after losing hope in fixing its recurring faults.
During the video, the blogger was shown driving his car in a field, and then he took petrol cans out of the trunk and poured them on the car. After dumping his car with petrol, he moved away to a safe distance and lit the fuel after making a thread of petrol between him and his luxury car. And the blogger appeared in the video eating a piece of grilled sausage, after which he set his car on fire, after which he showed artistic footage through which he was sharing his memories with his "Mercedes". Then he left the field in an old car as his friends pushed the car until it was moving. The blogger justified his action by saying that he was tired of the many breakdowns that afflicted his car and repaired it without success. Mercedes agency in Russia has not commented on the incident yet.
The blogger said that he bought this car in May 2019, and after some time, malfunctions began to appear in the Mercedes constantly, which sparked a dispute between him and the car dealership, to comment after saying, "After a long period of thinking and conflict, I found that the best thing is fire. That is the end. "

الشرق 
الدوحة: أحرق مدون روسي يدعى "ميخائيل ليتفين"، سيارته المرسيدسS GT63، التي تبلغ قيمتها حوالي 13 مليون روبل (أكثر من 170 ألف دولار) أمام الكاميرات.
ونشر المدون فيديو لى قناته عبر موقع "يوتيوب" موثقا ذلك بفيلم قصير فيه الكثير من التقنيات الإخراجية العالية، وقال إنه فعل ذلك  بعد أن فقد الأمل في إصلاح أعطالها المتكررة.
وظهر المدون خلال الفيديو وهو يقود سيارته في حقل، ثم قام بعد ذلك بإخراج عبوات بنزين من صندوق السيارة وسكبها على السيارة.
وبعد أن أغرق سيارته بالوقود، ابتعد مسافة آمنة وأشعل الوقود بعد أن صنع خيطا من البنزين بينه وبين سيارته الفارهة.
وظهر المدون في الفيديو وهو بتناول قطعة نقانق مشوية، بعدها أشعل النار في سيارته، ليظهر بعدها لقطات فنية يسرح من خلالها بذكرياته مع سيارته "المرسيدس".
ثم غادر الحقل في سيارة قديمة حيث قام أصدقاؤه بدفع السيارة حتى تتحرك.
وبرر المدون فعلته تلك بأنه تعب من كثرة الأعطال التي تصيب سيارته وإصلاحها دون جدوى.
ولم تعلق وكالة مرسيدس في روسيا على الحادثة حتى الآن.
وقال المدون إنه اشترى هذه السيارة في مايو 2019، وبعد مرور بعض الوقت، بدأت الأعطال تظهر في المرسيدس باستمرار، وهو ما أثار الخلاف بينه وبين وكيل بيع السيارات، ليعلق بعدها بالقول "بعد فترة طويلة من التفكير والصراع، وجدت أن أفضل شيء هو النار.. تلك هي النهاية".
المصدر: al-sharq