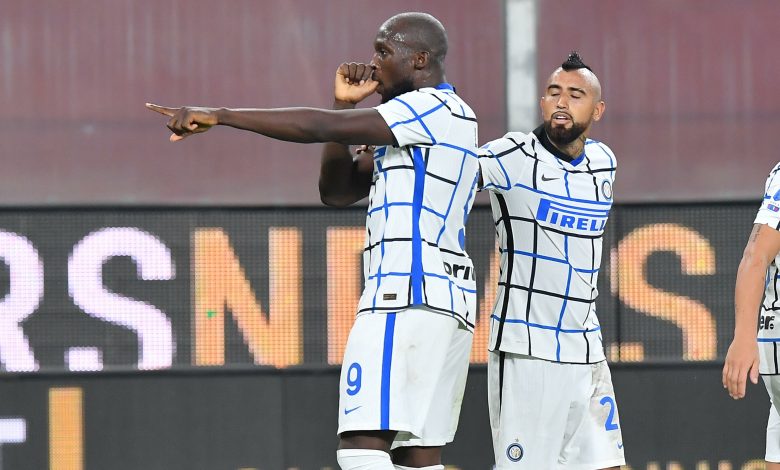 🥅 LEAGUES
Inter back with a precious victory from Genoa
إنتر يعود بفوز ثمين من أرض جنوى
beinsports
Romelu Lukaku maintained his hot scoring streak as Inter Milan battled to a 2-0 victory over Genoa at Stadio Luigi Ferraris to snap a three-game winless run.
Inter lost 2-1 to bitter rival AC Milan last weekend, either side of draws with Lazio and Borussia Monchengladbach, and it made hard work of overcoming Genoa on Sunday (AEDT).
The Nerazzurri failed to register a single shot on target in the first half of a league game for the first time under Antonio Conte, who has been under increasing pressure.
But Inter made the breakthrough thanks to Lukaku's 10th goal in eight matches this term for club and country, which Danilo D'Ambrosio added to 11 minutes from time as the visitors moved up to third.
Source: beinsports

beIN SPORTS
حقق إنتر ميلان الفوز خارج أرضه أمام جنوى 2-صفر اليوم السبت في الجولة الخامسة من الدوري الإيطالي لكرة القدم.
وعاد انتر إلى سكة الانتصارات منهياً سلسلة نتائج مخيبة بدأها بتعادل مع لاتسيو وخسارة أمام جاره وغريمه ميلان 1-2 في دربي المدينة، ثم تعادل آخر مع ضيفه بوروسيا مونشغلادباخ 2-2 في المرحلة الافتتاحية لدوري أبطال أوروبا الاربعاء.
وأنقذ البلجيكي روميلو لوكاكو فريقه من الوقوع في مطب التعادل أمام مضيفه بتسجيل الهدف الأول في الدقيقة 64، ثم أضاف دانيلو دامبروسيو الهدف الثاني (79).
ورفع إنتر رصيده إلى 10 نقاط في المركز الثالث فيما تجمد رصيد جنوى عند أربع نقاط في المركز 15. 
وافتتح لوكاكو التسجيل بعد كرة متبادلة مع نيكولو باريلا أنهاها الأول بتسديدة هزت الشباك وهو يقع بعد اختلال توازنه 64.
ولعب ماتيو دارميان ركلة ركنية استقبلها أندريا رانوكيا برأسه وحولها إلى دامبروسيو الذي تلقفها بتسديدة رأسية خاطفة في مرمى ماتيا بيرين (79).
المصدر: beinsports