افتتاح المعرض الثالث للحرف اليدوية التقليدية بـ كتارا
QNA
Doha: The Third Traditional Handicrafts Exhibition opened at Cultural Village Foundation – Katara on Wednesday evening with the participation of Arab and foreign countries, in addition to the host State of Qatar.
The opening was attended by a number of Their Excellencies Ambassadors and representatives of the diplomatic missions accredited to State, in addition to those interested in handicrafts.
Held in Building 48, the ten-day exhibition brings together an elite of professional Artisans from Palestine, Tunisia, Morocco, Sudan, Iran, Ethiopia and Syria.
The exhibition will be open daily from 9:00am to 12:00pm, and from 4:00pm to 10:00 pm. The booths of the participating countries will open in the evening from 4:00pm to 10:00pm.
The exhibition, which is held for the third year in a row, highlights the products of craftsmen who have excelled in traditional professions and handicrafts such as: gypsum, built-in boxes, folk costumes, dolls, ships, chimneys, and Sadu. The exhibition contains many handicrafts with high artistic and aesthetic specifications.
Commenting on the occasion, Katara General Manager Dr. Khalid bin Ibrahim Al Sulaiti expressed pleasure for opening the exhibition in Katara with the participation of a group of distinguished craftsmen, stressing the Foundations role in supporting craftsmen and encouraging them to continue practicing their traditional crafts, selling their products and making use of them.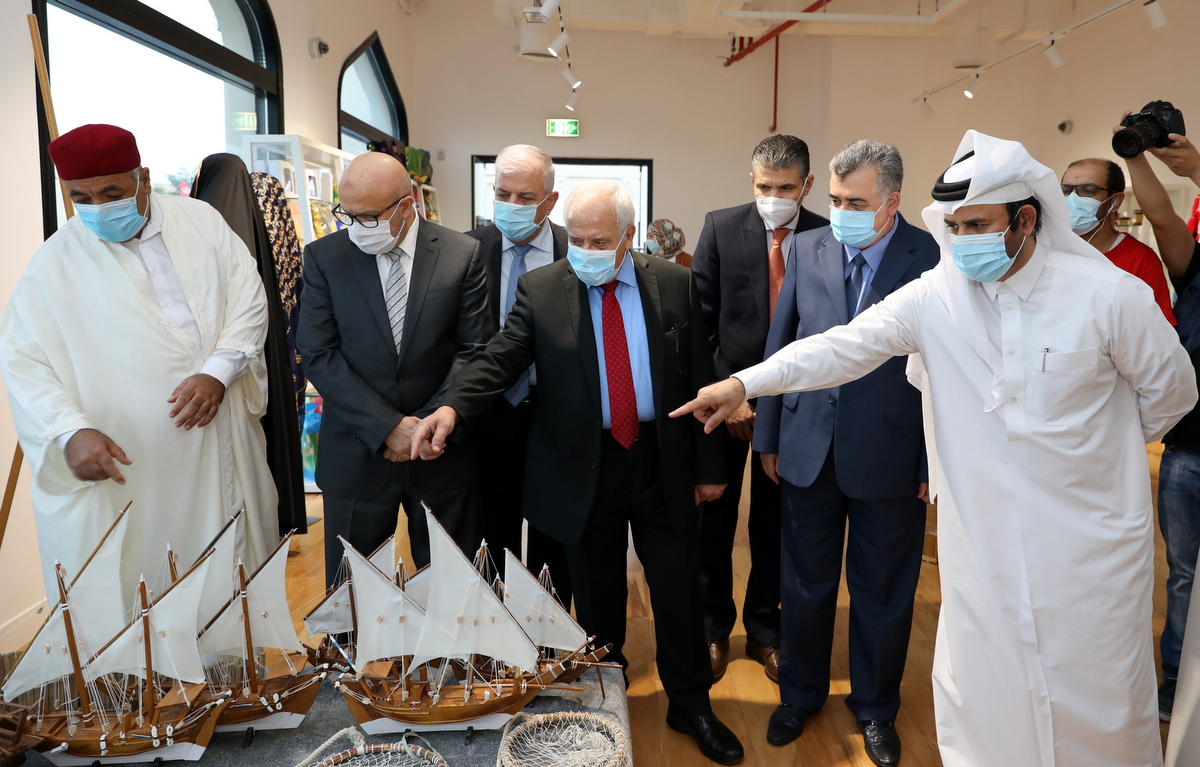 Dr. Al Sulaiti noted that the exhibition contributes to highlighting the civilizational and cultural aspect of the most important aesthetics of the Qatari heritage, adding that Katara provided all kinds of material and moral support to these craftsmen to practice their handicrafts permanently, in order to preserve the popular heritage and its nobility and authentic spontaneous creativity.
He underlined that the exhibition creates opportunities for acquaintance and exchange of experiences between the popular craftsman and the artist interested in heritage and its development.
Dr. Al Sulaiti affirmed Katara's commitment to the implementation of the precautionary measures approved by the State to prevent the spread of the coronavirus (COVID-19), including social distancing and wearing masks.
Katara hosted the first and second edition of the exhibition with remarkable international participation, and launched its training program in the field of handicrafts, which attracted a group of interested young people who joined this program and engaged in training under the supervision of specialized trainers, in accordance with a well-studied plan that provided them with all forms of material and moral support.

قنا
الدوحة: افتتح في المؤسسة العامة للحي الثقافي /كتارا/ المعرض الثالث للحرف اليدوية التقليدية ، بمشاركة دول عربية وأجنبية بالإضافة الى دولة قطر المستضيفة .
وحضر الافتتاح عدد من أصحاب السعادة السفراء وممثلي البعثات الدبلوماسية لدى الدولة بالإضافة إلى المهتمين بالصناعات الحرفية.
ويشارك في المعرض الذي يقام في المبنى (48) ويستمر لمدة عشرة أيام ، نخبة من الحرفيين المحترفين من دول :" فلسطين ، تونس، المغرب ، السودان ، إيران ، أثيوبيا، سوريا " بالإضافة إلى مشاركة إدارة المؤسسات العقابية في دولة قطر.
وسيكون المعرض مفتوحا يوميا من الساعة التاسعة صباحا إلى الثانية عشرة ظهرا ثم من الرابعة عصرا الى العاشرة مساء أما الأكشاك الخاصة بالدول المشاركة فتفتح في الفترة المسائية من الرابعة عصرا الى 10 مساءً.
ويبرز معرض الحرف اليدوية الذي يقام للعام الثالث على التوالي، منتجات الحرفيين الذين أبدعوا في المهن التقليدية والصناعات اليدوية مثل :" الجبس ، الصناديق المبيتة ، الأزياء الشعبية ، الدمى ، السفن ، المداخن ، السدو "، ويحتوي المعرض على العديد من المشغولات اليدوية لهذه الحرف وبمواصفات فنية وجمالية عالية.
وأعرب الدكتور خالد بن إبراهيم السليطي المدير العام للمؤسسة العامة للحي الثقافي في تصريح له بهذه المناسبة ، عن سعادته بافتتاح هذا المعرض بكتارا، بمشاركة نخبة من الحرفيين المتميزين مؤكدا دور المؤسسة في دعم الحرفيين وتشجيعهم على الاستمرار في ممارسة حرفهم التقليدية،وبيع منتجاتهم والاستفادة منها، موضحا أن المعرض يسهم في إبراز الوجه الحضاري والثقافي لأهم جماليات التراث القطري .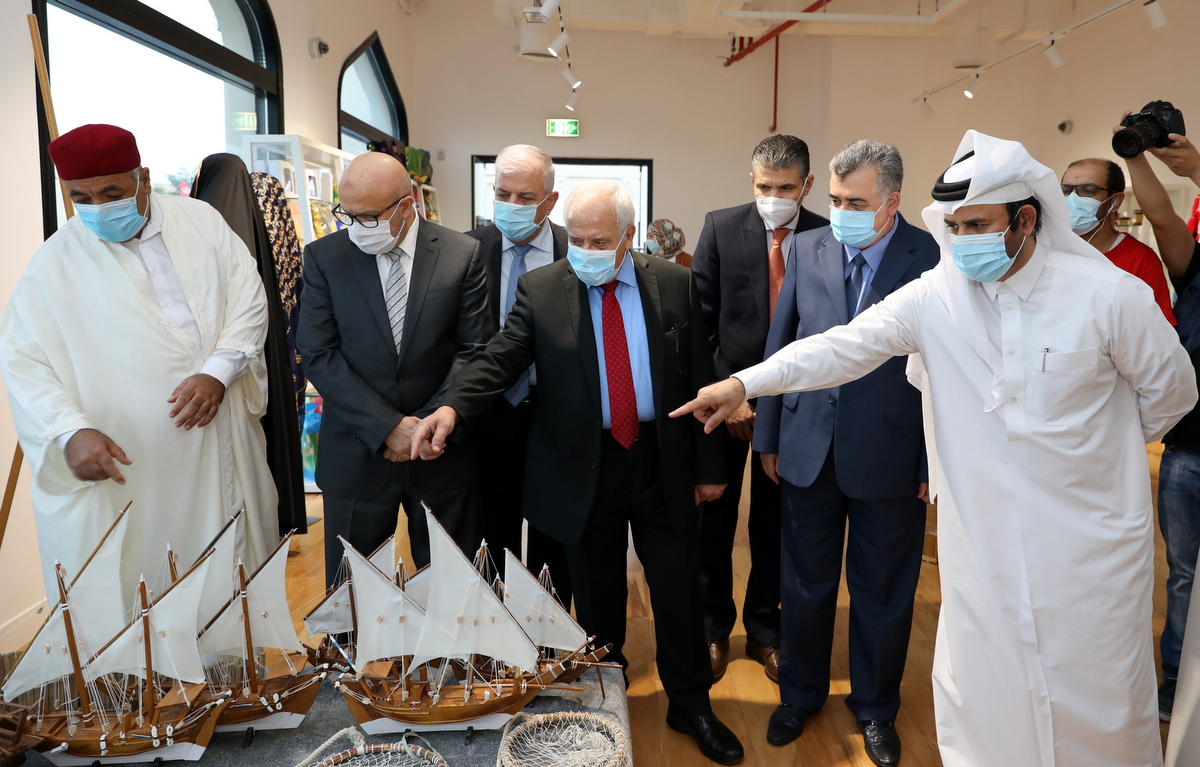 وأشار السليطي إلى :" أن /كتارا/ وفرت كافة أنواع الدعم المادي والمعنوي لهؤلاء الحرفيين ليمارسوا أعمالهم اليدوية بشكل دائم، حفاظا على الموروث الشعبي وما يتسم به من عراقة وإبداع عفوي أصيل، مؤكدا بأن المعرض يسهم في خلق فرص تعارف وتبادل الخبرات بين الحرفي الشعبي والفنان المهتم بالتراث وتطويره .
وأضاف أن المعرض في نسخته الحالية يهدف للحفاظ على الحرف اليدوية التقليدية القطرية، ويعرف الجيل الحالي من طلبة المدارس والجامعات بتراث هذه الحرف ، كما يشجع الجيل المعاصر من الفنانين على ممارستها والمشاركة في المحافل المحلية والدولية كحرفيين متخصصين ، علاوة على إبراز جماليات التراث الشعبي.
وأكد مدير عام /كتارا / أن المؤسسة العامة للحي الثقافي تحرص على الالتزام بتطبيق الاجراءات الاحترازية التي أقرتها الدولة للوقاية من انتشار فيروس كورونا /كوفيد- 19 / بما في ذلك التباعد الاجتماعي وارتداء الكمامات .
يذكر أن /كتارا/ قد احتضنت في العامين الماضيين، معرض الحرف اليدوية في نسختيه الأولى والثانية، بمشاركة دولية لافتة، كما أطلقت برنامجها التدريبي في مجال الحرف اليدوية واستقطبت خلاله نخبة من المهتمين الشباب الذين انضموا إلى هذا البرنامج وانخرطوا بالتدرب تحت إشراف مدربين متخصصين، وفق خطة مدروسة وفرت لهم كافة أشكال الدعم المادي والمعنوي .