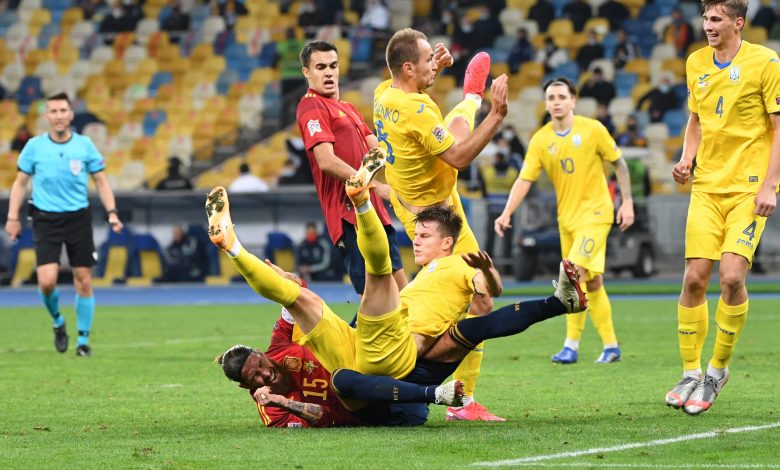 🏆 Sport
Ukraine Beat Spain in Nations League
أوكرانيا تتخطى إسبانيا في دوري الأمم الأوروبية
QNA
Kiev: Spain suffered a shock 1-0 defeat to Ukraine on Tuesday in Group 4 of the Nations League at the Kiev's Olympic Stadium.
Viktor Tsygankov scored the match only goal in the 76th minute.
In the same group, Germany and Switzerland played out a dramatic 3-3 draw at the Rheinenergiestadion stadium in Cologne, Germany.
Gavranovi (5th minute), Freuler (26th minute), and Gavranovi (56th minute) scored for Switzerland.
Werner (28th minute), Havertz (55th minute), and Gnabry (60th minute) netted for Germany.
Spain are on top of Group 4 with seven points followed by Germany with six points then Ukraine with the same tally and Switzerland fourth with two points.

قنا
 كييف: حقق المنتخب الأوكراني فوزا ثمينا على ضيفه الإسباني (1-صفر) في المباراة التي جرت بينهما مساء اليوم، في العاصمة كييف ضمن منافسات الجولة الرابعة من منافسات المجموعة الرابعة ضمن المستوى الأول لمسابقة دوري الأمم الأوروبية في كرة القدم، والتي شهدت أيضا تعادلا مثيرا بين ألمانيا وضيفتها سويسرا (3-3).
وتدين أوكرانيا بفوزها التاريخي على إسبانيا للاعبها فيكتور تسياجانكوف صاحب هدف المباراة الوحيد في الدقيقة (76).
وهذا الفوز هو الأول للمنتخب الأوكراني في ثماني مواجهات جمعته مع نظيره الإسباني، مقابل ستة انتصارات للأخير وتعادل وحيد.
وفي المباراة الثانية، أفلت المنتخب الألماني من فخ ضيفه السويسري وخرج بتعادل ثمين (3-3) في المباراة التي جرت بينهما في برلين.
وسجل تيمو فيرنر (28)، كاي هافيرتس (55)، وسيرج جنابري (60) أهداف ألمانيا، وماريو جافرانوفيتش (5 ، 57)، ريمو فريولر (26) أهداف سويسرا.
وبانتهاء مباريات الجولة الرابعة، احتفظت إسبانيا رغم خسارتها بصدارة الترتيب العام برصيد 7 نقاط وبفارق نقطة واحدة عن كل من ألمانيا الثانية وأوكرانيا الثالثة ولكل منهما 6 نقاط، فيما رفعت سويسرا رصيدها إلى نقطتين في المركز الرابع والأخير.