🏆 Sport
QFA Reveals Qatar Football National Team Collection
الاتحاد القطري لكرة القدم يكشف عن الزي الرسمي الجديد للمنتخب
QNA
Doha: Qatar Football Association (QFA) and Nike reveled today the new 2020 Qatar Football National Team collection that will be the official kit for the team in the coming competitions.
The new Home and Away collection fuses traditional colors with the latest Nike innovations to create a sophisticated and modern look.
The customary maroon home kit pulses with national pride, alongside an elegant white away in a collection befitting a nation gripped by football fever.
In two years, Qatar will host the world game's greatest tournament, and their new kits make a timely and powerful expression of the team's identity.
The home combines maroon jerseys, shorts and socks. The focal point of the design is a celebration of the Qatari flag in the shape of a unique graphic which bristles across the front of the shirt. An enlarged crest bolsters the feeling of national pride, while a strong V-neck collar and tapered cuffs finish off a crisp design.
Qatar's away kit sees maroon switch to a supporting role, framing and detailing white shirts, shorts and socks. The jersey has a maroon V-neck collar, cuffs and side stripes.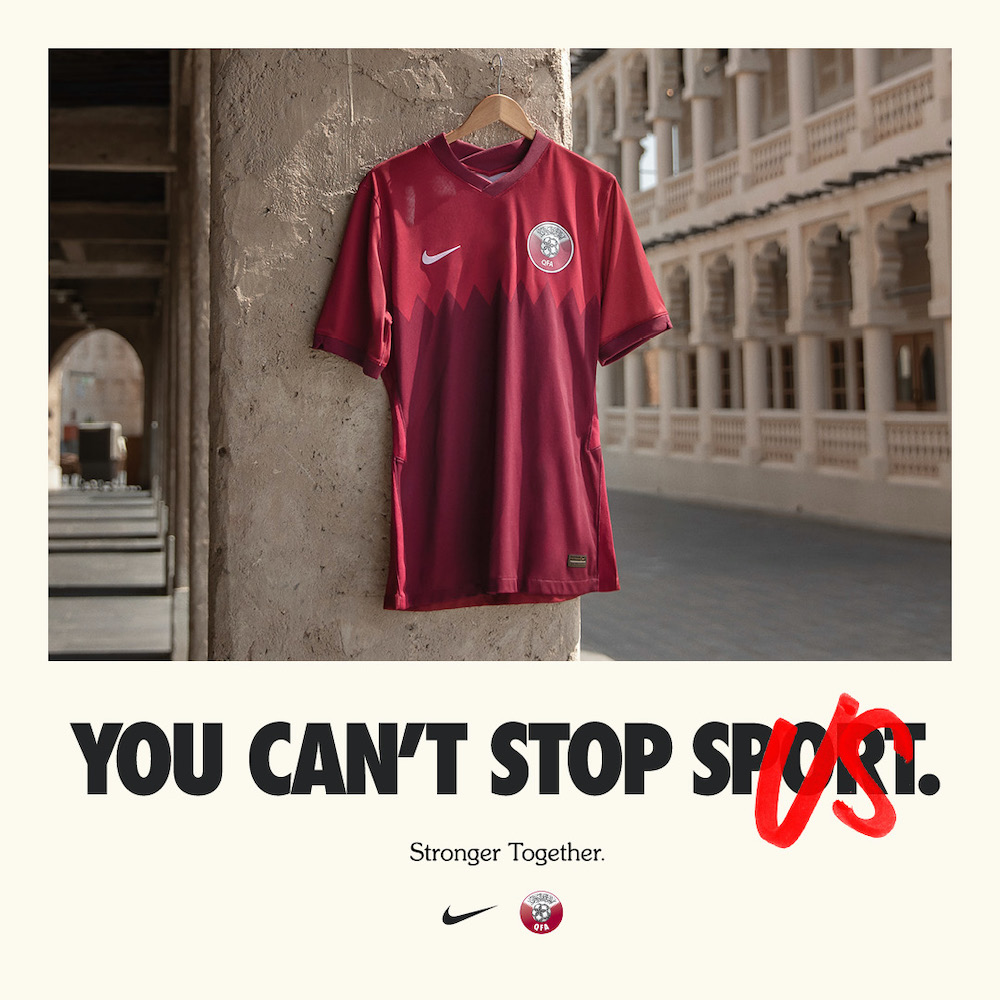 "This 2020 collection is a really nice blend of Qatari footballing traditions and cutting edge kit design," says Scott Munson, VP, Nike Football Apparel. "The idea was to take the team's established identity, those much-loved colours, and put it all through Nike's modern lens."

قنا
الدوحة: دشن الاتحاد القطري لكرة القدم القميص الجديد للمنتخب القطري الأول لعام 2020 كاشفا عن تصميم مميز يجمع بين الهوية القطرية مع الأداء العالي والاستدامة، ومن المقرر أن يخوض العنابي مباراته المقبلة أمام منتخب غانا بالزي الجديد والتي ستقام اليوم /الإثنين/ بمدينة /أنطاليا/ التركية.
ويتميز زي المنتخب القطري الجديد الأساسي باللون العنابي الشهير الذي يؤكد على الاعتزاز الوطني، وقد صممت الياقة على شكل V، وقد وضع شعار المنتخب بكل فخر عند يسار القميص فيما علامة Nike على الجهة الأخرى، وزينت كلمة قطر باللغة العربية خلفية القميص.
كما جاء القميص بتصميم جديد متميز، تمثل في وجود 9 مثلثات أفقية في دلالة لعلم دولة قطر الأدعم، وامتد اللون العنابي القاتم من أسفل الشعارين وحتى نهاية القميص في إطلالة أنيقة متكاملة.
ويتوافر القميص الجديد للمنتخب الوطني الأول في العديد من منافذ بيع الأدوات والمنتجات الرياضية، وسيكون الزي الجديد متوفرا للرياضيين الصغار ابتداء من أكتوبر الجاري وذلك من خلال الكثير من المراكز التجارية.
وبهذه المناسبة قال السيد خالد مبارك الكواري مدير إدارة التسويق والاتصال بالاتحاد القطري لكرة القدم،"لا شك أن تدشين قميص المنتخب الجديد سواء بالطقم العنابي أو الأبيض يأتي في إطار التنسيق المشترك مع شركائنا في "نايك" المزود الرسمي للمنتخبات الوطنية، حيث أن هذا القميص سيكون خاصا لسنة 2020 و 2021″.
وأشار الكواري إلى أن تدشين القميص الجديد كان من المفترض أن يكون منذ فترة، لكن أزمة تفشي جائحة كورونا /كوفيد-19/ أدت إلى تغيير خطة التدشين والتي كانت مقررة في شهر يونيو الماضي، وأضاف " نحن فخورين بهذا القميص الذي يشكل علامة فارقة ونأمل أن نشاهد جميع جماهيرنا القطرية مرتدية هذا القميص في مباريات منتخبنا الوطني سواء داخل أو خارج قطر".
كما يمتاز قميص العنابي بتكنولوجيا "Nike Dri-Fit" والتي تعمل على سحب العرق بعيدا عن الجسم إلى الوجه الخارجي من الملابس حيث يمكن أن يتبخر بسهولة ما يساعد اللاعبين على المحافظة على الجفاف والحرارة المثالية ليقدم أفضل ما عندهم خلال المباراة.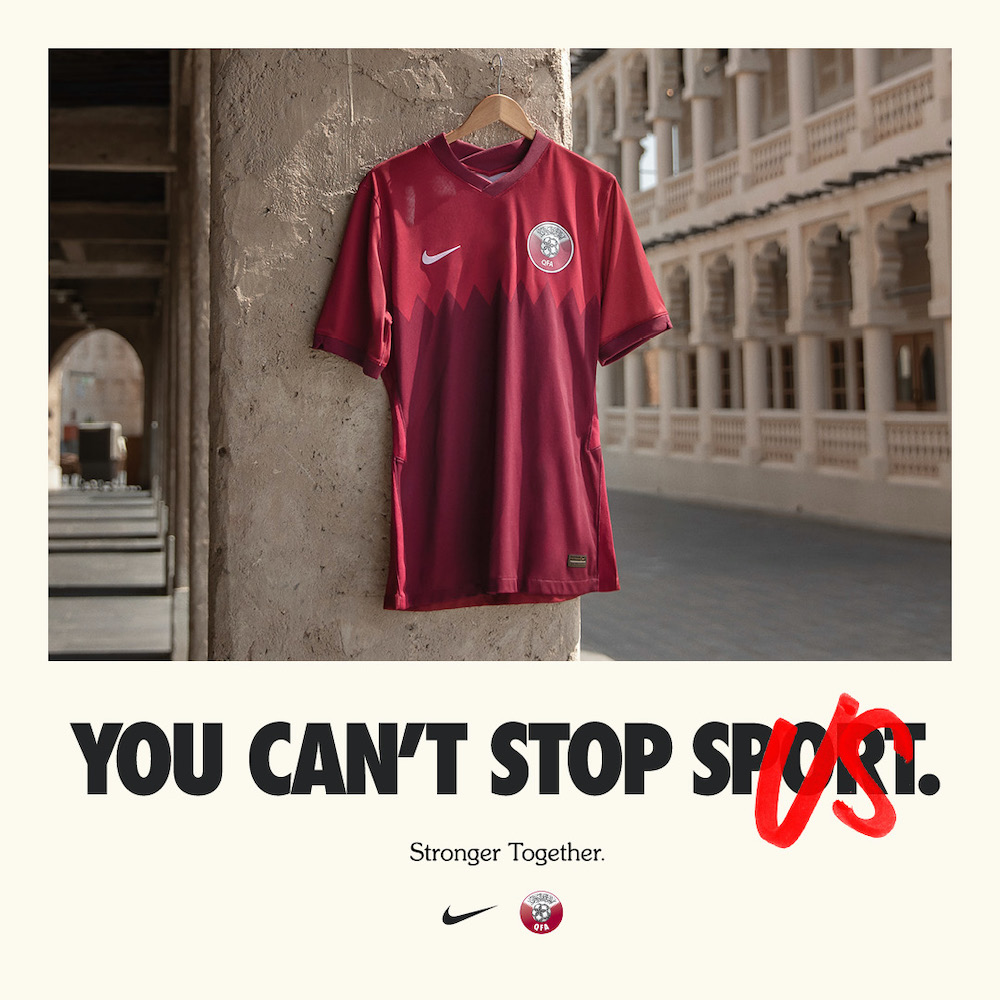 بالإضافة إلى ذلك، توجد مناطق تهوية معززة تتألف من ثقوب صغيرة تم تصميمها باستخدام الليزر في مناطق محددة على الزي، من أجل زيادة دوران الهواء داخل الطقم وبالتالي تعزيز راحة وبرودة اللاعبين طوال وقت المباراة.
وقد صنع الزي الجديد من نسيج محبوك يتألف من القطن والبوليستر المعاد تصنيعه الذي يساعد على التخلص من العرق فيما يحافظ على الشعور بالراحة.