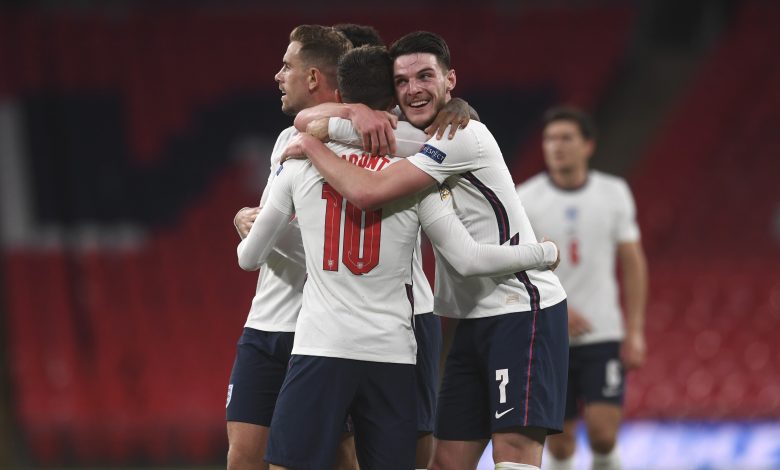 🏆 Sport
England Beat Belgium in European Nations Football League
المنتخب الإنجليزي يفوز على نظيره البلجيكي بدوري أمم أوروبا لكرة القدم
QNA
London: England came from behind to overcome the world's top-ranked team Belgium and record an important Nations League victory at Wembley.
Romelu Lukaku's early penalty was just reward for a bright start by Roberto Martinez's men.
But England gained revenge for two defeats when the sides met at the 2018 World Cup as Rashford's penalty and Mount's deflected winner 25 minutes from time earned all three points, moving them one ahead of the away side at the top of League A, Group 2.
England manager Gareth Southgate made nine changes from Thursday's 3-0 friendly win over Wales with Dominic Calvert-Lewin one of only two players retained due to the absence of captain Harry Kane, who was fit enough only for a place on the bench.
The result puts England top of Group E after three games on 7 points and means they have now won 20 of their last 21 competitive home games. Belgium are one point behind in second place after three games.

قنا
لندن: قلب المنتخب الإنجليزي لكرة القدم تأخره أمام نظيره البلجيكي بهدف نظيف إلى فوز بهدفين لهدف في المباراة التي جمعتهما ضمن الجولة الثالثة من منافسات المجموعة الثانية بدوري القسم الأول من بطولة دوري أمم أوروبا للعبة.
سجل هدف المنتخب البلجيكي الوحيد، روميلو لوكاكو في الدقيقة 16 (من ضربة جزاء)، فيما سجل هدفي المنتخب الإنجليزي ماركوس راشفورد في الدقيقة 39 (من ضربة جزاء)، وماسون مونت في الدقيقة 65.
وبهذا الفوز، رفع المنتخب الإنجليزي رصيده إلى سبع نقاط ليتصدر المجموعة بفارق نقطة واحدة أمام نظيره البلجيكي الذي تراجع للمركز الثاني.
وأوقف المنتخب الإنجليزي الانطلاقة الناجحة لمنافسه في النسخة الحالية من دوري أمم أوروبا حيث مني المنتخب البلجيكي بالهزيمة الأولى له في البطولة بعدما استهل مسيرته في هذه النسخة بانتصارين متتاليين.
وكانت مباراة اليوم هي الأولى بين الفريقين منذ أن التقيا قبل أكثر من عامين في مباراة تحديد المركز الثالث ببطولة كأس العالم 2018 في روسيا عندما فازت بلجيكا (2 – صفر).
وفي باقي مباريات هذه الجولة، حسمت نتيجة التعادل السلبي مباريات كازاخستان مع ألبانيا، وإيرلندا مع ويلز، والبوسنة والهرسك مع هولندا، فيما تعادلت ليتوانيا مع روسيا البيضاء بهدفين لمثلهما، وبنفس النتيجة تعادلت أرمينيا مع جورجيا، وتعادلت أيضا إستونيا مع مقدونيا الشمالية بنتيجة (3 -3)، وتغلبت كرواتيا على السويد بهدفين لهدف، كما فازت النرويج على رومانيا برباعية نظيفة، وتفوقت فنلندا على بلغاريا بهدفين دون مقابل.