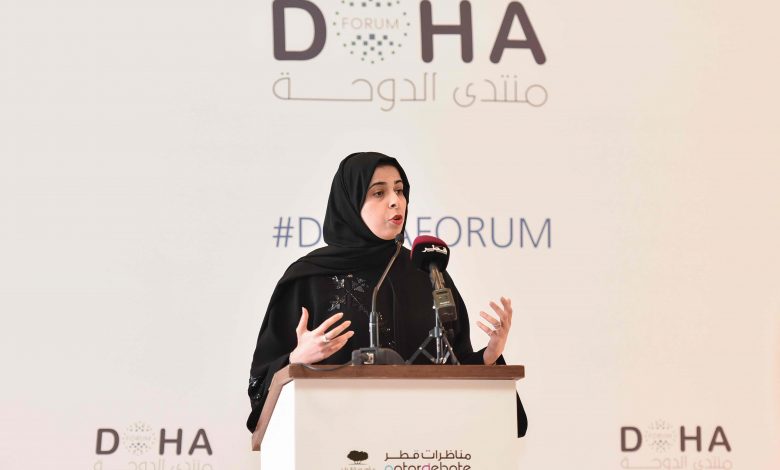 📚Education
Doha Forum Announces Partnership with Observer Research Foundation on "CYFY2020" Event
منتدى الدوحة يعلن عن شراكته مع مؤسسة أوبزرفر للأبحاث في مؤتمر CYFY2020
QNA
Doha: Doha Forum announced its partnership with the Observer Research Foundation (ORF), Indias leading think tank, on the India Conference on Technology, Security and Society "CYFY2020", which is hosted online from October 12 to 16.
HE Lolwah Al Khater, Executive Director of Doha Forum, said: "The Observer Research Foundation has been an active contributor to Doha Forums success. As a content partner in 2018 and 2019, they brought important perspectives and voices from the East to the Forum, which enriched our diversity and encouraged an honest exchange of views".
HE expressed pleasure to collaborate with the Observer Research Foundation, and looked forward to expanding this partnership when the pandemic restrictions ease.
For his part, Dr. Samir Saran, President of the Observer Research Foundation, said: "We are delighted to welcome the Doha Forum to the CYFY family. Changes that are taking place in Asia point to the importance of innovation and knowledge as key drivers of growth and prosperity. Qatar has demonstrated the political will to invest in these sectors that will allow it to lead in the Fourth Industrial Revolution. We look forward to continuing our partnership at the Doha Forum and other platforms".
The CYFY2020 conference will gather an international community of experts to identify, interrogate and interpret the new normal that is emerging in the global digital society. Distinguished speakers include HE Ravi Shankar Prasad, Indias Minister for Communications, Electronics and Information Technology and Minister for Law and Justice; HE Marise Payne, Australias Minister of Foreign Affairs; HE Moulay Hafid Elalamy, Moroccos Minister of Industry, Investment, Trade and Digital Economy; HE Timo Harakka, Finland's Minister of Transport and Communications; HE John Whittingdale, UK's Minister of State for Media and Data; HE S. Iswaran, Singapores Minister for Communications and Information and Cybersecurity; Ajit Pai, Chairman of the Federal Communications Commissions in the United States; and HE Tomas Petricek, Czech Republics Foreign Minister, in addition to a number of cyber experts from leading companies such as Facebook, Microsoft, Netflix, and Twitter.
Ahmed Elmagarmid, Executive Director of Qatar Computing Research Institute, will participate in a Speed Talk at the conference, where he will discuss artificial intelligences contribution to the job market and job creation in Qatar.
Doha Forum partnered with the Observer Research Foundation last January on the Raisina Dialogue, which was held in New Delhi and featured renowned global speakers.

قنا
الدوحة: أعلن منتدى الدوحة عن شراكته مع مؤسسة /أوبزرفر للأبحاث/، وهي مؤسسة فكرية رائدة في الهند، في مؤتمر الهند للتكنولوجيا والأمن والمجتمع /CYFY2020/ والذي يعقد عبر تقنية الاتصال المرئي خلال الفترة من 12 إلى 16 أكتوبر الجاري.
وقالت سعادة السيدة لولوة الخاطر، المدير التنفيذي لمنتدى الدوحة: "لقد كانت مؤسسة أوبزرفر للأبحاث مساهما فعالا في نجاح منتدى الدوحة، وهي شريك محتوى للمنتدى في عامي 2018 و2019. ساهمت المؤسسة في إبراز وجهات نظر وأصوات مهمة من الشرق في منتدى الدوحة مما أثرى تنوع منصتنا وشجع على تبادل صادق لوجهات النظر".
وأعربت عن سعادتها بالتعاون مع مؤسسة /أوبزرفر للأبحاث/، معبرة عن تطلعها إلى توسيع هذه الشراكة عندما تخف القيود المفروضة بشأن جائحة /كورونا/.
بدوره، قال الدكتور سمير ساران، رئيس مؤسسة /أوبزرفر للأبحاث/: "يسعدنا الترحيب بمنتدى الدوحة في أسرة CYFY". وأضاف: "إن التغييرات التي تحدث في آسيا تشير إلى أهمية الابتكار والمعرفة كمحركين رئيسيين للنمو والازدهار، مؤكدا أن دولة قطر أظهرت الإرادة السياسية للاستثمار في هذه القطاعات التي ستسمح بفرصة الريادة في الثورة الصناعية الرابعة، ونتطلع إلى مواصلة شراكتنا في منتدى الدوحة وغيره من المنصات.
ويجمع المؤتمر عددا من الوزراء والمسؤولين الحكوميين لمناقشة وتفسير الوضع الطبيعي الجديد الناشئ في المجتمع الرقمي العالمي، ومن بين المتحدثين سعادة السيد رافي شانكار براساد، وزير الاتصالات والإلكترونيات وتكنولوجيا المعلومات ووزير القانون والعدل في الهند، وسعادة السيدة ماريز باين، وزيرة الخارجية الأسترالية، وسعادة السيد مولاي حفيظ العلمي وزير الصناعة والاستثمار والتجارة والاقتصاد الرقمي المغربي، وسعادة السيد تيمو هاراكا، وزير النقل والاتصالات في فنلندا، وسعادة السيد جون ويتينغديل، وزير الدولة للإعلام والبيانات في المملكة المتحدة، وسعادة السيد إيسواران، وزير الاتصالات والمعلومات والأمن السيبراني في سنغافورة، والسيد أجيت باي رئيس لجان الاتصالات الفيدرالية في الولايات المتحدة، وسعادة السيد تامس باتريك، وزير خارجية جمهورية التشيك، بالإضافة إلى عدد من خبراء الإنترنت من الشركات الرائدة مثل /فيس بوك/، /مايكروسوفت/، /نتفليكس/ و/تويتر/.
ويشارك السيد أحمد المقرمد المدير التنفيذي لمعهد قطر لبحوث الحوسبة، يوم /الأربعاء/ المقبل في جلسة حوارية بالمؤتمر لمناقشة مساهمة الذكاء الاصطناعي في سوق العمل وخلق فرص العمل في دولة قطر.
جدير بالذكر أن منتدى الدوحة عقد شراكة مع مؤسسة أوبزرفر للأبحاث في حوار /ريسينا/ الذي عقد في نيودلهي يناير الماضي بمشاركة متحدثين عالميين مشهورين.