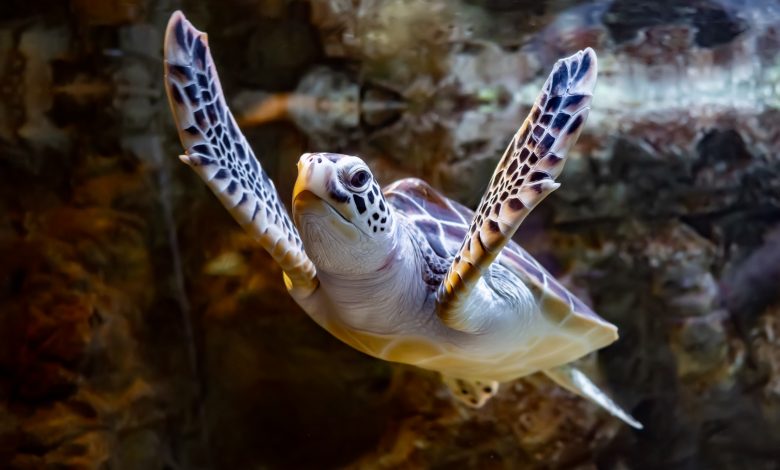 🇶🇦 DOHA
Sea turtle rescued at Al Ghariya Beach
إسعاف سلحفاة بحرية في شاطئ الغارية
Al-Sharq – WGOQatar Translations
Doha: The Ministry of Municipality and Environment, represented by the Department of Protection and Wildlife, in collaboration with the Department of Nature Reserves represented by the Marine North Unit, and the Department of Parks represented by Al Khor Park Zoo, rescued an endangered hawksbill sea turtle in al-Ghariya beach.
The Department of Environmental Operations had received a report from some beachgoers of a state of fatigue, and was provided with the necessary first aid at Al-Khor Park, and after the turtle was restored to normal activity, it was returned to the sea at Al-Ghariya Beach by inspectors of the North Marine Unit.
It is worth mentioning that the reports of sea turtles are transferred to the Department of Protection and Wildlife and work is done in coordination with Al-Khor Park, where first aid is provided and the need to transfer the turtle to the hospital in case of severe injury is assessed.

الشرق
الدوحة: قامت وزارة البلدية والبيئة ممثلة بإدارة الحماية والحياة الفطرية بالتعاون مع كل من إدارة المحميات الطبيعية ممثلة بوحدة الشمال البحرية، وإدارة الحدائق العامة ممثلة بحديقة حيوان منتزه الخور بإسعاف سلحفاة بحرية من نوع صقرية المنقار المهددة بالانقراض بشاطئ الغارية، وإرجاعها للبحر.
كانت إدارة العمليات البيئية قد تلقت بلاغاً من بعض مرتادي الشاطئ بإصابتها بحالة إعياء، وتم تقديم الإسعافات اللازمة لها بحديقة منتزه الخور، وبعد استعادة السلحفاة لنشاطها الاعتيادي تمت إعادتها للبحر في شاطئ الغارية من قبل مفتشي وحدة الشمال البحرية.
جدير بالذكر أن البلاغات الخاصة بالسلاحف البحرية يتم تحويلها لإدارة الحماية والحياة الفطرية ويتم عمل اللازم بالتنسيق مع منتزه وحديقة الخور، حيث يتم تقديم الإسعافات الأولية وتحديد مدى الحاجة لتحويل السلحفاة إلى المستشفى في حالة الإصابة الشديدة.
المصدر: al-sharq