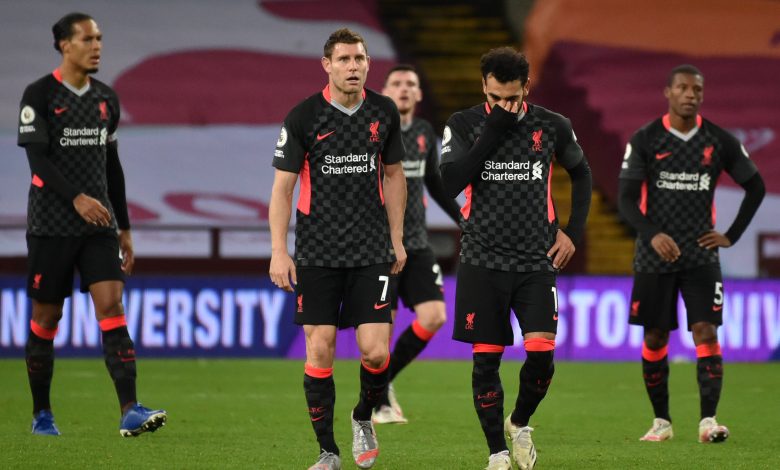 🥅 LEAGUES
Liverpool, Manchester United Suffer Heavy Defeat in Premier League
خسارتان قاسيتان لليفربول ومانشستر يونايتد في الدوري الإنجليزي
QNA
London: Ollie Watkins scored a first-half hat-trick and Jack Grealish had a hand in five goals as Aston Villa deservedly stunned champions Liverpool with one of the most unbelievable scorelines in Premier League history.
Villa's record signing Watkins had never scored a Premier League goal before kick-off and 45 minutes later he had the match ball, as the home side took advantage of Liverpool's high line and individual mistakes.
Captain Grealish scored their final two goals after assisting three.
It is the first time Liverpool have conceded seven goals since 1963 and is only their fourth Premier League defeat since 3 January 2019. Villa, who escaped relegation on the final day of last season, overtake them in the table with their best start since 1962.
Jose Mourinho returned to Old Trafford and humiliated his former club as Tottenham thrashed Manchester United to record a famous victory.
Manchester United suffered a heavy defeat at Old Trafford as Jose Mourinho's Tottenham Hotspur beat the Reds 6-1.
Spurs scored twice in three minutes to take the lead through Tanguy Ndombele and Heung-Min Son in a remarkable opening seven minutes.
Martial was then red carded after 28 minutes and Spurs scored another two before half-time from Harry Kane and a second from Son against our 10-men.
The Londoners added another couple in the second 45 minutes as Kane netted from the spot and Serge Aurier made it six to complete an miserable day.
In contrast, Tottenham moved up to fifth after emerging from a packed schedule of five games in 11 days in three competitions with a creditable four wins and a draw – their last two games have had five-goal winning margins.
It is also Tottenham's biggest win at Old Trafford and matches their record home win over United, 6-1 in September 1932.

قنا
لندن: مني فريقا ليفربول حامل اللقب ومانشستر يونايتد بهزيمتين قاسيتين في إطار مباريات الجولة الرابعة من بطولة الدوري الإنجليزي لكرة القدم، بعد سقوطهما أمام استون فيلا (2-7)، وتوتنهام (1-6) تواليا.
ففي المباراة الأولى، سقط ليفربول الذي حقق الفوز في مبارياته الثلاث الأولى سقوطا مدويا على ملعب "فيلا بارك" أمام مضيفه إستون فيلا بسبعة أهداف مقابل هدفين في مفاجأة من العيار الثقيل.
وسجل أولي واتكينز (4 ، 23 ، 39)، وجاك جراليش (66، 75)، والاسكتلندي جون ماكجين (35) ، وروس باركلي (55) أهداف استون فيلا، والمصري محمد صلاح (33 ، 60) هدفي ليفربول.
وتعد هذه أكبر هزيمة لليفربول منذ السقوط أمام مانشستر سيتي (صفر-5) في سبتمبر 2017، كما أنها المرة الأولى التي يسقط فيها حامل اللقب بتلقيه سبعة أهداف منذ أن حصل ذلك مع أرسنال ضد سندرلاند في سبتمبر 1953، وأيضا المرة الأولى التي تهتز فيها شباك ليفربول بسبعة أهداف منذ أبريل 1963 حين خسر أمام توتنهام (2-7).
وهذا الفوز هو الثالث تواليا لاستون فيلا في المسابقة من ثلاث مباريات ولديه مباراة مؤجلة مع مانشستر سيتي، ليرفع رصيده إلى تسع نقاط وتقدم للمركز الثاني بفارق ثلاث نقاط خلف إيفرتون المتصدر، فيما مني ليفربول بهزيمته الأولى في المسابقة وتجمد رصيده عند 9 نقاط وتراجع إلى المركز الرابع.
وفي المباراة الثانية، لقي مانشستر يونايتد خسارة مذلة على ملعبه "أولدترافورد"، أمام ضيفه توتنهام الذي يشرف عليه مدربه السابق البرتغالي جوزيه مورينيو، بستة أهداف مقابل هدف واحد.
وسجل الفرنسي تانجي ندومبيلي (4)، الكوري الجنوبي هيونغ مين سون (7، 37)، هاري كين (30 ، 79 من ركلة جزاء)، والإيفواري سيرج اورييه (51) أهداف توتنهام، والبرتغالي برونو فيرنانديز (2 من ركلة جزاء) هدف مانشستر يونايتد.
وشهدت المباراة طرد الفرنسي انتوني مارسيال لاعب مانشستر يونايتد في الدقيقة (28) ليكمل فريقه المباراة بعشرة لاعبين لمدة تخطت الساعة.
وتعد هزيمة مانشستر يونايتد هي إحدى أسوأ هزائمه في الدوري، حيث سبق أن خسر ثلاث مرات في الدوري الإنجليزي بفارق خمسة أهداف، آخرها أمام جاره مانشستر سيتي (1-6) في ملعبه أيضا عام 2011، إضافة الى خسارتين (صفر-5) ضد نيوكاسل عام 1996 وتشيلسي عام 1999، فيما خسر بنتيجة (صفر-7) مرتين في الدرجة الأولى سابقا عامي 1926 ضد بلاكبيرن و1930 ضد أستون فيلا، ومرة في الدرجة الثانية ضد ولفرهامبتون عام 1931.
ورفع توتنهام بفوزه رصيده إلى 7 نقاط وتقدم للمركز السادس، فيما تجمد رصيد مانشستر يونايتد عند 3 نقاط في المركز السادس عشر.
وشهدت مباريات الجولة الرابعة التي أقيمت مساء اليوم أيضا، تلقي ليستر سيتي خسارته الأولى في المسابقة، بعد سقوطه أمام ضيفه وست هام يونايتد (صفر-3)، ليكون إيفرتون المستفيد لأنه أصبح وحيدا في الصدارة بعد فوزه الرابع أمس السبت على حساب برايتون (4-2).
أحرز أهداف وست هام يونايتد كل من ميكايل أنتونيو (14) الإسباني بابلو فورنالس (34) وجارود بوين (83)،
كما حقق أرسنال فوزه الثالث على حساب ضيفه شيفيلد يونايتد (2-1)، وفاز ساوثهامتون على ضيفه وست بروميتش ألبيون (2-صفر)، وولفرهامبتون على ضيفه فولهام (1-صفر).