بعد زميله ماني .. هل أصيب محمد صلاح بـ كورونا؟
Al-Sharq – WGOQatar Translations
Doha: A tweet sparked controversy over The Egyptian star Mohamed Salah, the English Liverpool player, getting infected with the coronavirus.
According to Egyptian media, one of Liverpool fans, called Prince Marcos, referred to Mohamed Salah's infection with the Coronavirus, stressing that the Egyptian star's test result was positive.
This fan confirmed that "Salah" is currently in quarantine at The Millwood Centre in Liverpool, waiting for the result of the second test.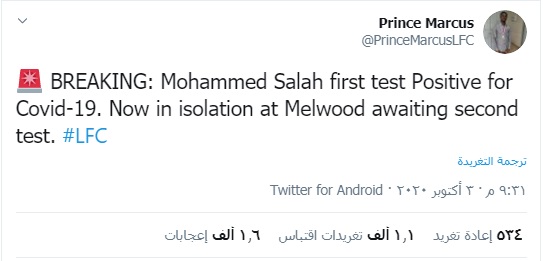 The fan sparked controversy through his account, especially since the official Liverpool club account is one of the followers of that fan account, which raised doubts on social media.
"Mohamed Salah's first coronavirus test was positive, and now, in isolation in Millwood, awaiting the second test," Marcus wrote on his Twitter account.
Following the spread of talk about the Liverpool star being infected with the Coronavirus, Mohamed Salah posted a picture of him on Facebook in an advertising campaign for a phone company.
Liverpool announced yesterday evening that Senegalese player Sadio Mane was infected with the new Coronavirus "Covid – 19".
In a statement on its official website, Liverpool said: "Sadio Mane's test has confirmed his infection with THE Coronavirus and is currently being self-isolated in accordance with the necessary guidelines."
"The Senegalese winger, who scored in the team's 3-1 win over Arsenal last Monday, showed minor symptoms of the virus but is generally in good health."
"However, as with Thiago Alcantara, Liverpool Football Club will continue to follow all protocols relating to the Coronavirus, and Mane will isolate himself for the required period of time."

الشرق
الدوحة: أثارت تغريدة عبر تويتر، الجدل حول إصابة النجم المصري محمد صلاح لاعب ليفربول الإنجليزي، بفيروس كورونا.
وحسب وسائل إعلام مصرية، أشار شخص يدعى برنس ماركوس، وهو من أحد مشجعي فريق ليفربول، إلى إصابة محمد صلاح بفيروس كورونا، مؤكدا أن عينة النجم المصري جاءت إيجابية.
وأكد هذا المشجع أن "صلاح" يتواجد حاليا في عزل صحي في مركز ميلوود بمدينة ليفربول، منتظرا نتيجة الاختبار الثاني.
وأثار المشجع الجدل عبر حسابه، خاصة أن حساب نادي ليفربول الرسمي أحد متابعي حساب ذلك المشجع، وهو ما أثار الشكوك على مواقع التواصل الاجتماعي.
وكتب "ماركوس" عبر حسابه على موقع التغريدات القصيرة "تويتر": "محمد صلاح أول اختبار جاء إيجابيا لفيروس كورونا، والآن، مو في عزلة في ميلوود، في انتظار الاختبار الثاني".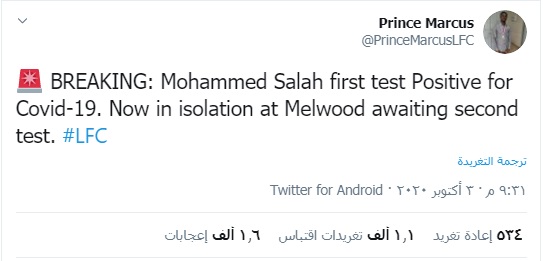 وعقب انتشار الحديث حول إصابة نجم ليفربول بفيروس كورونا، نشر محمد صلاح، صورة له عبر فيس بوك، في إحدى الحملات الإعلانية لشركة هواتف.
وكان نادي ليفربول الإنجليزي، قد أعلن مساء أمس، إصابة لاعبه السنغالي ساديو ماني، بفيروس كورونا المستجد "كوفيد 19".
وقال ليفربول، في بيان عبر موقعه الرسمي: "أثبت اختبار ساديو ماني، إصابته بفيروس كورونا وهو يخضع حاليًا للعزل الذاتي وفقًا للإرشادات اللازمة".
وأضاف: "أظهر الجناح السنغالي، الذي سجل في فوز الفريق بنتيجة 3-1، يوم الاثنين الماضي، على أرسنال، أعراضًا طفيفة للفيروس لكنه يشعر بصحة جيدة بشكل عام".
وتابع: "ومع ذلك، كما هو الحال مع تياجو ألكانتارا، فإن نادي ليفربول لكرة القدم، سيواصل اتباع جميع البروتوكولات المتعلقة بفيروس كورونا، وسيعزل ماني نفسه الفترة الزمنية المطلوبة".
المصدر: al-sharq