💰 Business
🦠Coronavirus
Qatar Airways is the first global company to use Honeywell devices to sterilize the cabin using UV rays
القطرية أول شركة عالمية تستخدم أجهزة هانيويل لتعقيم المقصورة باستخدام الأشعة فوق البنفسجية 
Al-Sharq – WGOQatar Translations 
Doha: Qatar Airways has become the first international airline to use Honeywell's UV disinfectant device, which will be positively reflected in enhanced sterilization and hygiene procedures on board aircrafts, and based on many tests, UV radiation has the potential to inhibit various types of viruses and bacteria when applied correctly.
The national carrier said in a statement on its website that the device is about the size of a beverage cart, and has two armsticks mounted on it to emit UV radiation to sterilize seats, surfaces and compartments without the need to use standard cleaning materials.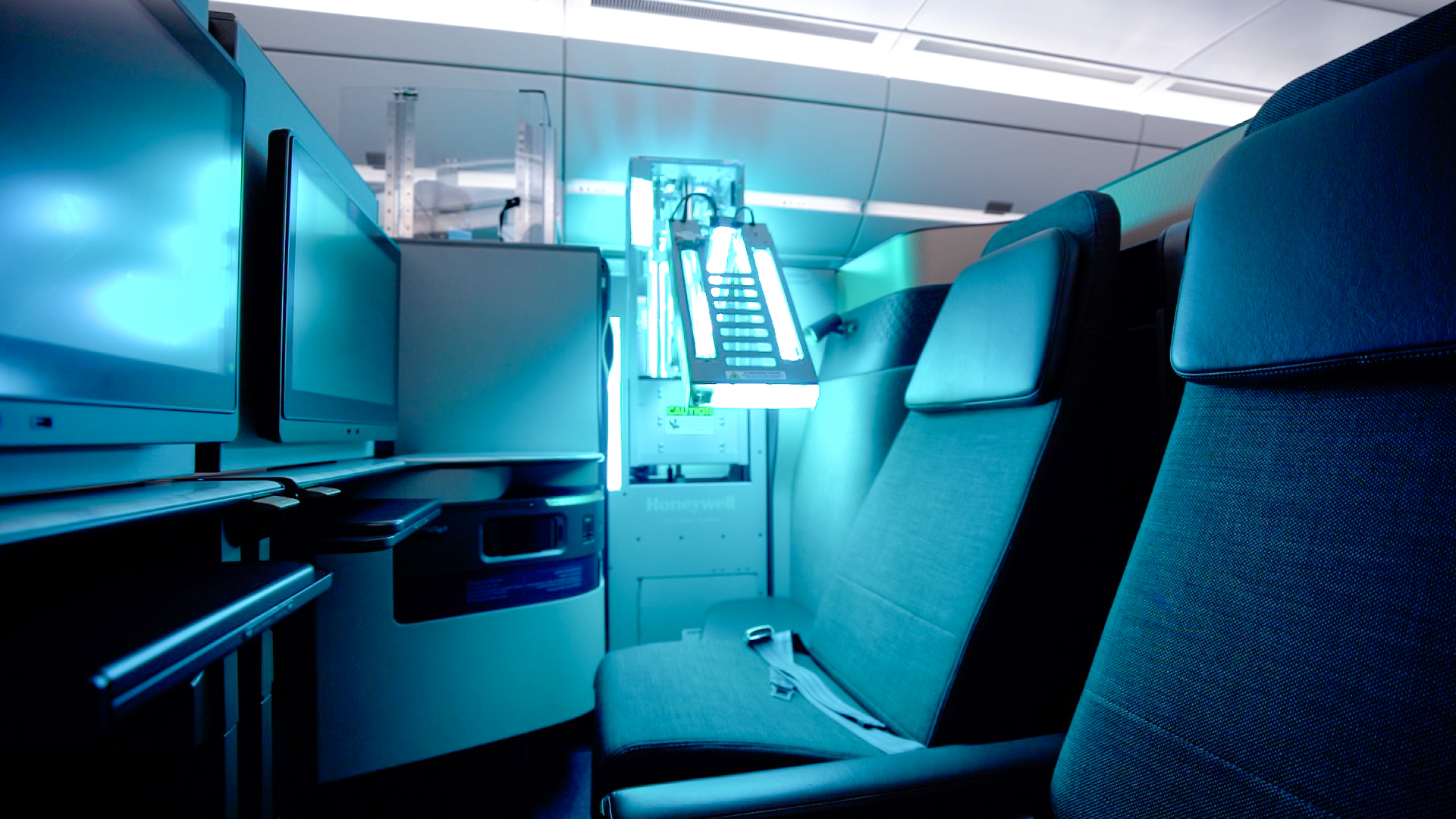 The Qatar National Carrier received six devices from Honeywell, where it conducted several comprehensive tests before being officially introduced into service. Qatar Airways is seeking to acquire additional units of this device in the near future, with the aim of operating them on all aircraft at Hamad International Airport.
H.E. Akbar Al Baker, CEO of Qatar Airways Group, said: "We are delighted to be the first airline to operate long-haul aircraft using Honeywell's UV-dissonance devices on board our aircraft, and based on many tests, UV radiation has the potential to inhibit various types of viruses and bacteria when applied properly and in the right quantities."
"During these unprecedented times, we pay our attention at Qatar Airways to the safety and security of passengers and crew. Since the outbreak of this pandemic, we have not stopped implementing precautionary measures for sterilization and hygiene on board our aircraft, thanks to the experience we have gained after our operations have continued without interruption at all."
James Currier, Honeywell's Head of Space for Europe, Middle East, Africa and India, said: "Honeywell has advanced technology today that will ensure safe travel for everyone, from passengers to crew members and airports. At Honeywell, we are studying developments to create new devices, such as Honeywell ThermoRebellion, a new temperature control system, environmental control system testing technology that enables airlines to monitor cabin airflow, and a variety of personal protective equipment. "These different systems and technologies contribute to cleaner and safer airports."
Qatar Airways will continue to use cleaning materials recommended by the International Air Transport Association (IATA) and the World Health Organization (WHO) to periodically sterilize their aircraft. The carrier will use honeywell's UV disinfection device, as an additional step after manual sterilization, to ensure that the highest standards of hygiene and sterilization are applied to aircraft. The carrier will continue to wash all the blankets, mattresses and blankets used on board aircraft and dry them at very high temperatures, while headphones covers are carefully removed and sterilized after each flight. All of the above is then wrapped up by staff wearing disposable medical gloves.
The carrier protects its fleet with filters that use advanced air particle purification systems that eliminate 99.97% of airborne fine particles in the air in the cabin, such as bacteria and viruses, providing maximum protection against infection.
Qatar Airways has stepped up health and safety measures on board with the announcement of new personal protective equipment for passengers and cabin crew, which will include a face protector for all passengers; a new one-time protective suit, goggles, gloves and a muzzle for the hospitality crew.
Qatar Airways will also provide a personal protection kit for passengers on its flights, which will include a medical muzzle, medical gloves and a sterile hand gel containing medical alcohol. The carrier will provide business class passengers with a pack of hsnd sanitizer (75 ml). Passengers travelling with Qatar Airways in QSuite business class seats have the opportunity to experience privacy at its best with the possibility of converting the seat into a private suite and enjoying an oasis of tranquility and comfort. Passengers can also press the "Do not disturb" button in the seat to reduce communication with the hospitality crew.
الشرق
الدوحة: أصبحت الخطوط الجوية القطرية أول شركة طيران عالمية تستخدم جهاز هانيويل لتعقيم المقصورة باستخدام الأشعة فوق البنفسجية، مما سينعكس إيجاباً بتعزيز إجراءات التعقيم والنظافة على متن الطائرات، وبناءً على العديد من الاختبارات، تمتاز الأشعة فوق البنفسجية بقدرتها على تثبيط مختلف أنواع الفيروسات والبكتيريا عند تطبيقها بالشكل الصحيح.
وقالت الناقلة الوطنية في بيان على موقعها إن حجم هذا الجهاز حجم عربة المشروبات تقريباً، ولديه ذراعان مثبّت عليهما ألواح تبثّ الأشعة فوق البنفسجية لتعقيم المقاعد والأسطح والمقصورات دون الحاجة إلى استخدام مواد التنظيف الاعتيادية.
واستلمت الناقلة الوطنية لدولة قطر ستة أجهزة من هانيويل، حيث أجرت عليها العديد من الاختبارات الشاملة قبل إدخالها رسمياً في الخدمة. وتسعى الخطوط الجوية القطرية إلى امتلاك وحدات إضافية من هذا الجهاز في المستقبل القريب، بهدف تشغيلها على جميع الطائرات في مطار حمد الدولي.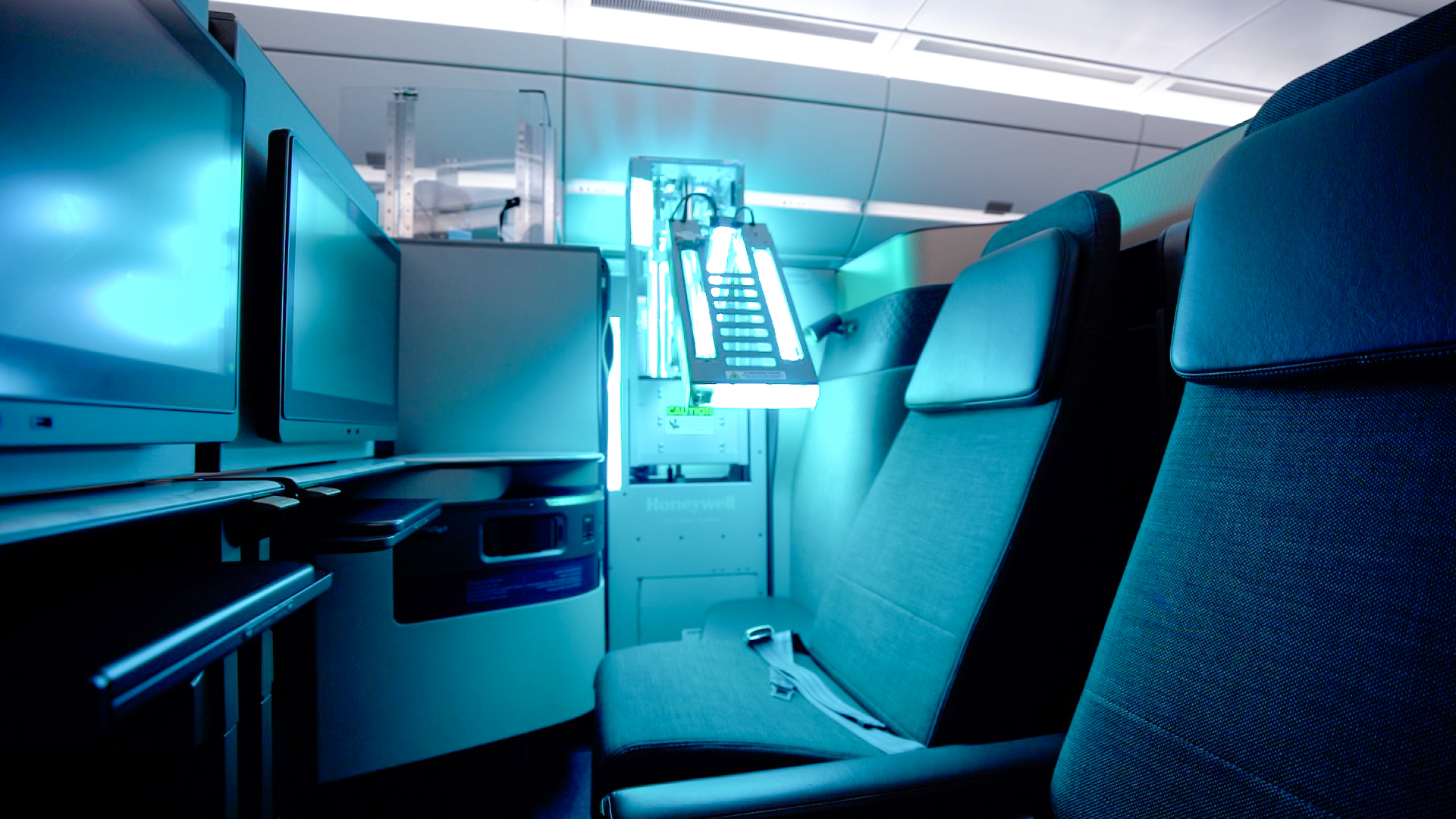 وقال سعادة السيد أكبر الباكر، الرئيس التنفيذي لمجموعة الخطوط الجوية القطرية: "يسعدنا أن نصبح أول شركة طيران تسيّر رحلات طويلة تستعمل أجهزة هانيويل لتعقيم المقصورة باستخدام الأشعة فوق البنفسجية على متن طائراتنا، وبناءً على العديد من الاختبارات، تمتاز الأشعة فوق البنفسجية بقدرتها على تثبيط مختلف أنواع الفيروسات والبكتيريا عند تطبيقها بالشكل الصحيح وبالكميات الصحيحة".
وأضاف سعادة السيد الباكر: "خلال هذه الأوقات غير المسبوقة، نعير جلّ اهتمامنا في الخطوط الجوية القطرية إلى أمن وسلامة المسافرين وطواقم العمل. ومنذ انتشار هذه الجائحة، لم نتوانَ عن تطبيق تدابير احترازية للتعقيم والنظافة على متن طائراتنا، وذلك بفضل ما اكتسبناه من خبرات بعد استمرار عملياتنا دون توقف على الإطلاق". 
وقال السيد جيمس كورير، رئيس هانيويل للفضاء لمنطقة أوروبا والشرق الأوسط وأفريقيا والهند: "لدى هانيويل تكنولوجيا متطورة اليوم من شأنها ضمان سفر آمن للجميع، من المسافرين حتى العاملين على الطائرات وفي المطارات. ونعمل في هانيويل على دراسة ما يطرأ من تطورات بهدف ابتكار أجهزة جديدة، مثل هانيويل ثيرمو ريبليون الذي يعتبر نظاماً جديداً لمراقبة درجة الحرارة، وتقنية فحص أنظمة التحكم بالبيئة التي تمكّن شركات الطيران من مراقبة تدفق الهواء في المقصورة، ومجموعة متنوعة من معدات الحماية الشخصية. وتساهم مختلف هذه الأنظمة والتقنيات في إيجاد مطارات أكثر نظافة وأماناً".
وستواصل الخطوط الجوية القطرية استخدام مواد التنظيف الموصى بها من قبل الاتحاد الدولي للنقل الجوي (إياتا) ومنظمة الصحة العالمية لتعقيم طائراتها بشكل دوري. وستستخدم الناقلة جهاز هانيويل لتعقيم المقصورة باستخدام الأشعة فوق البنفسجية، كخطوة إضافية بعد التعقيم اليدوي، لضمان تطبيق أعلى معايير النظافة والتعقيم على الطائرات. كما ستواصل الناقلة غسل جميع الأغطية والمفارش والبطانيات المستخدمة على متن الطائرات وتنشيفها على درجات حرارة عالية جداً، فيما يتم نزع أغطية سماعات الأذن وتعقيمها بعناية بعد كل رحلة. ثم يتم تغليف كافة ما ذكر سابقاً من قبل موظفين يرتدون قفازات طبية تستخدم لمرة واحدة.
وتحمي الناقلة أسطول طائراتها من خلال فلاتر تستخدم أنظمة متطورة لتنقية جزيئات الهواء التي تقضي على 99.97% من الجسيمات الدقيقة المحمولة جواً في الهواء بمقصورة الطائرة مثل البكتيريا والفيروسات، مما يوفّر الحماية القصوى من العدوى.
وعززت الخطوط الجوية القطرية من إجراءات الصحة والسلامة على متن رحلاتها مع الإعلان عن تقديم معدات الحماية الشخصية الجديدة للمسافرين ولطاقم الضيافة، والتي ستشتمل على واقي للوجه لجميع المسافرين؛ وبدلة واقية جديدة تستخدم لمرة واحدة، ونظارات واقية وقفازات وكمامة لطاقم الضيافة.
كما ستقدم الناقلة القطرية حقيبة مستلزمات الحماية الشخصية للمسافرين على متن رحلاتها، والتي ستتضمن كمامة طبية، وقفازات طبية، وجل معقم لليدين يحتوي على مادة الكحول الطبي. وستقدم الناقلة للمسافرين على درجة رجال الأعمال عبوة معقم لليدين (75 مل). ويحظى المسافرون مع الخطوط الجوية القطرية في مقاعد كيو سويت على درجة رجال الأعمال بالفرصة لتجربة الخصوصية في أبهى صورها مع إمكانية تحويل المقعد إلى جناح خاص والاستمتاع بواحة من الهدوء والراحة. كما يمكن للمسافرين الضغط على زر "عدم الإزعاج" الموجود في المقعد لتقليل التواصل مع طاقم الضيافة.
المصدر: al-sharq